For more than 10 years I have used Traveling Mailbox as my primary business address. I researched a lot of different services before landing on this one, and hopefully my experience can provide a Traveling Mailbox review that actually informs your decision on which virtual address service to use.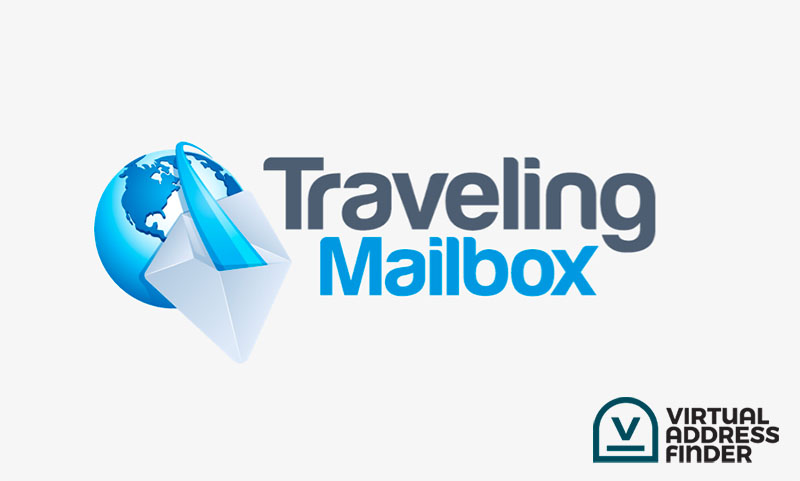 In this comprehensive Traveling Mailbox review, we will delve into the world of virtual mailboxes, explore the features and services offered, compare it to its competitors, and address any security and privacy concerns you might have.
By the end of this journey, you'll have a clear understanding of whether Traveling Mailbox is the right choice for you.
After considering this review, check out the Traveling Mailbox website to try it for yourself.
Exploring the World of Virtual Mailboxes
The concept of virtual mailboxes has been gaining popularity in recent years as more people move to remote work and seek the convenience of managing their physical mail online. Freelancers, travelers, and expats have found these services particularly useful in maintaining a permanent address and keeping business mail separate from their home address.
But what exactly is a virtual mailbox, and why should you consider using one? Let's dive deeper into this innovative solution.
What is a Virtual Mailbox?
A virtual mailbox is a digital service that provides you with a physical address for receiving mail and packages (learn more about how a virtual mailbox works).
This means that instead of having your mail delivered to your home or work address, it is sent to your virtual mailbox address, where it is then managed digitally. Traveling Mailbox, like any US-based mailbox service, requires users to fill out and notarize a USPS Form 1583, which authorizes them to legally open your mail on your behalf.
The main advantage of using a virtual mailbox is the convenience it offers. Once your mail arrives at the virtual mailbox facility, it is scanned and uploaded to your online account, where you can view it anytime, anywhere. This eliminates the need to physically collect your mail from a post office or mailbox, making it an ideal solution for those who travel frequently or live abroad.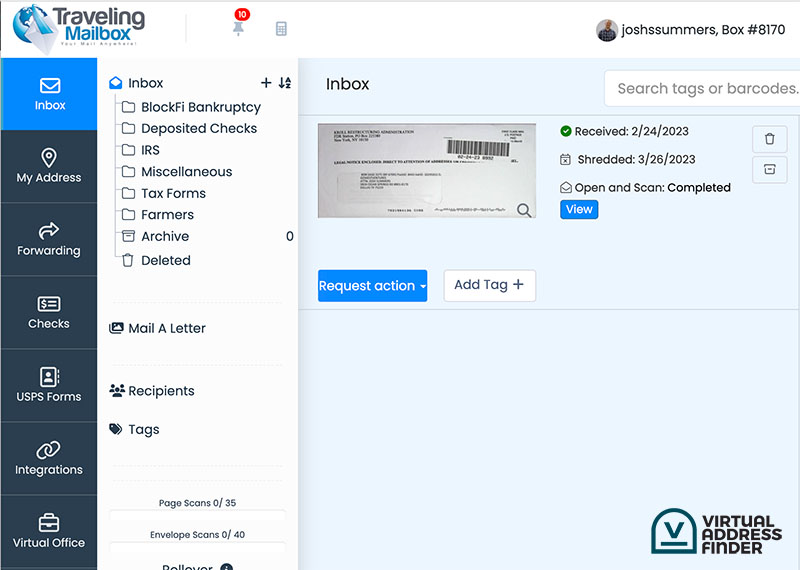 Why Use a Virtual Mailbox?
There are several reasons why virtual mailboxes have become a popular choice among individuals and businesses alike.
Consistency: Firstly, they provide a consistent physical address, regardless of how often you move or travel. This can be particularly useful for freelancers and small business owners who want to maintain a professional image by keeping their business mail separate from their personal mail.
Efficiency: Additionally, virtual mailboxes offer various benefits in terms of security, privacy, and cost savings. With features such as same-day processing, check deposit services, and global access to your mail, virtual mailboxes make managing your mail more efficient and secure.
Digital Organization: Furthermore, virtual mailboxes allow you to organize the mail you receive, discard unwanted mail and maintain digital records of all mail received, helping you save on storage and disposal costs.
My guess is that you don't need too much convincing that a virtual address is worth getting. But why use Traveling Mailbox in particular?
Traveling Mailbox: Features and Services
Now that we've established a basic understanding of virtual mailboxes and their benefits, it's time to take a closer look at Traveling Mailbox and the features and services it offers.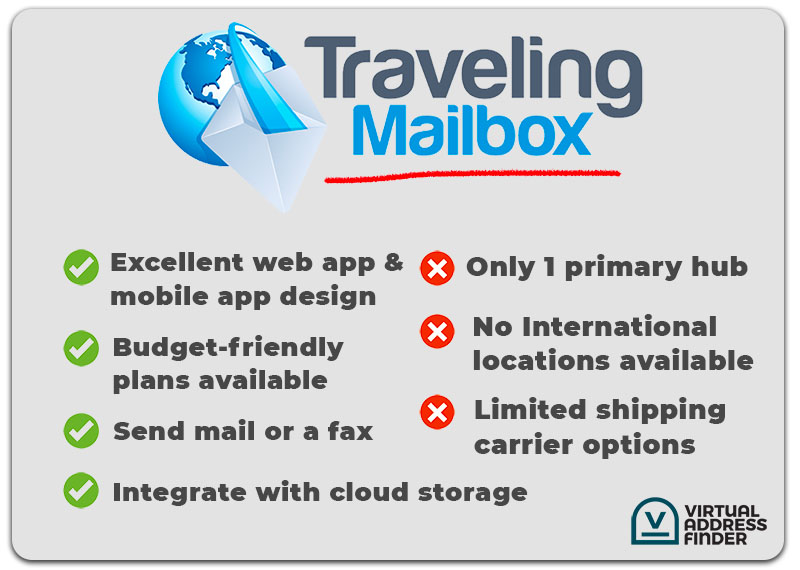 Since its founding in 2011, Traveling Mailbox has gained a reputation for providing a reliable and secure virtual mailbox service for tens of thousands of users across the world (including me here in Thailand).
Let's explore the various aspects of their offering, from digital mail management to additional services.
Digital Mail Management
One of the core features of Traveling Mailbox is its digital mail management system. When your mail arrives at the virtual mailbox facility, it is scanned and uploaded to your online account, allowing you to view and manage your mail easily.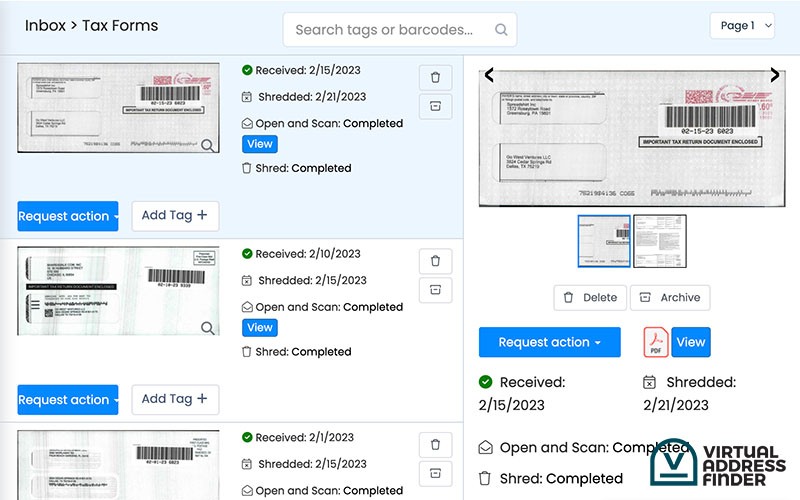 You have the option to manually open and scan each piece of mail or configure your account to automatically scan all mail. I recommend the latter unless you happen to get a lot of random pieces of mail that would eat up your monthly allotment of scans.
You can also sort and categorize your scanned mail into folders, making it easier to keep track of important documents and correspondence. For example, I have a folder for all tax-related documents, one for deposited checks and one for insurance documents.
In addition to mail scanning, Traveling Mailbox offers other useful features such as email notifications, unlimited cloud storage, and integration with popular cloud storage services like Google Drive, Box, Dropbox, Evernote or OneDrive. This ensures that you can access your mail anytime, anywhere, and have a reliable backup of your important documents.
Forwarding and Package Handling
Traveling Mailbox also offers forwarding and package handling services to anywhere in the world. If you need your mail or packages forwarded to a different address, you can easily create a shipment profile and select the items to be forwarded directly from your online dashboard.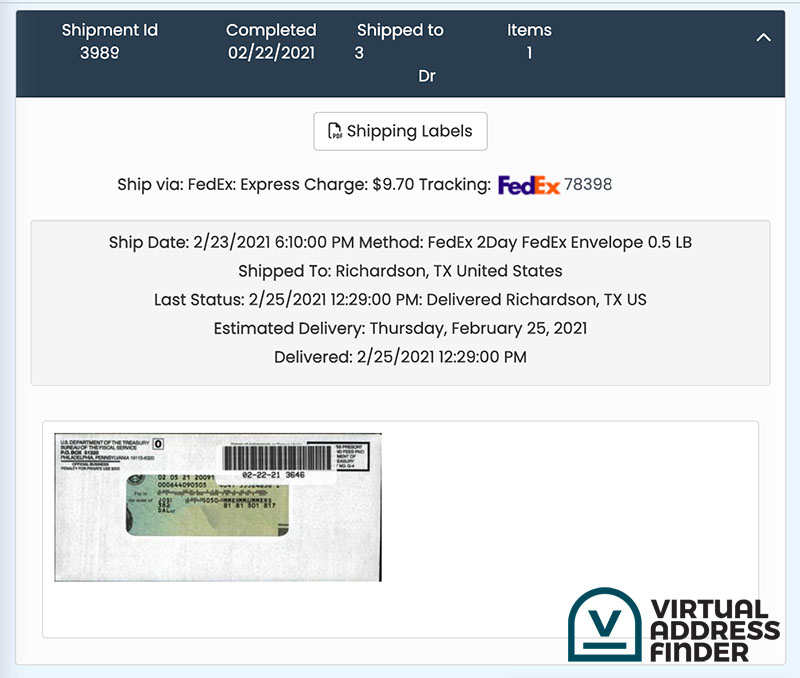 This includes international forwarding, which is particularly useful for those living or traveling abroad.
Moreover, Traveling Mailbox provides package consolidation services, allowing you to save on shipping costs by consolidating multiple items into a single package.
Additional Services
Beyond mail management and forwarding, Traveling Mailbox offers a range of additional services to cater to the diverse needs of its users. For example:
Check Deposit Service: You can deposit checks securely without having to visit a bank. There is a handling fee and shipping fee, so this is only worthwhile for larger checks. I've found that it is possible to do mobile deposits using scans of checks, just FYI.
Fax Services: You can not only receive a fax to your Traveling Mailbox account, you also have the option to send one.
Mail Sending: Traveling Mailbox's letter services allow you to upload a PDF, which they will then print and mail to your desired destination.
These extra features make Traveling Mailbox a comprehensive solution for managing your mail and related tasks, either as a business address or even for an extra personal address.
User Experience: Traveling Mailbox App and Interface
An essential aspect of any virtual mailbox service is the user experience, and Traveling Mailbox is no exception. It offers a user-friendly app and website that is intuitive to use and feels similar to any regular email inbox.
Let's take a closer look at the app and website interface, as well as the compatibility and integrations offered by the platform.
Navigating the App and Website
Traveling Mailbox's app and website are designed to be user-friendly and straightforward. The main interface, when accessed via a computer, features a simple login screen and a feed of the latest news and updates from the service. Once logged in, you can easily access and manage your account, view your mail, and make requests for scans or forwarding.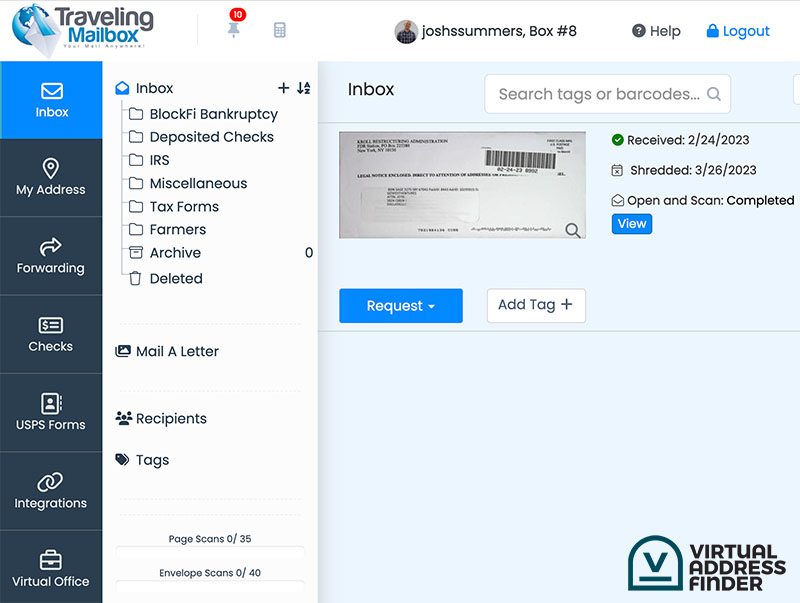 The mobile app is equally easy to navigate, offering similar features to the website, such as managing your digital mailbox, making scan requests, and using check deposit services.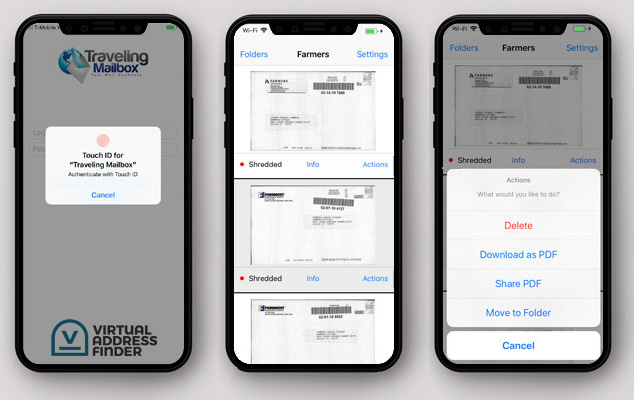 Whether you prefer to manage your mail on a computer or a mobile device, Traveling Mailbox's app and website provide a smooth and intuitive experience.
Integrations and Compatibility
In addition to its user-friendly interface, Traveling Mailbox offers compatibility with various platforms and integrations to make mail management even more convenient. For example, you can sync your account with popular cloud storage services like Google Drive and Dropbox, ensuring easy access to your scanned mail and digital copies of important documents.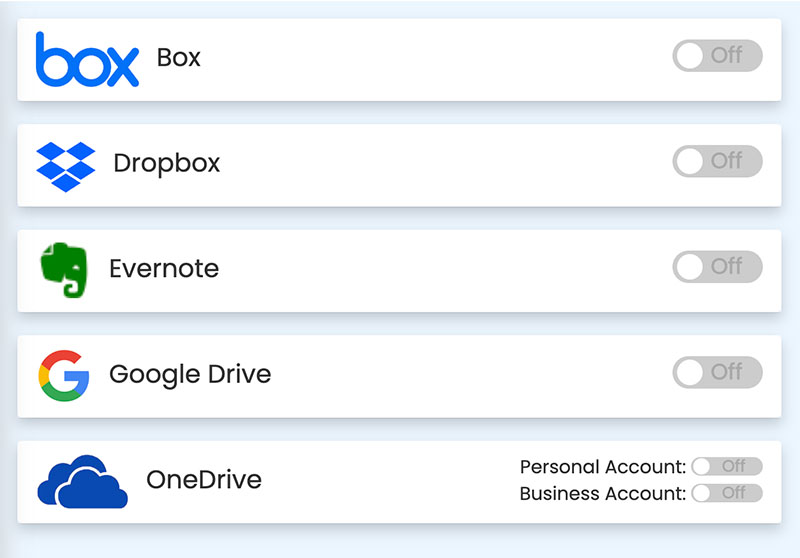 This integration not only simplifies the process of managing your mail, but also provides an additional layer of security by storing your documents in a secure and reliable cloud storage platform.
Address Options and Locations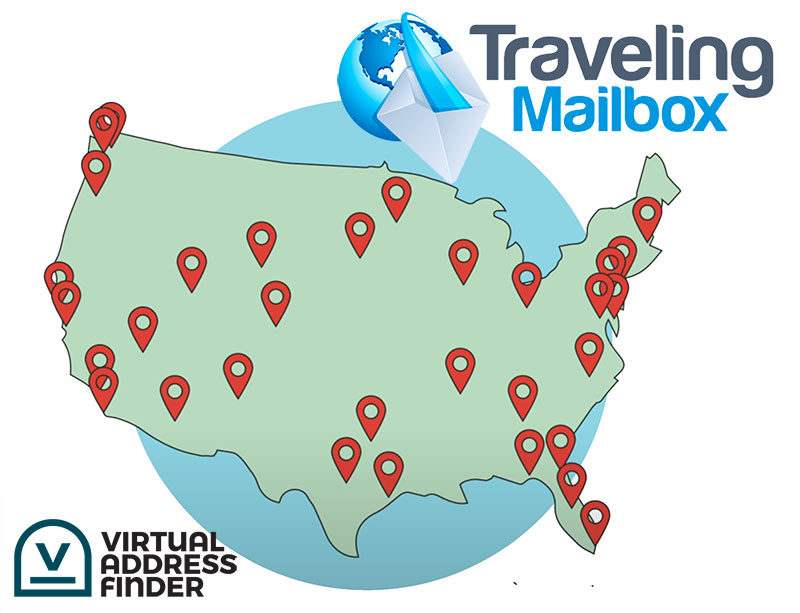 Having a wide range of address options and locations is essential for any virtual mailbox service, as it allows users to choose an address that best suits their needs. Traveling Mailbox offers a variety of address options, including standard and premium addresses, with locations spanning across the United States.
Note: Traveling Mailbox does not offer international addresses at this time.
Let's explore the differences between standard and premium addresses, as well as the geographic coverage offered by Traveling Mailbox.
Standard vs Premium Addresses
Traveling Mailbox provides both standard and premium addresses to its users. The way they describe this is a bit confusing, so let me simply it by saying this:
Traveling Mailbox has one (1) primary hub in Sanford, North Carolina (the "Standard address") and over 50 other addresses ("Premium address").
You pay extra for these premium addresses, which in most cases just end up forwarding the mail to the Sanford hub to be opened and scanned. This means that while using a premium address costs more, it may require more time for the mail to be processed since it has an additional journey to the primary hub.
If you absolutely need an address in a certain state – say you need a business registered address in Texas – then it makes sense to purchase a premium virtual address in Texas. For all other purposes, it's best to just choose the Sanford address.
Geographic Coverage
Traveling Mailbox offers real physical street addresses throughout the United States, covering all major cities and towns. Again, these are the "premium addresses", but this still means that no matter where you are located in the country, you can have access to a virtual mailbox address that suits your needs.
While Traveling Mailbox doesn't currently provide international address options, its extensive coverage within the US ensures that users have a wide range of options to choose from.
Pricing and Plan Options
Understanding the pricing and plan options available is crucial when evaluating any virtual mailbox service. Traveling Mailbox offers three different plans – Basic, Extended, and Small Business – each catering to the varying needs and budgets of its users.
In this section, we will compare these plans and discuss any additional fees and services that you may encounter when using Traveling Mailbox.
Comparing Plans
Traveling Mailbox offers three main plans to choose from: Basic, Extended, and Small Business. (there are also larger enterprise options available)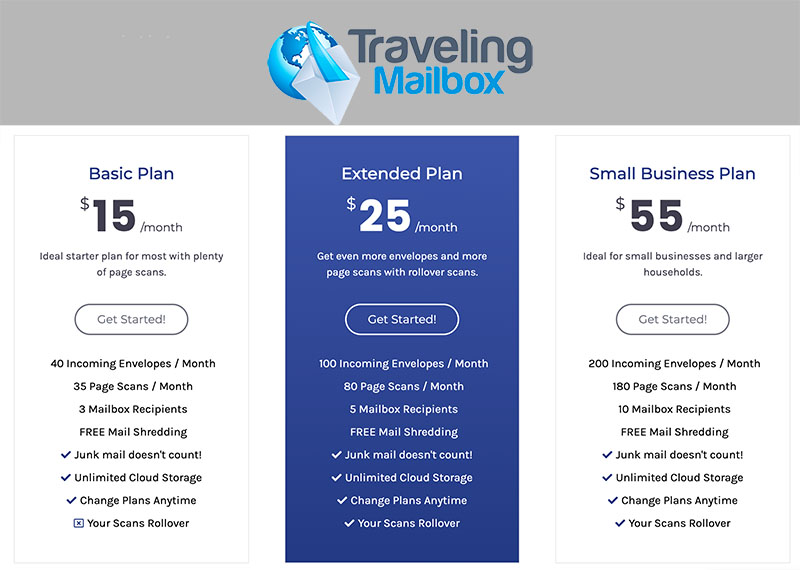 Each plan comes with a different level of scanning and forwarding services, as you can see above. This allows you to select the one that best fits your needs and budget.
The Basic Plan includes a designated number of mail scans, page scans, and recipients, while the Extended and Small Business plans offer additional features such as check deposits, fax services, and extra mail recipients.
To help you decide which plan is right for you, it's essential to consider your specific requirements, things such as:
Volume of mail you receive;
Number of recipients you need (personal name, business names, etc.);
Additional services like check deposits or fax services;
Comparing the features of each plan can help you make an informed decision based on your needs and budget.
Additional Fees and Services
While Traveling Mailbox's plans are competitively priced, certain services may require additional fees. For example, upgrading to a Premium Address incurs an additional monthly charge of $4.95 up to $9.95.
It's worth noting that Traveling Mailbox offers a full refund for customers who are not satisfied with their service, ensuring you can try their virtual mailbox solution risk-free.
Additionally, some services, such as automatic sending of scanned mail to integrations and mailing letters from anywhere, are offered free of charge, adding value to your subscription.
Traveling Mailbox vs Competitors
As with any service, it's essential to compare Traveling Mailbox with its competitors to ensure you're selecting the best virtual mailbox solution for your needs.
In this section, we will compare Traveling Mailbox's features and services, as well as pricing, with other popular virtual mailbox providers such as iPostal1, PostScan Mail, and Anytime Mailbox.
| | Traveling Mailbox | iPostal1 | PostScan Mail | Anytime Mailbox |
| --- | --- | --- | --- | --- |
| Base price: | $15/mo | $9.99+ | $10/mo | $9.99+ |
| # of Scans: | 40 | 30 | 30 | 30 |
| US Addresses: | ✅ | ✅ | ✅ | ✅ |
| Int'l Addresses: | ❌ | ✅ | ✅ | ✅ |
| In-Person Pickup: | ❌ | ✅ | ✅ | ✅ |
| Check Deposit | ✅ | ✅ | ✅ | ✅ |
| | Visit | Visit | Visit | Visit |
Comparing Features and Services
When comparing Traveling Mailbox to its competitors, it's important to consider the features and services each provider offers. For instance, iPostal1 is a strong competitor that provides more comprehensive virtual mailbox services, more locations, and a wider market share coverage than Traveling Mailbox (see our review of iPostal1)
On the other hand, PostScan Mail provides multiple "headquarter" locations across the country, offering the option of in-person mail retrieval, which Traveling Mailbox does not.
Ultimately, the choice of virtual mailbox provider depends on your specific needs and priorities, and it's crucial to carefully compare the features and services of each provider before making a decision.
Price Comparison
Price is another essential factor to consider when comparing virtual mailbox providers. Traveling Mailbox's plans start at $15 per month, which looks higher than the competitors but offers not just more mail pieces but also significantly more page scans (which is an extra fee that adds up fast).
In general, Traveling Mailbox offers competitive pricing and provides various features and services that make it an attractive option for those looking for a reliable and cost-effective virtual mailbox solution.
Security and Privacy Concerns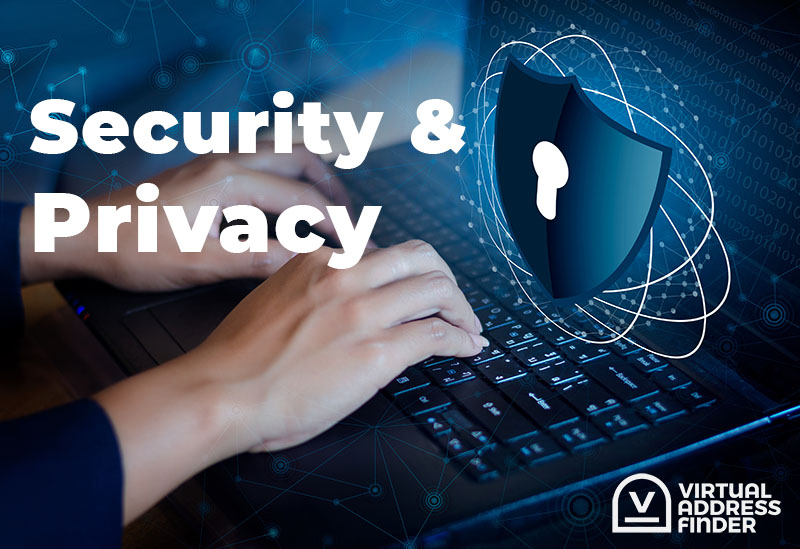 Security and privacy are critical aspects to consider when selecting a virtual mailbox service. After all, you're entrusting the provider with your sensitive mail and personal information.
In this section, we will explore the security and privacy measures implemented by Traveling Mailbox, including data protection and physical security, to give you peace of mind that your mail is in good hands.
Data Protection
Traveling Mailbox claims to take data protection seriously, employing industry-standard encryption protocols to safeguard user data. Additionally, video surveillance is used to protect their physical mail centers and ensure the security of user data.
Traveling Mailbox also limits staff access to user data, ensuring that all employees are screened and trained in data security protocols. This comprehensive approach to data protection ensures that your sensitive mail and personal information are well-protected.
Physical Security
In addition to data protection, Traveling Mailbox places a strong emphasis on physical security – at least at their primary Sanford address hub (the only one they control). The Sanford facility is equipped with 24/7 surveillance to prevent unauthorized access.
Traveling Mailbox also adheres to standards based on HIPAA guidelines and recommendations for data collection, storage, and processing practices. This commitment to both data protection and physical security ensures that Traveling Mailbox is a secure and trustworthy choice for managing your mail.
Customer Support and Service
Customer support and service play a vital role in the overall experience of using a virtual mailbox service. A responsive and knowledgeable customer support team can make all the difference when it comes to addressing any issues or concerns you may have.
Let's examine Traveling Mailbox's customer support and service, including their responsiveness, availability, and user reviews and testimonials.
Responsiveness and Availability
Traveling Mailbox's customer support team is highly responsive and has always been quick to respond to my requests. They typically respond within 24 hours, ensuring that your questions and concerns are addressed promptly.
The availability of Traveling Mailbox customer support 24/7 means that you can make requests no matter what time zone you live in.
Summary
To sum up this Traveling Mailbox review, I've been very pleased with my experience using their service over the past number of years.
They have a user-friendly app and website, extensive address options and locations, competitive pricing, and a strong focus on security and privacy. I have no problem recommending Traveling Mailbox as a reliable choice for managing your mail.
While it's essential to compare Traveling Mailbox with its competitors and consider your specific requirements, our comprehensive review should provide you with a solid foundation for making an informed decision about whether Traveling Mailbox is the right choice for you.
Frequently Asked Questions
Is Travelling Mailbox legit?
Yes. I've used Traveling Mailbox for more than 8 years and it has proven to be a reliable, secure option as a virtual mailbox. It offers numerous features and benefits, including a mobile app, various address options and high-level security for all your mail.
How does Travelling Mailbox work?
Traveling Mailbox simplifies the process of receiving mail while traveling or living abroad by digitizing your mail and giving you control on how it is forwarded or discarded. In essence, Traveling Mailbox lets you access your postal mail anywhere in the world with a few simple clicks.