With countless virtual mailbox options available to you, what makes PostScan Mail different? Do the pros outweigh the cons? I've been a customer for years now and I want to give you an in-depth look at everything you need to know in this PostScan Mail review.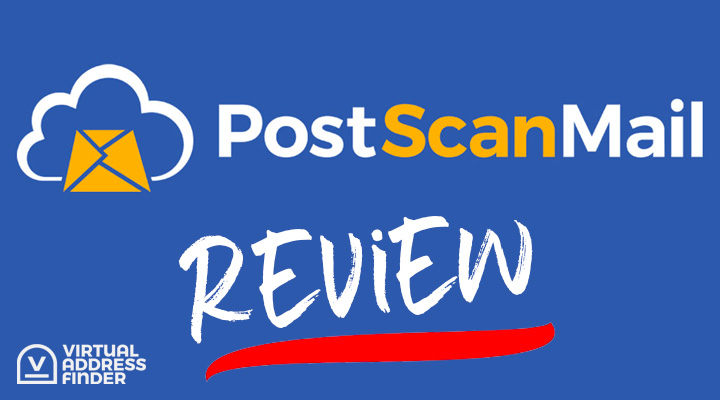 It's not common to come across a virtual mailbox review where the reviewer has personally visited two of the company addresses.
Yet I've had the opportunity to visit and talk with the employees of the flagship Postscan Mail virtual address in Anaheim, California as well as one of their addresses in Dallas, TX.
This personal experience – when combined with extensive use of their apps – has given me an intimate understanding that I hope to share in this Postscan Mail review. I have not been paid to write this review, but I do receive affiliate commission if you decide to use the links here to sign up.
Perhaps you're one of the new work-from-home crowd, which experts project will comprise 25% of all professional jobs in North America.
Perhaps you live as an expat overseas or you move around the country in an RV.
Whatever your situation, keeping a virtual mailbox address not only gives you more control over your physical mail, it can also be an excellent way to build better privacy in your life.
But the key to any virtual mailbox service is trust.
So while this Postscan Mail review will certainly give you an understanding of the pros and cons of the service itself, let's learn about the company and team behind the product.
Is PostScan Mail the Right Virtual Mailbox for You?
PostScan Mail was founded in 2012 and is currently based in Anaheim, California with addresses all across the USA and multiple other countries. They are owned and run by the same people who run Certifix, a company that offers fingerprinting and background checks for businesses.
On the backend, the PostScan Mail contracts with a network of 3rd-party mail centers – which is overwhelmingly common in this industry – but then sets themselves apart by owning a number of their own mail processing centers. According to management, they plan to have one company-owned address in each state in the US.
This kind of company control is important for security and customer support, but as an end user, you're only likely to interact with PostScan Mail through the various mobile and web apps that they offer.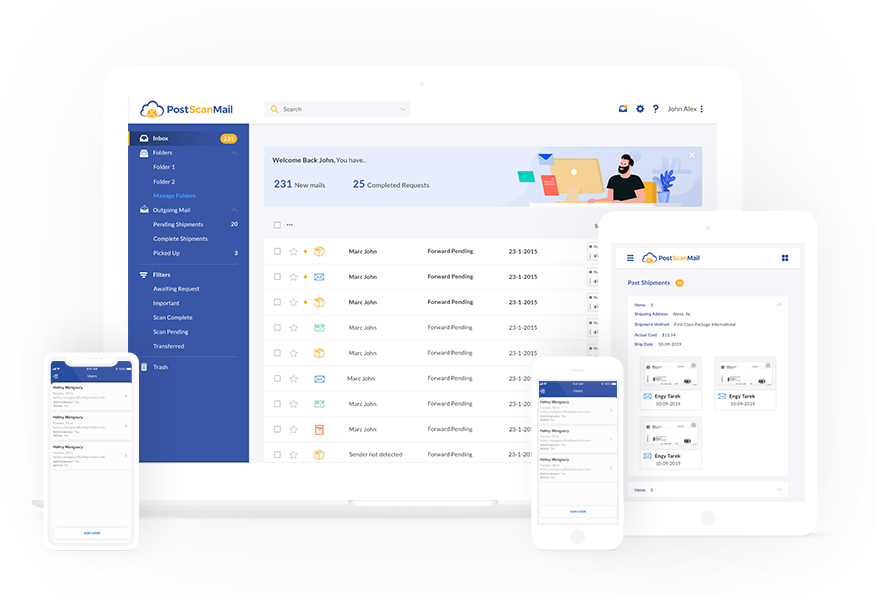 PostScan Mail positions themselves on their website as the best place to access your mail any time of day, from anywhere in the world, from any device you use.
There's a strong focus on convenience, but for most people who are using a virtual mailbox as a form of privacy, they also stress the strong security at their primary mail processing centers.
PostScan Mail often gets compared with other notable virtual mailbox services including Traveling Mailbox and Earth Class Mail for the number of extensive features it offers.
Let's take a deeper look at the pros and cons of PostScan Mail, so you can have a comprehensive understanding of the breadth of features this virtual mailbox provides.
PostScan Mail Pros
PostScan Mail offers a comprehensive suite of services, catering to both individuals and businesses alike. Online mail management is one of the core features, along with robust options for mail forwarding.
Other notable features include mail storage, local pickup, and higher security options (HIPAA, SOC 2, etc.) for the addresses they manage. Let's dive into each of these individually.
1. Managed Setup & Form 1583 Notarization
For any US address, the signing and notarization of the USPS Form 1583, giving them the authority to accept and open your mail, is mandatory (learn more about Form 1583 here). It is required for any virtual mailbox service that you use.
Most services, however, don't make it as easy as PostScan Mail does.
After you choose your virtual address location, PostScan Mail manages the entire process of signing and notarizing the USPS Form 1583 – which is a huge benefit as opposed to doing it yourself. From your online dashboard, they provide immediate access to an online notary.
In less than 10 minutes you can have the whole process finished, which if you've never done this before…is incredible.
2. Simple Online Mail Management
Upon your first login to the web app, you'll see a clean interface with access to your inbox, customizable folder, and any outgoing mail you have scheduled to be forwarded.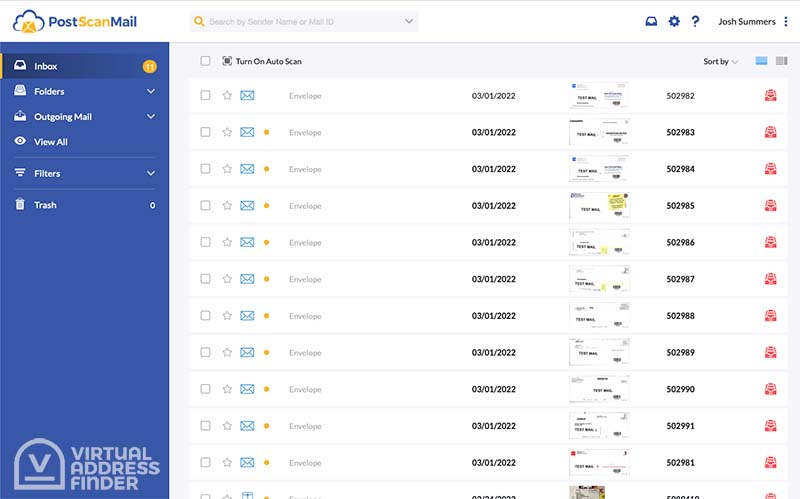 While you won't have mail in your inbox immediately after opening a new address, you can begin to share the address and use it for your business or personal use.
Then, as mail begins to arrive, you'll see notifications come via email and/or mobile (if you've allowed these notification) that you have received new mail. This mail gets scanned and stored at the mailing center until you decide what to do with that particular piece of mail.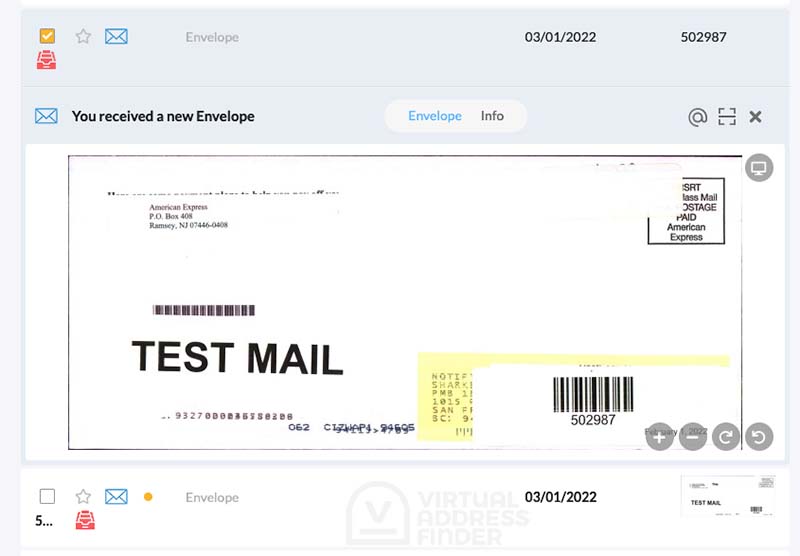 From here, you are given a number of options to handle your physical mail including:
Open and Scan (you're given a certain number of scans per month)
Forward Mail (anywhere in the world)
Shredded (professionally shredded and disposed)
3. Robust Mail Forwarding Options
In most cases, you'll find that after having a piece of mail opened and scanned, it's enough to simply download the scan and have the physical mail shredded.
There are times, however, when you need to have the mail forwarded to wherever you happen to be in the world. PostScan Mail does a great job of allowing you to easily add multiple pieces of mail to a single shipment, and then helping you correctly fill out all the required customs forms (for international shipments).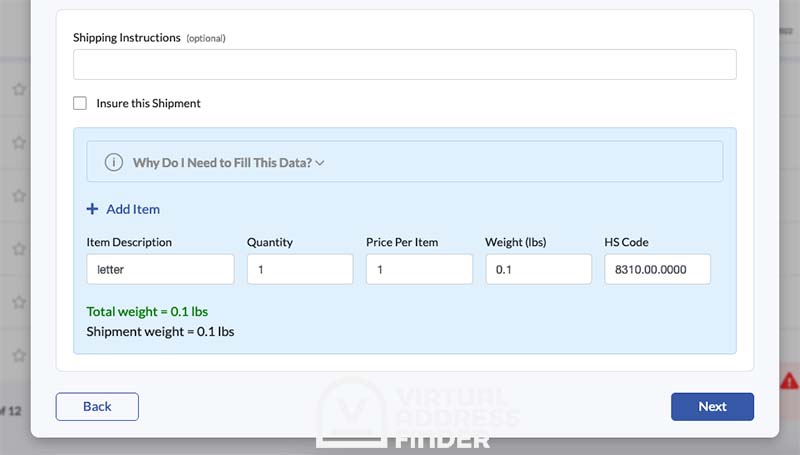 In the above example, the web application for PostScan Mail does a surprisingly good job filling out the HS Code for you without you having to look it up (which is a pain). Whereas customs forms are usually a huge headache, this process is made relatively simple.
Once you've decided whether or not to insure the shipment and filled in the customs form, you'll be given the option to choose from multiple carriers with discounted pricing (most virtual mailbox services only have contracts with one carrier).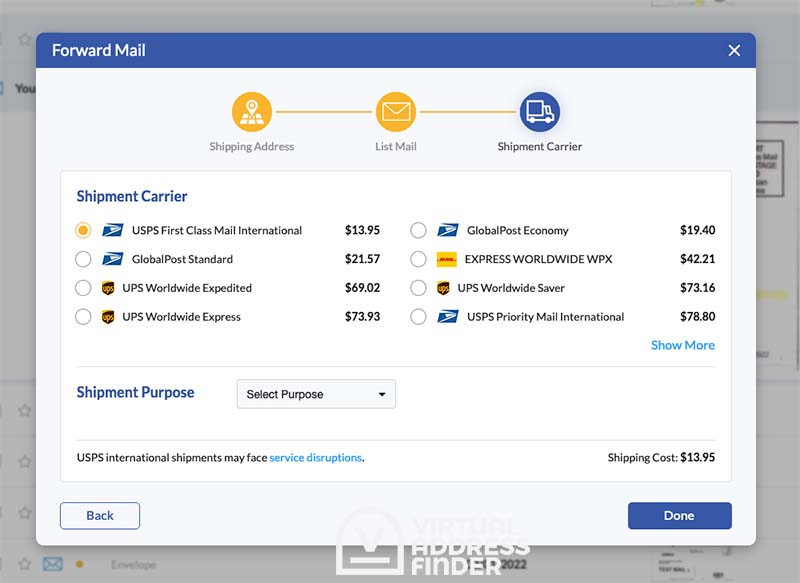 At first glance, this may seem expensive, but when you're dealing with international shipping, it's great to have options to choose from.
4. Managed + 3rd Party Addresses
The virtual mailbox industry thrives on independent mail centers, WeWork locations and UPS/FedEx stores that white label their services for different addresses. This is how mailbox services can offer hundreds of addresses across the nation and globe.
The benefit of this is that you can easily choose an address that is close to where you live. And in this case, PostScan Mail uses 3rd party vendors who allow for local pickup of your mail (instead of forwarding).
However, for businesses or those who want greater security, these 3rd party vendors simply aren't acceptable. They can't handle large volumes of mail, they don't always work quickly, and their security measures are limited or in some cases non-existent (I've walked into some of these mail centers where the mail is literally sitting out on a table).
That's what makes the PostScan Mail primary hub addresses so valuable.
PostScan Mail Primary Hubs
A virtual mailbox primary hub is an address that is directly managed by the virtual mailbox company. These are expensive to run and staff, so most mailbox services only have one primary hub and outsource all other addresses to independent mail centers.
PostScan Mail is different.
They offer a growing number of primary hub addresses that are directly owned and managed by PostScan Mail. This means they can serve enterprise businesses with large volumes of mail and control the security of each location.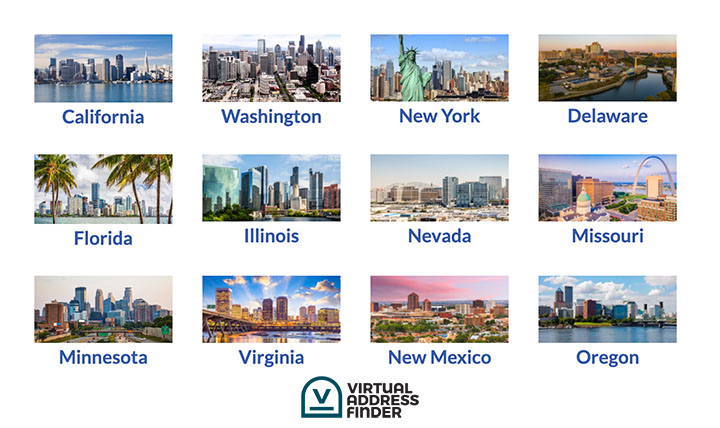 Unless you have a specific reason to need an address near you (i.e. you would like local pickup), it is my recommendation that you choose one of these primary hub locations in order to maximize security and quality of service.
These primary hub addresses also present a more professional image for any business that uses the address. Consider this view of the Anaheim, California hub address: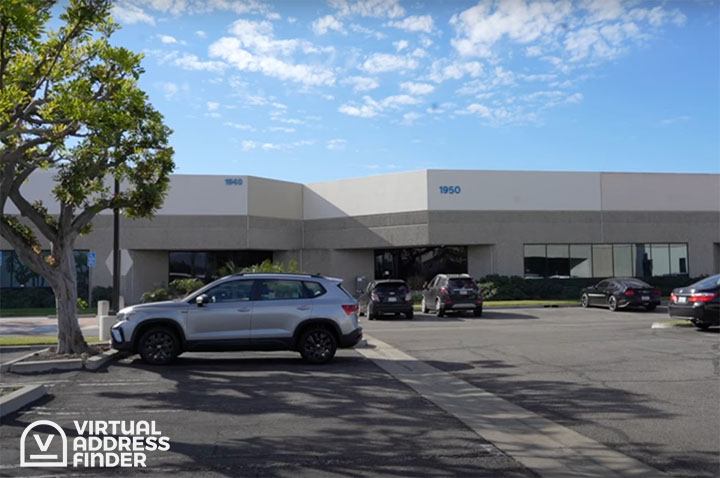 For businesses, having an address that shows up on Google Street View as a UPS Store or a small mom-and-pop mail center isn't a good look. These primary hubs are a much better option.
Pricing and Plans
PostScan Mail offers three subscription plans to cater to various user needs, starting at $10/month. Each plan includes a real mailing address and additional fees for opening/scanning, recycling, shredding, or forwarding mail items.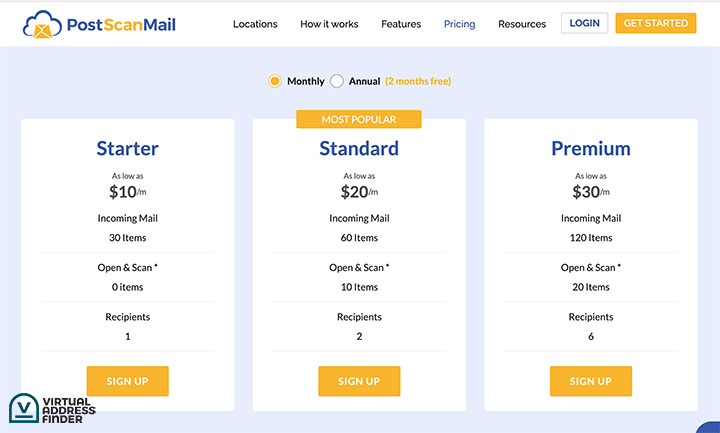 The prices you see above are discounted if paid annually. Let's delve deeper into the details of each plan: Starter, Standard and Premium
Starter Plan
The Starter Plan of PostScan Mail provides a real U.S. street address at a mail center or office building, a mobile app for Android and iOS devices, and 24/7 online access to mail items.
The plan is designed for those who plan to simply accept a limited number of mail items and forward them to a different address. This particular plan, although cheap, includes zero open and scan requests (those would cost an extra fee).
If you want to take advantage of the power of a virtual address to digitize your physical mail, it's best to consider the Standard Plan.
Standard Plan
The Standard Plan offers additional value, allowing users to receive up to 60 items from mail and packages, with the option to open and scan 10 items per month. Although more expensive than the Standard Plan, the Premium Plan is an excellent choice for users with higher mail volume and scanning needs.
The enhanced features of this plan cater to both individual and business users. In fact, since the Standard Plan allows you to have two recipients, you could put both your name and your business name on a single address.
Premium Plan
Designed for businesses or individuals with high volumes of mail, the Premium Plan of PostScan Mail allows for 120 pieces of mail and 20 scanned items per month. The mail forwarding, recycling and shredding services are tailored to the size of the business and the services required.
For bigger enterprise needs, PostScan Mail offers customizable plan that cater to businesses with specific needs and requirements.
Additional Services and Fees
When researching any virtual mailbox service, it's important to consider the additional fees which often feel "hidden". If you receive a sudden and unexpected influx of mail, the fees for additional mails and scans can easily add up.
This is true for any virtual address provider, not just PostScan Mail.
So let's take a closer look at these additional services and their associated fees.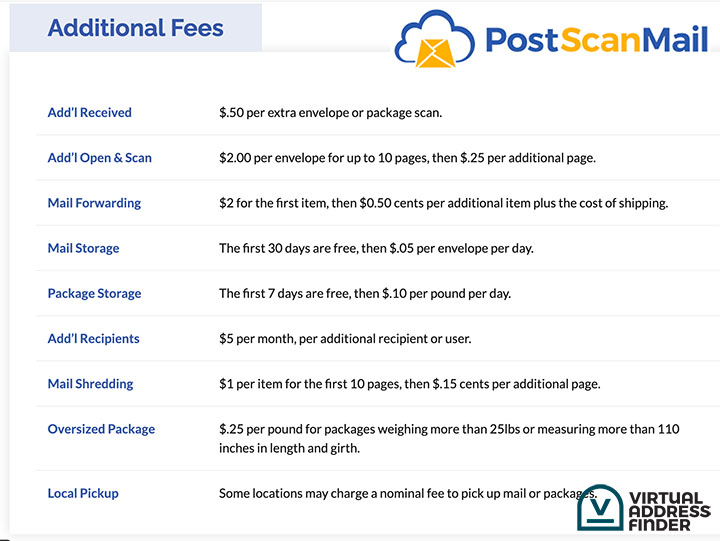 Additional Mail / Open & Scan
Based on the plan you choose, PostScan Mail gives you a set number of mail items received and Open & Scan requests. Each open and scan includes 10 pages scanned for free and every additional page for $.25.
To go above and beyond your plan limit, there is a fee of $.50 per extra envelope or package and then $2 per envelope to open and scan (up to 10 pages).
These fees can add up quickly if you haven't selected the right plan, so make sure you know how much mail you plan to receive and use that to choose the right plan.
Mail Forwarding Fees
As with all virtual mailbox providers, mail forwarding incurs both handling fees and shipping fees. For PostScan Mail, the handling fee is $2.00 for the first item and $.50 for additional items.
You also have the cost of shipping, which we already covered above. The advantage of using PostScan Mail, however, is the multiple shipping options they offer. In most cases, the competition from these multiple offers means you'll save money on shipping costs.
Most virtual address services only go through the trouble of contracting with a single shipping company, so this ends up benefiting you, the customer.
Mail Storage Fees
Although storing your physical mail at your virtual mailbox for long periods of time isn't recommended, it is possible. As with most services, PostScan Mail allows you to store mail for 30 days for free, and then charges $.05/envelope per day thereafter.
Storage of packages is limited to only 7 days and additional charges are calculated by the pound.
Recycling and Shredding
PostScan Mail offers on-site document shredding and recycling services via professional service providers. This allows users to securely dispose of unwanted mail and documents, protecting their confidential information (particularly useful for businesses).
With PostScan Mail, users can enjoy a free recycling of all mail with the option to pay for professional shredding.
Comparing PostScan Mail to Competitors
To finish up, we'll compare PostScan Mail with two of its competitors, iPostal1 and Traveling Mailbox. While it's our goal to have an in-depth review of every virtual mailbox service, we're going to focus here on two comparable companies.
We'll focus the comparison on aspects such as cost, number of street addresses, phone and fax plans to help you make an informed decision on the best virtual mailbox service for your needs.
PostScan Mail vs iPostal1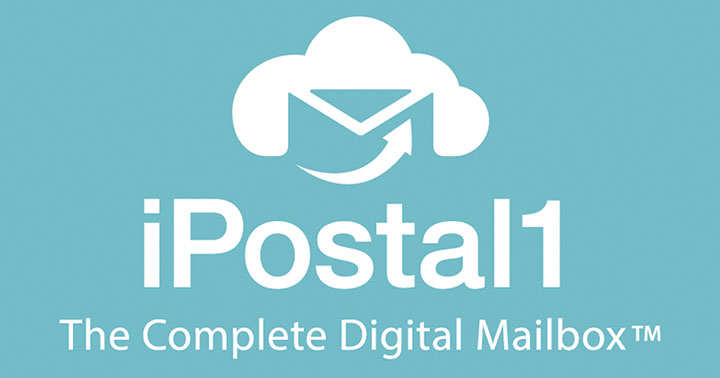 | Features | PostScan Mail | iPostal1 |
| --- | --- | --- |
| Basic Pricing | Plans start at $9.95/month | Plans start at $9.99/month |
| Addresses | 400+ US and International | 2,500+ US and International |
| Security | HIPAA and SOC 2 compliant | Not specified |
| Mobile App | Yes | Yes |
| Primary Hubs | 12+ Primary hubs | Not specified |
| Virtual Office | None | Available for $40/mo |
| Additional Services | Faxing, notarization, and more available | Faxing, notarization, and more available |
PostScan Mail and iPostal1 both offer virtual mailbox services, with features like mail scanning, forwarding, and online mailbox management. PostScan Mail presents an advantage over iPostal1 with its multiple "primary hub" locations across the US, providing users with greater control and mail security.
iPostal1 does offer a greater number of addresses to choose from, particularly international addresses, and they also offer what they call a "Virtual Office" plan that includes phone and fax services ($39.99/mo).
You can dive into more detail in our iPostal1 review, but if you're a business looking for better mail security, PostScan Mail is likely still your best option.
PostScan Mail vs Traveling Mailbox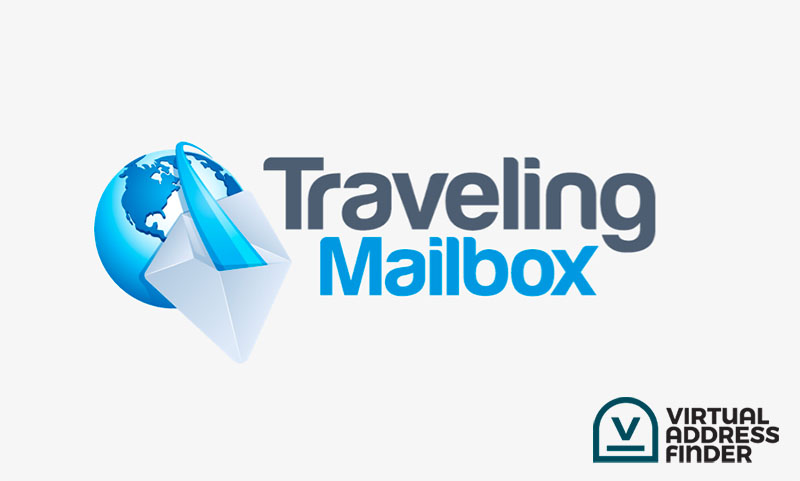 | Features | PostScan Mail | Traveling Mailbox |
| --- | --- | --- |
| Basic Pricing | Plans start at $9.95/month | Plans start at $15.00/month |
| Addresses | 400+ US & International | 25+ US-only |
| Security | HIPAA compliant | HIPAA Compliant |
| Mobile App | Yes | Yes |
| Primary Hubs | 12 | 1 (North Carolina) |
| Additional Services | Faxing, notarization, and more available | Faxing, notarization, and more available |
Both PostScan Mail and Traveling Mailbox offer mail scanning, forwarding, and online mailbox management capabilities. Again, PostScan Mail holds an advantage over Traveling Mailbox with its primary hub locations across the US, providing more options for users' mailing addresses.
PostScan Mail also offers international addresses, which Traveling Mailbox does not (at this time).
Full disclosure: I have an address with both Traveling Mailbox and PostScan Mail and I like both of them. You can read more in-depth in our Traveling Mailbox review.
Frequently Asked Questions
Is PostScan mail safe?
Yes, PostScan Mail is safe and secure, particularly when you use one of their primary hubs. It has all the features expected for a virtual mailbox, plus strong security protocols to protect users' accounts against online breaches and human threats.
Why get a virtual mailbox?
A virtual mailbox allows individuals and businesses to digitize their physical mail to make it easier to manage, sort and store. Because this can all be done from an online dashboard, users can access this mail from any location at any time, making a virtual mailbox extremely convenient.
How do you receive mail from a virtual address?
After completing a change of address form, virtual mailbox services like PostScan Mail can begin to accept mail on your behalf as well as open and scan it. Once a piece of mail is received, it is scanned and users are notified via email or mobile notification that they have mail.