With over 2,750 locations worldwide and more than two decades of experience in the shipping industry, it's no wonder that iPostal1 has become a leading virtual mailbox provider. They offer affordable plans, virtual office features and an easy setup, but they also come up lacking in one key area.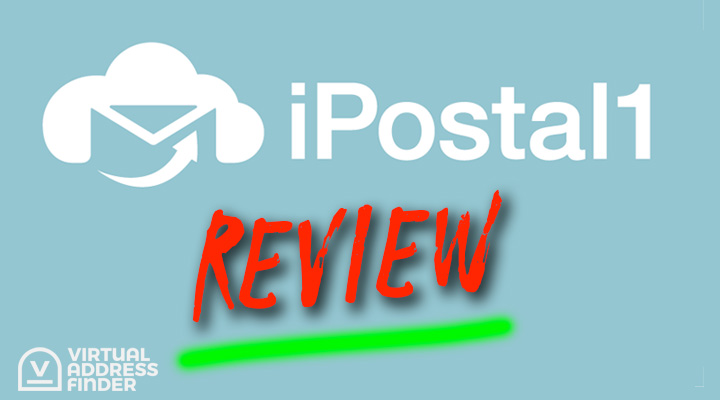 In this iPostal1 review, let's dive into the features, benefits (plus what's missing), and comparisons that set iPostal1 apart from its competitors. I've not only used their service, I've also had a chance to speak with their team to get answers to the questions I'll answer for you here.
If you'd like to skip down to a particular part of this review, you can do so here or continue reading.
Ok, let's get started with an overview of the company!
Overview of iPostal1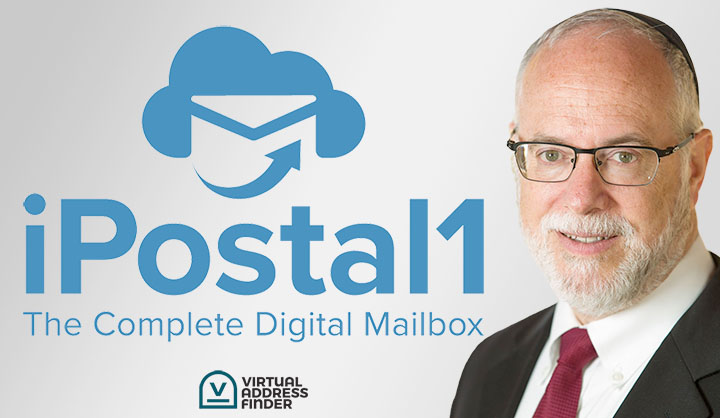 iPostal1, headquartered in Montebello, New York, was officially founded in 2015 by software engineer Jeff Milgram. Jeff had already been building another company that handled large volumes of packages, so it was a natural pivot to start a digital mailbox service.
To this day, it seems that the technology platform that they've built – software that dates back to Jeff's original company – is what they consider their competitive advantage. This translates to a better online dashboard for us users and one of the best back-end platforms for mail centers.
Today they cater heavily to RVers, solo professionals, expats and even small businesses who need a physical address that can accept mail and handle it on their behalf.
In my opinion, which I'll unpack more throughout this iPostal1 review, the digital mailbox service they offer is perfect for individuals or solo-entrepreneur companies. Despite their "virtual office" plans, if you're a growing small business or a medium-sized business, you might want to consider other options.
Virtual Mailbox Services
The primary service offering for iPostal1 is its virtual mailbox service. As with any such virtual address company, this provides you with a real street address to receive mail, packages, bank statements, credit or debit cards, and other personal and business mail.
With iPostal1, individuals and businesses can obtain mail and parcels from any carrier, including FedEx, UPS, DHL, and the USPS.
To forward mail received at an iPostal1 location, you simply select the desired forwarding location, choose a carrier based on real-time shipping prices (which isn't always the case for other companies) and iPostal1 handles the rest. Customers can access and manage their mail and packages through the iPostal1 app and visually inspect each piece of mail, instructing the company to scan, shred, or forward it to the desired address.
Address Options (Mail Center vs Office Center)
As stated earlier, iPostal1 has an extensive list of over 2,700 digital mailbox locations across the US and abroad, each providing a valid street address that can receive mail and packages. These addresses can be split into two different categories:
Independent Mail Center Address: These mail center addresses consist of UPS stores, mom-and-pop mail centers and other CMRA registered locations (CMRA = commercial mail receiving agency)
Office Building & Coworking Spaces: These are more professional looking buildings that serve as office space for other businesses and have full-time staff who receive and handle mail. These addresses usually start at a higher price point.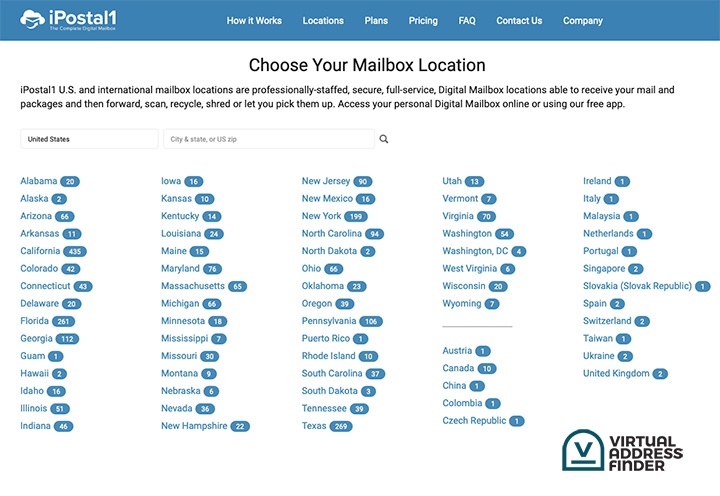 The available plans for each address include the Virtual Mailing address and Virtual business address (essentially the same thing) and the Virtual Office plan (added phone & fax numbers).
This range of address options allows customers to choose the perfect location for their personal or business mail, ensuring both convenience and credibility.
iPostal1 Features and Benefits
iPostal1 offers a flurry of standard features that you'll find with pretty much every digital mailbox service as well as a few features that I've found to be unique. Let's cover the standard features first before we dive into what's unique.
Genuine Physical Addresses: Addresses listed on the iPostal1 website real street addresses where a human is receiving and handling your mail. This is true of all virtual mailbox services.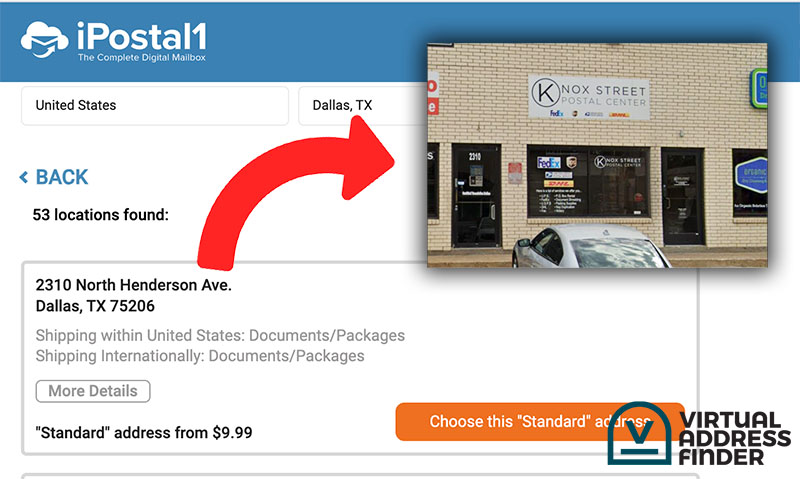 Mail & Package Handling: Locations will receive any kind of mail, take a picture of it and upload it to your mail dashboard. From here you have the ability to request a scan or arrange for items to be consolidated and forwarded anywhere else in the world.
Sleek Online Dashboard & Mobile App: Access your mail from anywhere in the world either through your internet browser or on their mobile app (iOS & Android).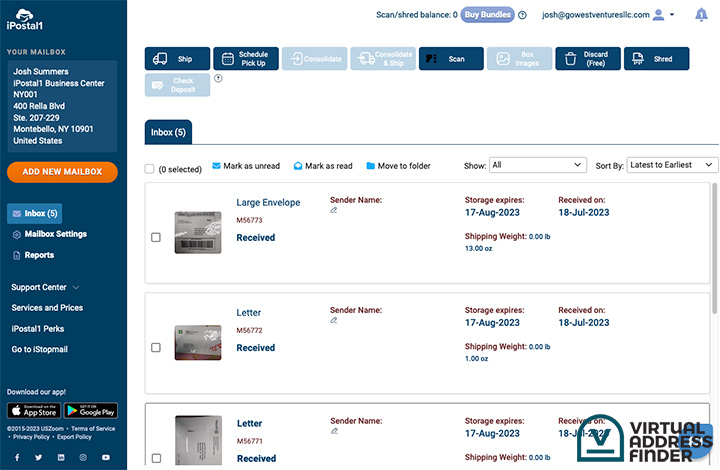 Discard or Shred Mail: For items that you don't wish to forward – or hope to securely dispose of – you have the option to either discard the mail (throw it away) or have the mail shredded (extra fee).
Unlimited Cloud Storage: Even if you discard or forward the physical mail, you can always keep a digital copy in your account as long as you have an active address.
Check Deposit: If you receive a physical check to your address, iPostal1 can deposit it directly into your account.
Again, this is how a virtual address works and these are all standard features that you'll find with any of the best virtual mailbox services. So what's unique?
Features that are Unique to iPostal1
After using iPostal1 and comparing it to many of their competitors, there are a few features they offer that really stand out. This includes things like:
Highest Number of Locations: If you like choices, iPostal1 definitely has you covered. Most virtual mailbox services I review have less than 100 available addresses, with some that only offer >10. Having thousands to choose from is certainly a selling point.
Real-Time Shipping Quotes: iPostal1 offers real-time shipping price quotes for forwarding packages or mail, ensuring customers have access to the most cost-effective shipping options.
Schedule a Pick Up: Although other virtual mailbox services allow you to pick up your mail in person, iPostal1 has a cool feature where you can schedule a pick up so that they know you're coming and have the mail ready to hand over.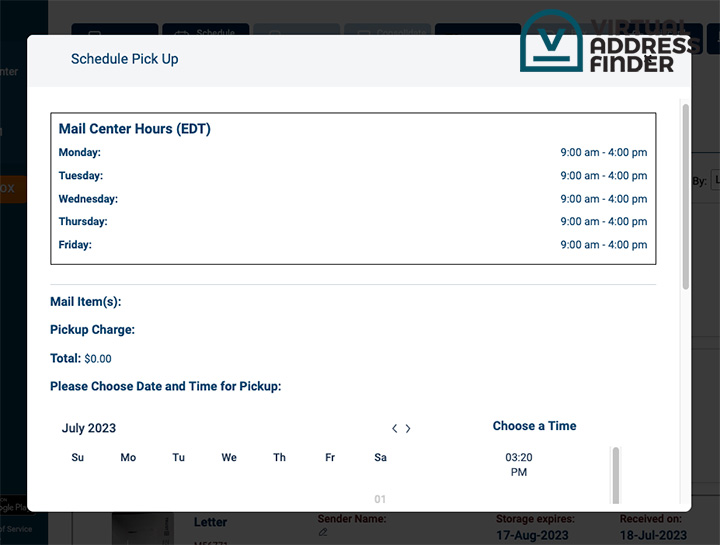 Virtual Office Plans (US only): Although honestly, I think there are better overall options for a virtual business address, what iPostal1 does offer is their virtual office plan that includes both a business phone number (toll free or with an area code) and a fax number. The phone number can be forwarded to any phone and includes a digital voicemail. The fax number is for incoming faxes only.
Robust Mail Center Software: This isn't something that the average customer will even notice, but iPostal1's history as a software company means that their back-end platform for mail centers is one of the best in the industry.
This is what I really like. But to make this a fair and balanced iPostal1 review, it's important to share what's missing.
What's Missing with iPostal1
The biggest strength of iPostal1 is also what I consider to be it's greatest weakness: the numerous locations.
But how can having a robust virtual address listing be a bad thing?
Virtual mailbox services have an option when it comes to the addresses they offer: contract out with 3rd-party mail centers or own and operate their own locations.
With the exception of their headquarters address in Montebello, New York, iPostal1 deals exclusively with independent mail centers to manage postal mail. This isn't a big deal if you're an individual, a family or a solo entrepreneur, but this is worth taking into consideration if you're a business.
The Value of a Primary Hub Address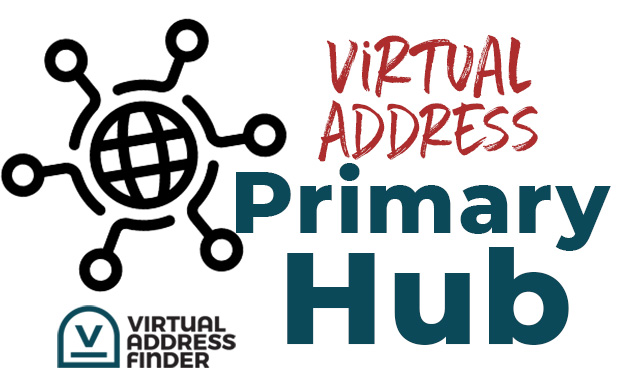 When a virtual mailing address is owned and operated by a digital mailbox service, it is considered a primary hub virtual address. This is more expensive and harder to set up, but it comes with a number of advantages including:
Control Over Security: iPostal1 can set standards for their independent mail operators and monitor their performance, but ultimately they have very little control over the security of the virtual address location and who is handling the mail.
Scalability: As a small- or medium-sized business, it's unreasonable to expect a small mail center that is dealing with its own customers throughout the day to be able to handle large volumes of mail efficiently. That isn't the case with a primary hub address, where the only job of the location and staff is to handle mail.
Speed and Efficiency: Again, imagine that mail center in a strip mall nearby. When they receive mail, there's no doubt that they work fast to process and upload it to your dashboard. But if a customer comes in the door, your mail will have to wait. Not true with a primary hub virtual address.
What does this mean?
The fact that iPostal1 has a vast network of independent mail centers isn't a bad thing at all, but if you're looking for a virtual business address with a high level security to handle a larger volume of mail, it might be better to look at other virtual mailing address options.
iPostal1 Pricing and Plans
To quickly break it down, you'll find that iPostal1 offers three plans with four tiers of pricing.
First, you can choose from a Virtual Mailing Address or Virtual Business Address, which are exactly the same plan (marketed to different users) or you can go with the Virtual Office. These plans start at $9.99 and go up if you choose one of their premium office or coworking addresses.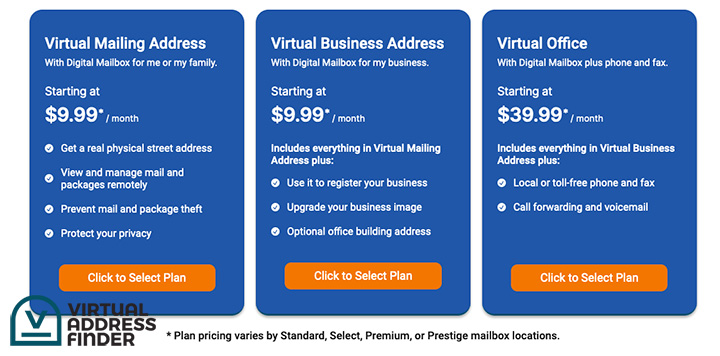 Once you choose these plans, you have the option of four different pricing tiers based on the amount of mail that you expect to receive. It starts with the Green plan and goes up to Blue, Silver and Gold.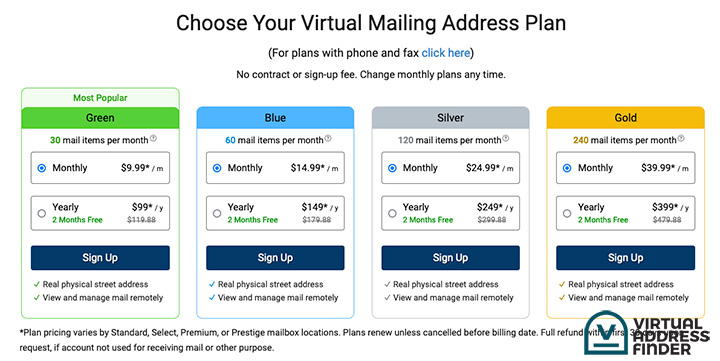 It's worth noting that they offer a full refund within 30 days of rental if the account is unused, ensuring that you're satisfied with their service.
Additional Fees
As with all virtual mailbox services, it is essential to consider all potential monthly expenses, including any add-ons, when selecting an iPostal1 plan.
While iPostal1's plans are generally affordable, be mindful of additional costs associated with all plans. These include additional pieces of mail or scans that go above and beyond your plan's allotment, fees to shred your mail, check deposit fees, fees to pick up your mail in person (with some locations), and fees for extended physical mail storage.
iPostal1 Customer Service
iPostal1's customer service is highly regarded by its customers, as evidenced by its positive reviews and A+ rating from the Better Business Bureau. With a rating of 4.26 stars from 140 reviews, the majority of customers are generally satisfied with their iPostal1 experience.
What's great is that within your online dashboard, iPostal1 offers live chat support during office hours and bot support outside of office hours. So if you run into any problems or issues, you'll be able to get immediate support without picking up a phone.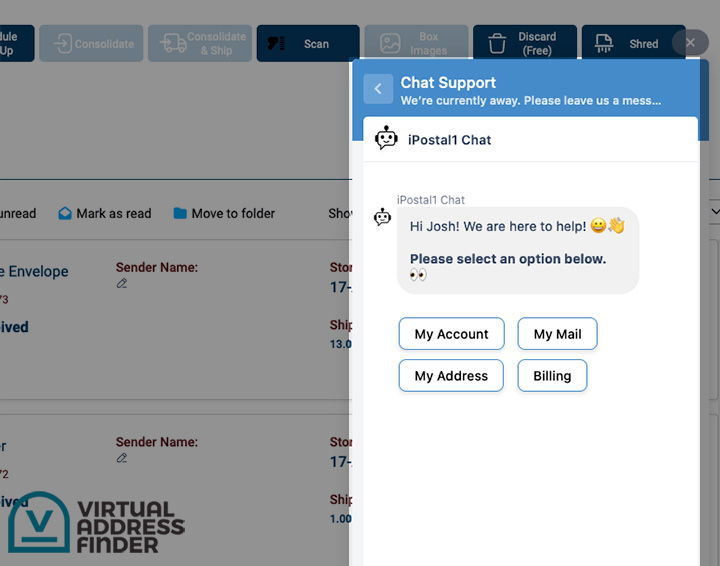 Personally, I've never had an issue with their customer support, but it's worth noting that some customers have reported issues with hidden costs and below-average customer service. As with any service provider, it is crucial for potential customers to thoroughly review the terms and conditions before committing to a plan, to ensure they are fully aware of any potential pitfalls.
Comparing iPostal1 to Competitors
When comparing iPostal1 to competitors like Anytime Mailbox, PostScan Mail and Traveling Mailbox, their service stands out mainly due to its plan pricing and 2,750 available locations worldwide.
Here's a quick comparison to each:
iPostal1 vs Anytime Mailbox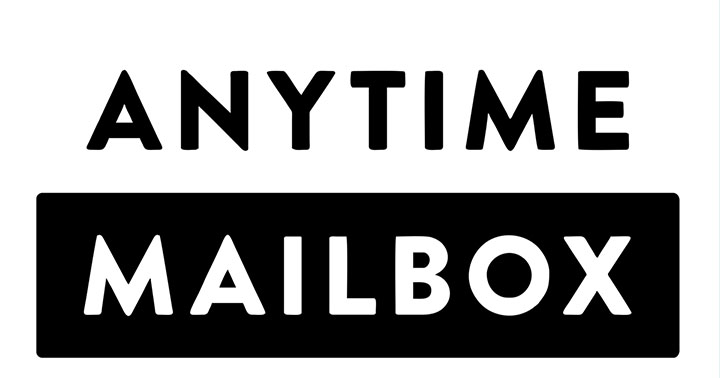 When compared to Anytime Mailbox (1,977 locations), iPostal1 still has a broader selection of locations. Both of them have international addresses, although they also both only use independent mail centers.
The biggest difference between Anytime Mailbox and iPostal1 is pricing models. iPostal1 has a consistent offering across the board while Anytime Mailbox allows their mail center partners to set their own pricing.
iPostal1 vs PostScan Mail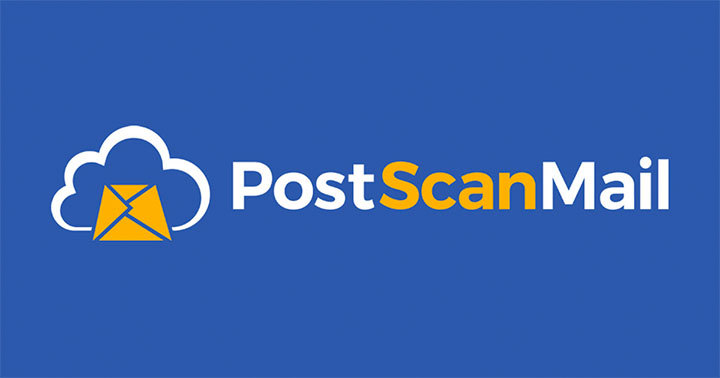 The most important difference between Postscan Mail and iPostal1 is the fact that PostScan Mail offers a strong set of virtual address primary hubs. These are the locations that are owned and operated by PostScan mail themselves.
This means that PostScan Mail is probably better suited for small businesses, but they also cost a bit more than iPostal1. All other features are mostly the same. Read my full PostScan Mail review here.
iPostal1 vs Traveling Mailbox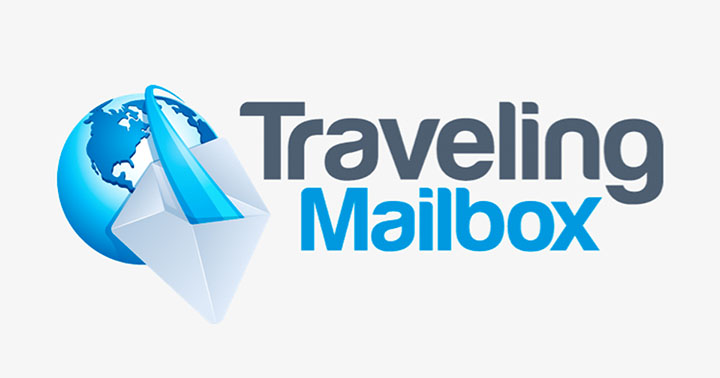 When using the Traveling Mailbox online dashboard, users are given the option to create folders to store different pieces of mail, which is oddly missing with iPostal1. This allows you to treat your physical mail in almost the same way you would your email.
Traveling Mailbox is slightly more expensive, however, and unlike iPostal1, they have all mail forwarded to their virtual mailbox headquarters in Sanford, NC for processing. This usually adds an extra day or two before you see a piece of mail arrive, which isn't the case for iPostal1.
Read my full Traveling Mailbox review here.
---
Summary
In conclusion, iPostal1 is an excellent digital mailbox option for individuals considering their affordable plans, wide range of features, and 2,750 real street addresses worldwide.
While they do not own and operate their own locations, which might prove challenging for businesses, iPostal1 remains a highly competitive option for those seeking an efficient and reliable virtual mailbox solution.
---
Frequently Asked Questions
These are some of the most common questions I hear from people who are doing their research on iPostal1.
Is iPostal a good service?
Overall, iPostal1 is a great service that customers are generally satisfied with. It has over 2,750 convenient locations, scans mail for easy viewing online, and provides an excellent customer experience. With its 4.78-star rating from 25,400 reviews, it is clear that customers are satisfied with the service.
Is iPostal considered a physical address?
Yes, iPostal is considered a physical address. The addresses they offer are independently owned mail center location that serve as either an individual address or a business address. It provides customers with access to their personal digital mailbox both online and via a mobile app.
Can you get a refund on iPostal1?
Yes, you can get a refund on iPostal1 if you meet the requirements and contact them within 30 days of purchase.
Can an iPostal1 address be used as a registered agent address?
Yes, virtual addresses from iPostal1 can be submitted to the secretary of state as a registered address for your business. Learn more about virtual addresses vs registered agents here.