In order for any third-party service like a virtual mailbox or P.O. box to legally receive mail on behalf of a business or individual, a USPS Form 1583 needs to be signed and notarized. This critical document is the linchpin that permits commercial mail receiving agencies (CMRAs) to handle restricted delivery mail on behalf of their clients.
In this comprehensive guide, we're going to explore the importance of Form 1583, guide you through the process of completing the form, understand its legal requirements, and provide notarization options.
Whether you're a business owner, a remote worker, or simply someone who values privacy and convenience, this article will serve as your roadmap to mastering USPS Form 1583.
If you would like to skip down to answer a specific question you have about Form 1583, you can use the navigation links here:
Why do you Need USPS Form 1583?
Form 1583, also referred to as "Application for Delivery of Mail through Agent," is an official document used by the United States Postal Service (USPS) to authorize third parties, such as commercial mail receiving agencies (CMRA), to receive and manage mail on behalf of business and individuals.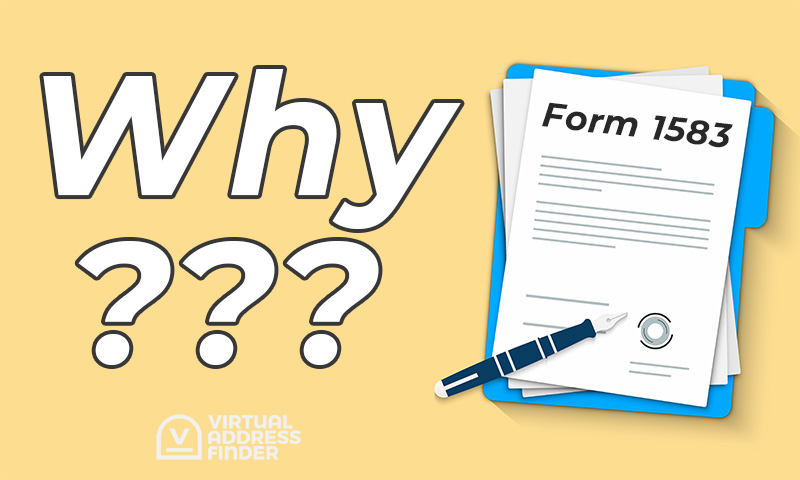 This form is not only essential for granting these agencies permission to manage your mail but also serves as the foundation for virtual mailbox registration.
Signing and notarizing this form is a mandatory first step for virtual mailbox providers like Virtual Post Mail, Postscan Mail, iPostal1 and others to receive mail, open it, scan it and forward it to their clients.
This form needs to be notarized and filed for every recipient on a mailbox, including both individual names and business names. It ensures adherence to the strict mail security and privacy regulations of the postal service. In essence, USPS Form 1583 is the key that unlocks the world of flexible mailing services.
The Basics of USPS Form 1583
Before we delve into the specifics of filling out Form 1583, it's vital to grasp its function and the legal obligations associated with it.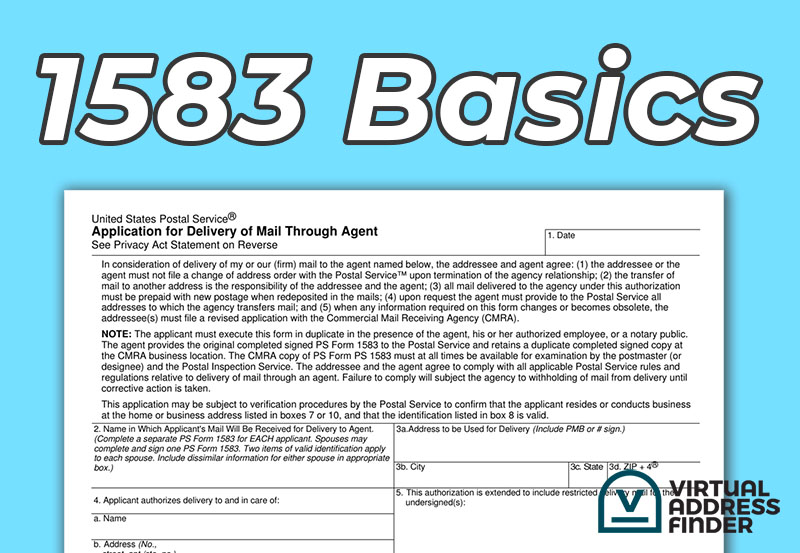 Now that we've established the "why" of Form 1583, let us delve into a bit of the weeds to answer two important questions about this crucial document:
Who needs to complete Form 1583?
What are the legal requirements and regulations?
Who Needs to Complete Form 1583?
Every business and individual that intends to use the services of a commercial mail receiving agency (CMRA) must complete a mail forwarding form, known as USPS Form 1583, to provide their mailing address.
These services include:
Virtual Mailbox Providers
Virtual Offices
P.O. Boxes
Filling out this form gives the CMRA authorization to receive and manage your mail, thereby guaranteeing its secure and efficient handling.
It is important to note that this form may also be applicable to non-U.S. residents and dual citizens traveling abroad, as they may need to authorize a CMRA to handle their mail while they are away (see more below).
Legal Requirements and Regulations
USPS Form 1583 plays a crucial role in ensuring mail security and privacy. The US postal service has established stringent regulations to maintain these standards. The two primary regulations include:
Registered CMRA: You can't just have anybody accept mail on your behalf – they have to be a registered CMRA. A CMRA has to have a physical location and must keep all client Form 1583s on file.
Notarization: The primary legal requirement is notarization – a process that validates the identity of the person authorizing the CMRA to receive mail in their name or their company's name. Notarization ensures that only authorized parties can grant permission to handle mail, maintaining the integrity of the postal system and protecting against fraud.
Now that we've covered the basics of Form 1583, let's spend a bit of time explaining how to fill it out.
Completing USPS Form 1583: A Step-by-Step Guide
Now that we've grasped the significance and legal implications of USPS Form 1583, let's delve into the form itself. First things first, you can download a printable version of Form 1583 here.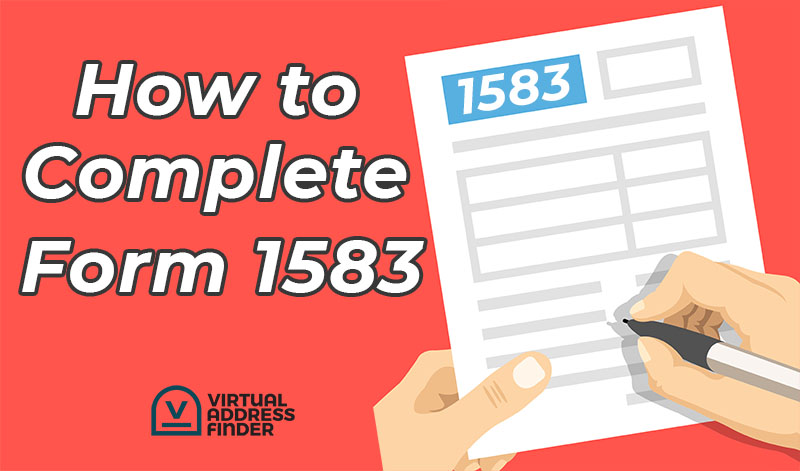 This section offers a detailed guide on completing Form 1583, touching on aspects such as personal information, business information, and identification requirements. By following this simple guide, you will be well on your way to authorizing a virtual mailbox service or PO box to handle your mail securely and efficiently.
To make this process as seamless as possible, we have broken down the form completion process into subsections that focus on specific aspects of the form. This will ensure that you have a clear understanding of each section and its requirements.
Personal Information
The initial step in filling out USPS Form 1583 involves providing your personal information in the address form. You will be asked to provide:
Your full name
Phone number
Email address
Home address
All the details are necessary for the CMRA records. You can't use your new virtual address as your "home address" – it needs to match the ID you submit. You could, however, give a masked email address or phone number as long as you can receive message at those places. This information needs to be as accurate and up-to-date as possible. Discrepancies may result in delays or complications with your mail handling services.
Beyond basic personal information, you'll also be asked to provide details for identification. This includes:
The type of photo ID (passport, drivers license, etc.)
ID number
Issuing entity
Expiration date
Providing accurate identification information that matches the copies of the ID you send is crucial for quick and easy verification.
Business Information
If you're filling out Form 1583 for a business virtual address, you'll need to provide the company's legal name, type (LLC, corporation, etc.), and registered address. Again, this address can't be the virtual address.
This information is essential for authorizing the commercial mail receiving agency to accept mail on behalf of your business, ensuring that all correspondence is handled securely and efficiently.
It is important to note that if you are using the services of a virtual mailbox provider, the provider may prefill some of this information for you, making the process even more convenient. Be sure to double-check all the information to ensure accuracy before submitting the form.
Identification Requirements
To fill out USPS Form 1583, you must provide two forms of identification. One of these identification documents must include a photograph of the applicant, and the other must include the home or business address (the same one you filled out on the form).
Acceptable forms of identification include:
A valid driver's license;
State-issued identification card;
Armed forces card;
Passport;
It is important to note that credit cards, social security cards, and birth certificates are not acceptable forms of identification for completing Form 1583. Make sure you have the necessary identification documents on hand when completing the form to avoid any delays or complications.
Notarization Options for USPS Form 1583
After filling out USPS Form 1583 and collecting the required identification documents, the next step is notarization of the form. Notarization is essential for validating the identity of the person authorizing the commercial mail receiving agency to handle their mail.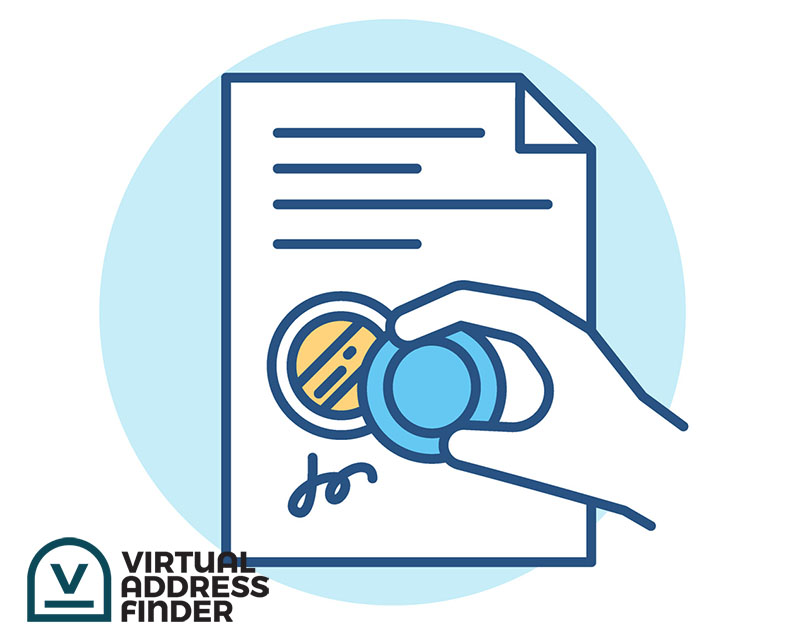 This section discusses various notarization options available to businesses and individuals. Whether you prefer the traditional route of in-person notarization or the convenience of online services, we have got you covered.
Note: It's worth noting that many virtual mailbox services offer online notary services during the signup process. It may come at an extra fee, but they pre-fill the form and submit it on your behalf.
In the following subsections, we will explore both options in detail, ensuring that you have all the information needed to make the best choice for your needs.
In-Person Notarization
In-person notarization is a tried-and-true method of verifying your identity and authorizing a commercial mail receiving agency to handle your mail. To notarize USPS Form 1583 in person, you can visit a local notary public, which can often be found at:
Before visiting a notary in person, it is a good idea to call ahead and inquire about their availability and any fees associated with their services. Some providers may offer free notary services, while others may charge a nominal fee.
Online Notarization
In today's digital age, online notarization is becoming an increasingly popular option for those who value convenience and flexibility.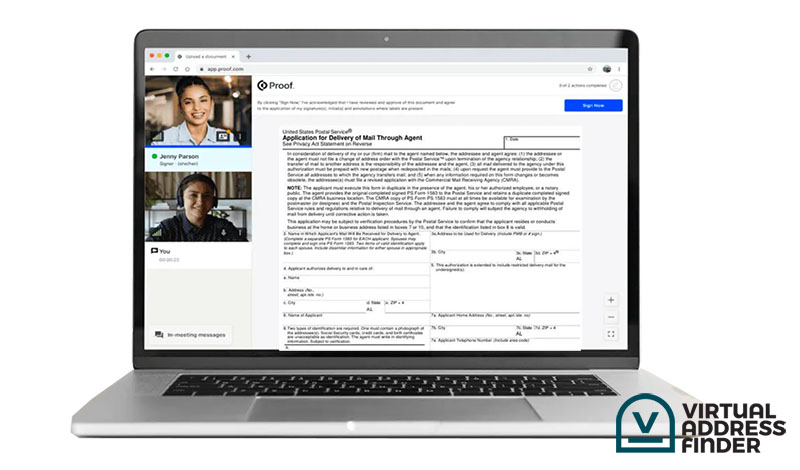 Online notary services like Notarize by Proof allow you to notarize USPS Form 1583 using audio-visual technology over the internet, providing a secure and efficient alternative to traditional in-person notarization.
The process costs US$25 per document and can be ordered and completed in usually under 15 minutes.
To get your Form 1583 notarized (or any other legal document for that matter), visit Notarize.

Again, before you start the notarization process, be sure that it isn't already included as part of the setup of your virtual mailbox provider.
International Users and USPS Form 1583
Completing USPS Form 1583 may pose certain challenges and requirements for non-U.S. residents and those with dual citizenship.
In this section, we will address the concerns and requirements of international users when completing Form 1583, ensuring that you have all the information needed to navigate this process with ease.
From notarization options to identification requirements, we will cover all the bases to ensure that international users can successfully complete Form 1583 and authorize a commercial mail receiving agency to handle their mail.
Notarization Options for Non-U.S. Residents
As an international user, you have several options when it comes to notarizing USPS Form 1583. Online notary services such as Notarize by Proof (mentioned above) are still a convenient option for non-U.S. residents, as they allow you to notarize your form remotely.
In addition to online notary services, non-U.S. residents can also have their Form 1583 notarized at a U.S. embassy or consulate in their country. This option may be more suitable for those who prefer a traditional approach to notarization or who do not have access to reliable internet services.
Dual Citizenship and Traveling Abroad
For individuals with dual citizenship or those traveling abroad, completing USPS Form 1583 may require additional considerations. Similar to non-U.S. residents, online notary services are an available option for notarizing your form, as they allow you to complete the process from anywhere in the world.
In addition to online notary services, dual citizens and those traveling abroad can also have their form notarized at a U.S. embassy or consulate in their current country of residence. This option ensures that your Form 1583 is notarized in accordance with U.S. regulations, even if you are not physically present in the United States.
Common Mistakes and How to Avoid Them
While the completion this form may appear simple, individuals and businesses often commit common errors. These errors can result in delays or complications with your mail handling services, so it is crucial to be aware of them and take steps to avoid them.
Some common mistakes when filling out a form include:
Inaccuracies or omissions in the required details
Not signing and dating the form
Not including the necessary supporting documents
Not having the form notarized
Submitting information that doesn't match the ID documents provided
To ensure accuracy and avoid these pitfalls, follow these steps:
Double-check all information on the form.
Sign and date the form.
Include the required supporting documentation.
Have the form notarized.
Submit a fully completed and correct form.
---
Summary
In conclusion, USPS Form 1583 is an essential document that grants permission for virtual mailbox companies to handle mail on behalf of their clients. By completing this form accurately and adhering to its legal requirements, individuals and businesses can enjoy the benefits of using virtual mailbox services while ensuring mail security and privacy.
As we have demonstrated, filling out the USPS Form 1583 is not a daunting task. By following the step-by-step guide provided, getting the document properly notarized, and being mindful of the common mistakes to avoid, you can confidently authorize a commercial mail receiving agency to handle your mail and enjoy the convenience and flexibility that virtual mailboxes have to offer.
---
Frequently Asked Questions
Below are some of the most common questions that get asked about the USPS Form 1583.
What is USPS form 1583 for?
USPS Form 1583 is an official form used to authorize your virtual mailbox service provider to receive and open your mail on your behalf, allowing you to access your mail remotely. Learn more about how a virtual mailbox works.
How do I submit form 1583 to USPS?
Submit your notarized Form 1583 and the required IDs by mail or email. Be sure to send the original copy of the form and attach a photocopy of the IDs when mailing, or scan both when sending via email. This process can also be submitted by your virtual address provider.
How long does form 1583 take to process?
It typically takes a day or two for the Form 1583 to be approved and processed. If you have any questions, contact your mail center directly.
What is a Form 1583 proof of address document?
USPS Form 1583 is a notarized document that verifies identity and provides consent for a Commercial Mail Receiving Agency (CMRA) to manage mail on a customer's behalf.
Do I need to complete USPS Form 1583 if I only use a P.O. box?
Yes, USPS Form 1583 is required for individuals and businesses using a P.O. box.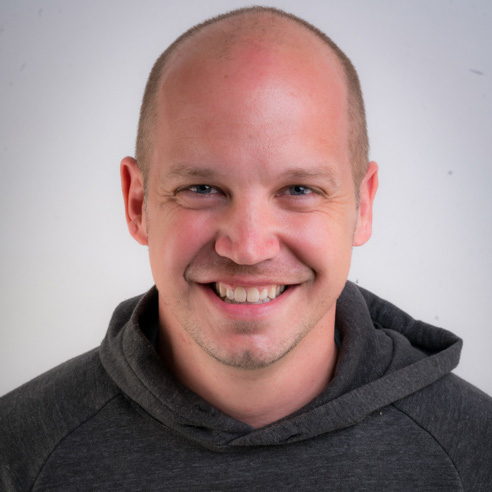 Josh Summers is a writer and entrepreneur who has been using a virtual mailbox for both personal and business use while living in Asia for the past 10 years. In addition to using multiple services, he has actually visited a number of virtual address locations to better understand how the industry works and what's most important to consider.