Are you tired of compromising your privacy by sharing your home address? Are you looking for a flexible solution that caters to your nomadic lifestyle? Whether you're a privacy-conscious individual or an avid traveler, a virtual address is your passport to a secure and convenient way to manage your physical mail.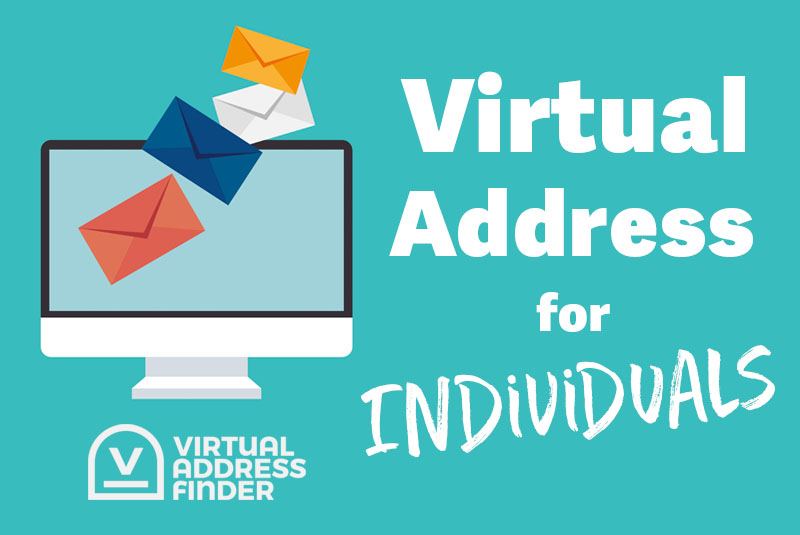 In an era where privacy is paramount and mobility is a way of life, virtual addresses have emerged as an invaluable tool for individuals seeking to safeguard their personal information and maintain a flexible lifestyle.
Whether you're concerned about sharing your home address or you're an adventurous spirit who loves to travel, a virtual address offers a myriad of benefits that cater to your unique needs. To help you understand if this makes sense for you, we're going to cover the benefits of using a virtual mailbox, the possible problems and the recommended services you should consider.
Who Uses Virtual Mail?
You might be surprised to learn that you're not alone in this desire to digitize your mail. When it comes to the average individual, there are four broad categories of users who benefit the most from using a virtual address.
RVers: Having a home that is constantly on the move makes receiving mail a constant challenge. Having a single, virtual address is attractive for those who RV full time or even part-time because it allows them to maintain their mobile lifestyle while being able to give one address where they can accept and check mail from anywhere.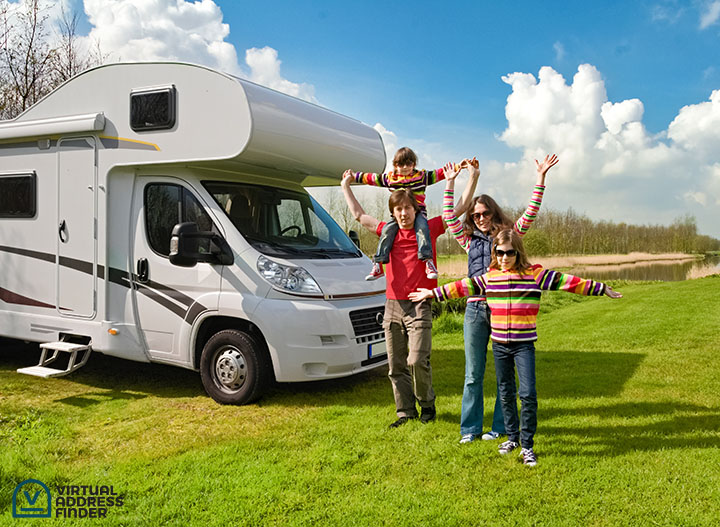 Those Who Want Privacy: It's surprising how often we're asked to give over our home address, and most of the time it's not even necessary. Using this kind of secondary address means that you can keep your home address private while also receiving mail at this other location.
World Travelers / Digital Nomads: Whether you're working abroad or simply traveling wherever the wind blows, having your own virtual address means you don't have to ask a friend or family member to get your mail while you're away. You can access your mail immediately and have it sent to wherever you happen to be in the world.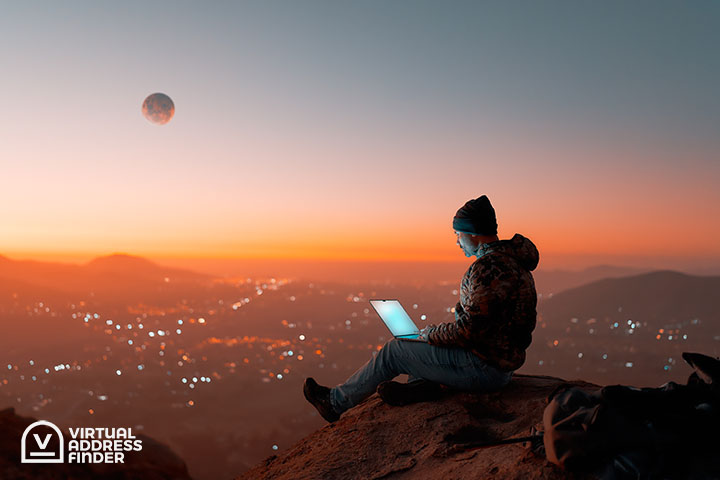 Remote Worker / Solopreneur: Using your personal address for anything business-related is not recommended. It doesn't matter if you're running an Etsy store or simply working from home, there is immense value in adding a barrier of protection between your personal and business life.
Perhaps you fit in one of those groups above. If so, a virtual solution might be a great option for you. But how does it work?
How Does a Virtual Mailbox Work?
Simply put, a virtual mailbox works by allowing you to rent a real address where you can receive mail. This mail is then scanned and uploaded to a virtual dashboard that you can access from anywhere and decide what you'll do with this mail.
From this dashboard you have the ability to:
Open and scan the contents of the mail;
Forward the mail to anywhere in the world;
Shred mail you don't need and keep a digital copy;
Organize all the digital copies into folders;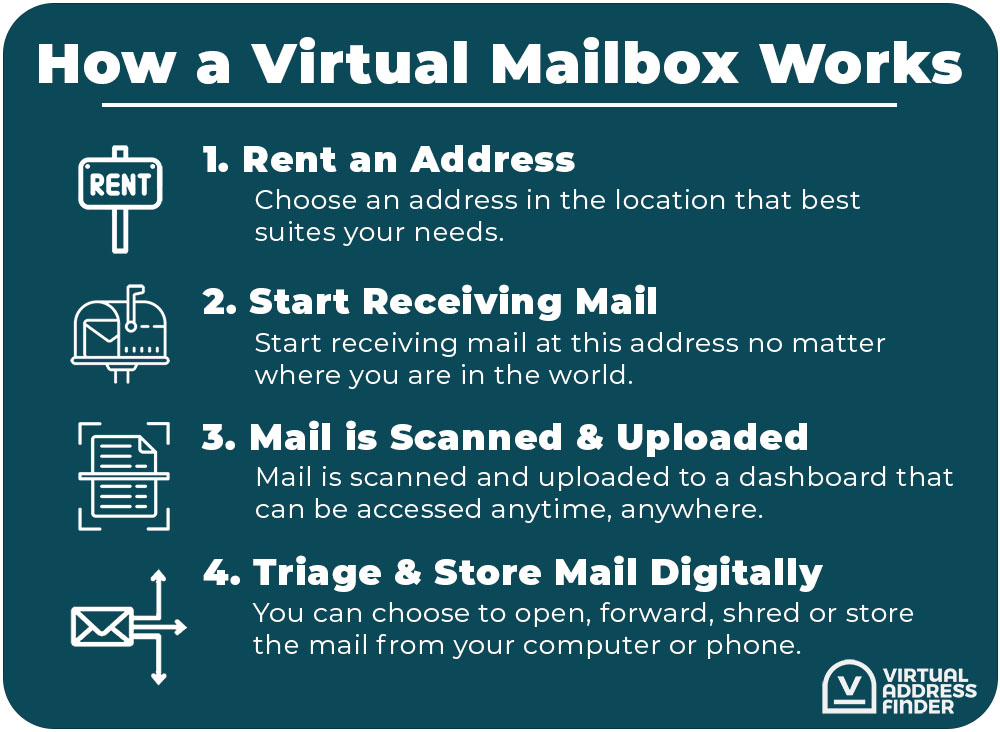 You are trusting another company to handle your mail properly and securely, but in return, you can now treat your physical mail in almost the same way you do your email inbox.
Benefits of Using a Virtual Mailbox
Having used a virtual address for the past decade while living overseas, I'm well-aware of the many benefits that come from using this kind of service. In fact, if you speak with anybody who has been digitizing their mail for a while, they'll probably tell you that it's a game-changer. I'll never go back to *not* having virtual mail!
The benefits boil down to three things: privacy, convenience and control.
Greater Privacy
The #1 reason many individuals start using a virtual mailbox is because of this: privacy.
Unlike a phone number or email address, if your home address is compromised or being used to stalk or harass you, it's extremely difficult to change the address. In other words, moving houses is an extreme measure.
A virtual address is a way to mask this very personal information so that you can still legitimately receive mail at the location without giving up control. It's similar to a PO Box in this way, but different in that you can control the mail digitally.
Convenient Mail Handling
Unlike a PO Box, it's entirely possible to use a virtual address without ever physically visiting the location. You never have to pick up the mail in person (although you can if you want), and you can organize your mail digitally in a way a PO Box doesn't allow.
This kind of mail handling is a critical benefit of virtual mail. You can see the mail that is coming in and decide whether to dispose of it, scan it, or forward it anywhere in the world.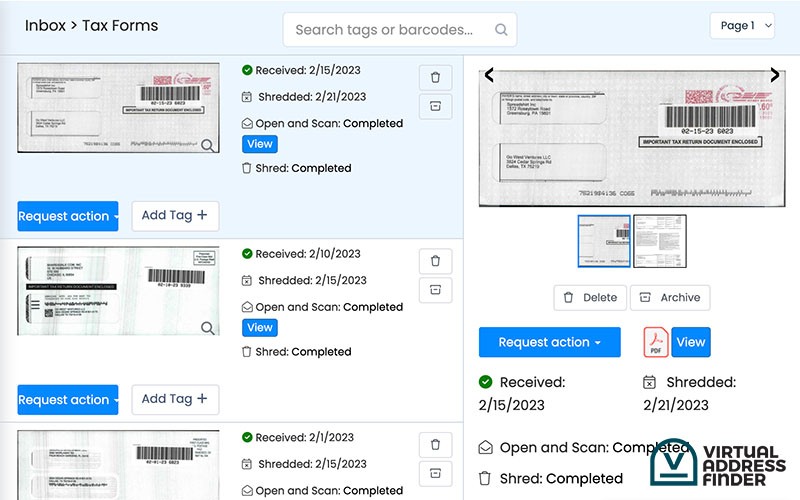 Maintain Control
Whenever you move houses, the process of updating your address with all your friends and family is hard enough – it's a full nightmare when it comes to all of the products and services that you use.
A virtual mailbox gives you full control so that you no longer have to worry about all of that. This secondary address can follow you wherever you go throughout the world, giving you a freedom that you might have never had before.
Potential Problems to Consider
Although there are plenty of benefits to using a virtual address service, there are also a few issues to consider before you make the leap. These have never been deal-breakers for me, but it's worth knowing about at least.
These include:
Mail Security: Many virtual address locations are simply 3rd-party mail centers that anybody can enter. While these locations have to be approved to receive mail from the USPS, they're also not Fort Knox. If you're paranoid about your mail security, you either need to consider a primary hub location or not use a virtual address at all.
Extra Mail Handling: A virtual address
How to Choose the Right Virtual Address
asdf
Recommended Virtual Mailbox Services
asdf
Frequently Asked Questions
asdf