You're doing your research on virtual mailbox providers and it seems that you've narrowed it down to Traveling Mailbox vs PostScan Mail. I've personally have addresses with both companies and I've learned everything that makes them both similar and different. Before you make your final decision, here is what you need to know to compare the two.
Best for:
Freelancers, RVers,
individuals
Small businesses,
security-focused individuals
Locations*
55
400
International addresses
❌
✅
High security controls**
❌
✅
Mobile app
✅
✅
Real-time shipping
✅
✅
In-Person Pickup
❌
✅
Cloud Integrations
✅
❌
*Locations include both primary hubs and 3rd party mail centers. More on this below.
**Higher security only exists on the primary hub addresses.
Links may be affiliate links, which means that at no extra cost to you, we may be compensated if you choose to sign up for either service.
Below we're going to compare both companies, but we've also done deeper research that you can read in our Traveling Mailbox review and the Postscan Mail review.
Location Addresses: Traveling Mailbox vs Postscan Mail
When it comes to virtual mailbox providers, the most important feature they offer is physical address where your mail is received and handled. So as we compare both Traveling Mailbox and Postscan Mail, this is obviously the best place to start.
Both companies look and operate the same, but not every address they offer is equal. Here's how that looks:
Traveling Mailbox – "1 Mail Hub Strategy": The Traveling Mailbox approach is to operate a single mail hub (their Sanford, NC address) and have all of the physical address locations forward mail to this primary hub. There are some advantages to this (centralized mail handling), but it also means that mail can sometimes take longer to arrive in your inbox. For best results, you'll want to choose their Sanford address.
View all Traveling Mailbox Addresses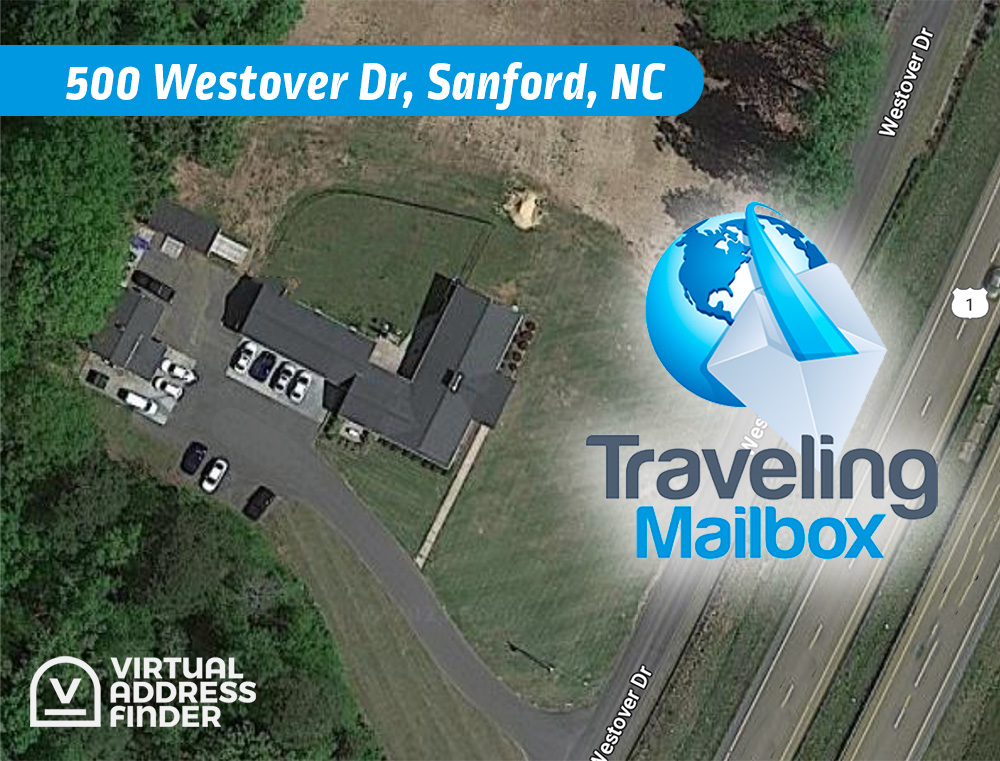 Postscan Mail – "Expanded Primary Hubs + 3rd Parties" Postscan Mail takes a different approach by owning and operating many – but not all – of their locations (this is called a Primary Hub location). An example of this kind of location is their headquarters in California, pictured below. About 20 of their addresses are primary hubs, while the remaining 380 are independent mail centers.
View all Postscan Mail Addresses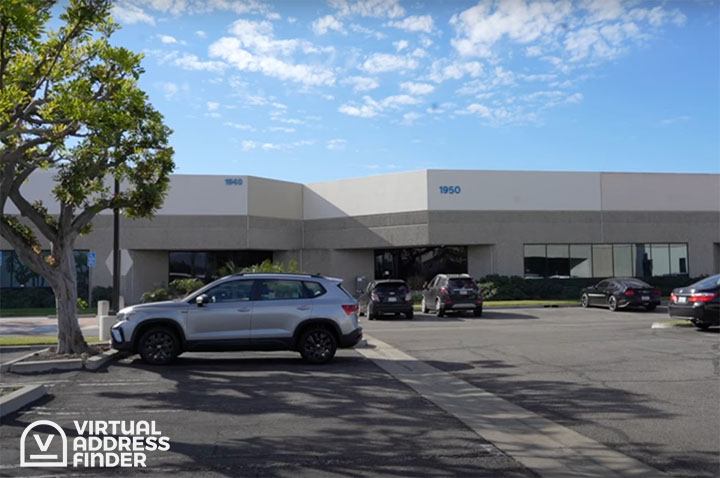 There's not a "better" approach here. It really depends on what you're looking for.
If you want the peace of mind of knowing that your mail goes through a single, secure facility in North Carolina, then Traveling Mailbox is excellent. If you prefer a broader selection of 3rd-party and primary hub addresses, Postscan Mail is exactly what you want.
Comparing Mailbox Features
At first glance, it's difficult to find too many differences between the user experience of most of the virtual mailbox services we review. The online dashboards are pretty standard as is the ability to scan and forward any mail you receive.
For example, here is a look at the dashboard for Traveling Mailbox…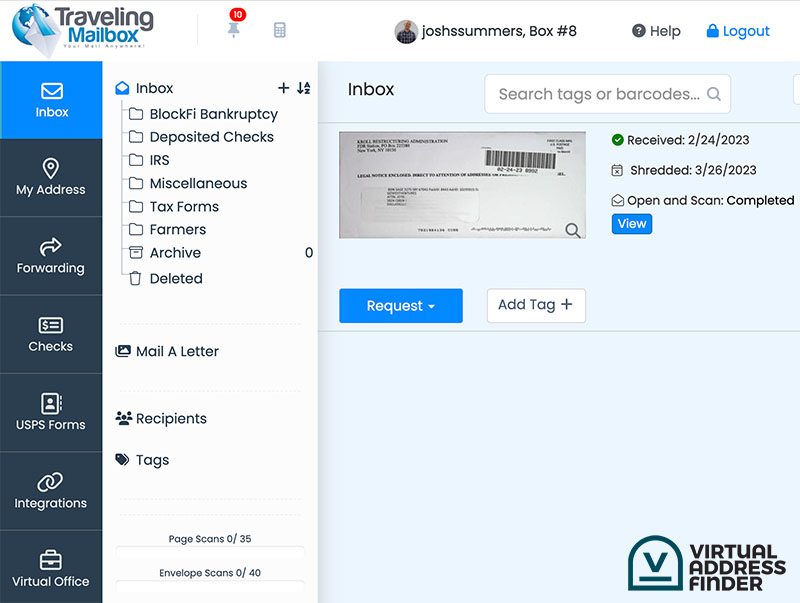 …and here is a screenshot of my Postscan Mail dashboard.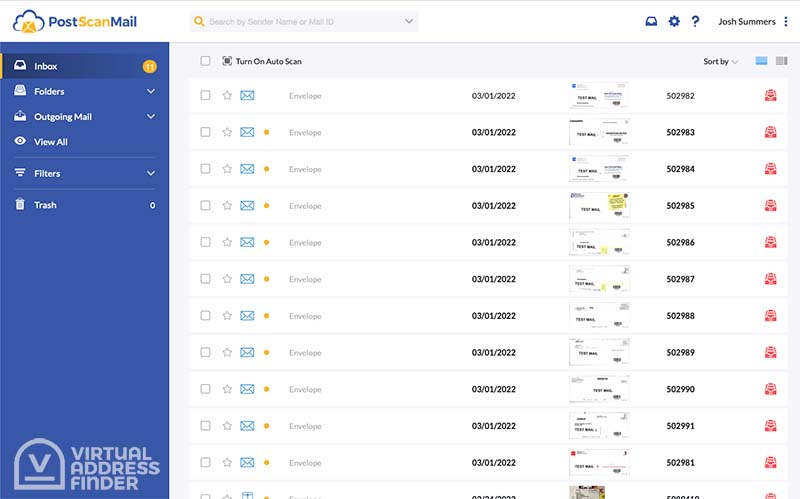 For the most part, both dashboards mimic your email inbox with navigation on the left side and the individual messages/mail pieces on the right.
Of course, there's more to a virtual mailbox provider than their online dashboard. What other important virtual mailbox features need to be considered when comparing Postscan Mail vs Traveling Mailbox?
Setup & Form 1583
Both virtual address companies have an easy onboarding process that takes less than 20 minutes. After you've chosen your address location and provided the details of the recipient(s) for the mailbox, you will be directed to complete the USPS Form 1583.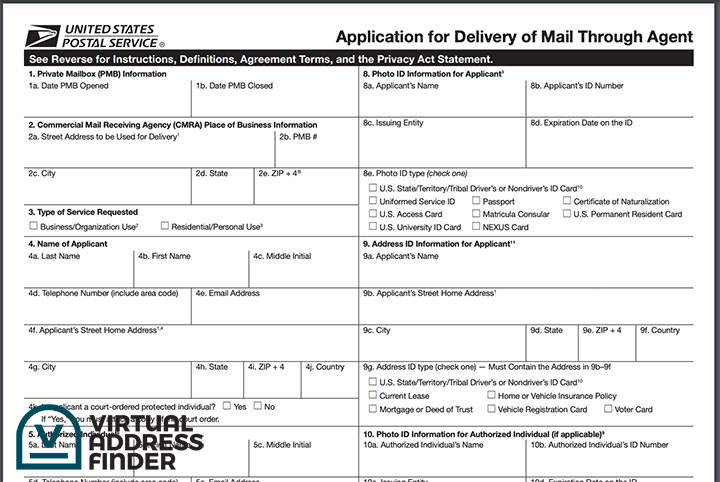 In order to finish this form, you'll need to get it notarized. In years past, this would mean going to a bank or government office to find a notary, but nowadays this can thankfully all be done virtually.
Both Traveling Mailbox and Postscan Mail allow you to do this process online (for an additional fee), so it usually only takes a few minutes during the setup process.
Real-Time Shipping Options
When you receive mail in your virtual mailbox, there are four actions you can take: scan it, hold it, shred/delete it or forward it.
When it comes to forwarding mail, one advantage that both Traveling Mailbox and Postscan Mail have over other virtual mailbox competitors is that they both display real-time shipping quotes from multiple carriers.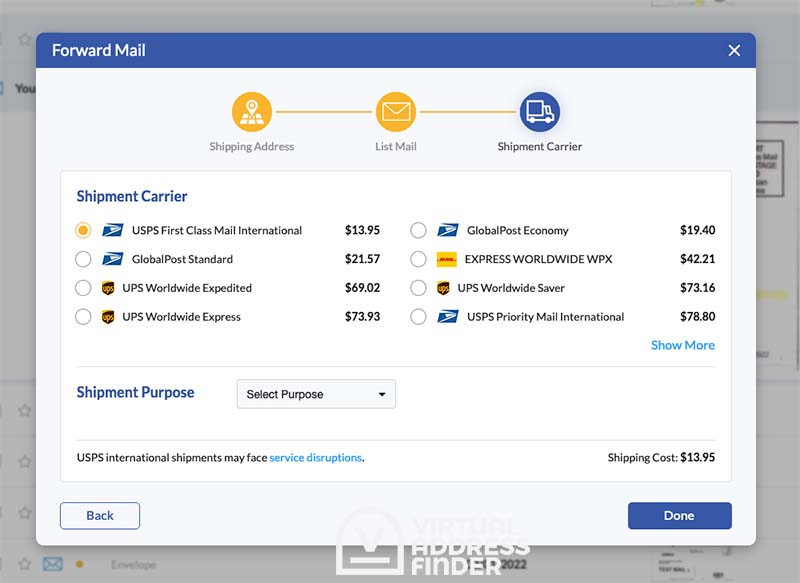 Postscan Mail shows quotes from USPS, UPS, FedEx and DHL, while Traveling Mailbox partners with USPS, UPS and FedEx.
Once you select items to be forwarded, you have the ability to see multiple quotes that include different providers and different mail speeds. In this way, you can either choose to get your mail faster or save money.
Integrations with Cloud Providers
Once mail has been scanned, every virtual mailbox provider allows you to keep a digital copy in your account dashboard. For some people who use a virtual business address, though, there's a need to upload these digital scans to their cloud folders.
When comparing Postscan Mail and Traveling Mailbox, the latter is the only one that offers integrations with various cloud storage providers such as Box, Dropbox, Evernote, Google Drive and OneDrive.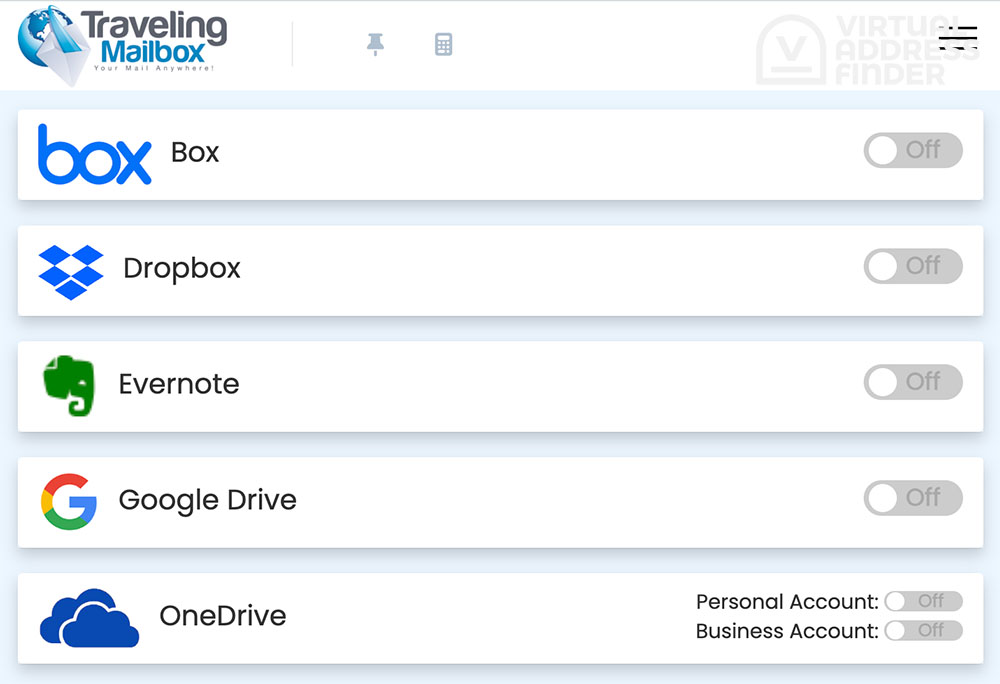 Mail Pickup Options
For those who don't want to spend the money to forward their mail, it sometimes makes sense to choose a virtual address that includes the option for local pickup.
For Postscan Mail, customers have the ability to pick up their mail in-person at any of their locations. Pickup is free for any of the company-owned primary hubs, but there may be a pickup fee for 3rd-party mail centers. You'll need to check to see about any fees before choosing an address location.
Traveling Mailbox, however, does NOT allow users to do local pickup at any of their locations, including the headquarters in Sanford. The reason, they say, is due to security.
Plans & Pricing
Plans for Traveling Mailbox start at $15 (40 pieces of mail, 35 scanned pages) while Postscan Mail begins at $10 (30 pieces of mail, no scans). As you can see, it's hard to compare them directly since they offer different amounts of mail and scans.
In my experience, the ability to open and scan mail is what makes a virtual mailbox so valuable. If you're going to simply forward everything, it's worth doing research on the difference between a PO Box and a virtual mailbox.
The advantage of Traveling Mailbox is that you automatically get plenty of mail scans to start. If you need more, you can upgrade. The primary disadvantage is that the $15 is for the Sanford, NC address. All other addresses are considered "Premium" and start at $19.95.
Here's a look at the Traveling Mailbox pricing plans: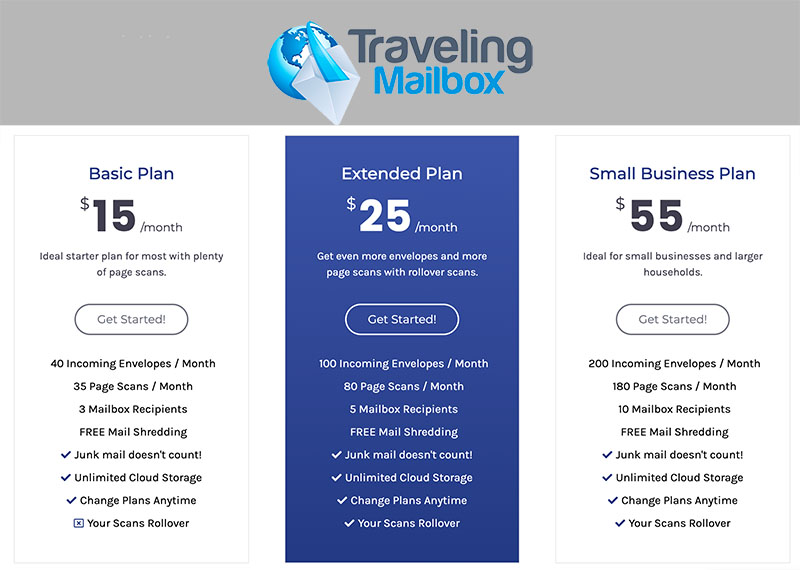 And then compare that with the Postscan Mail pricing plans: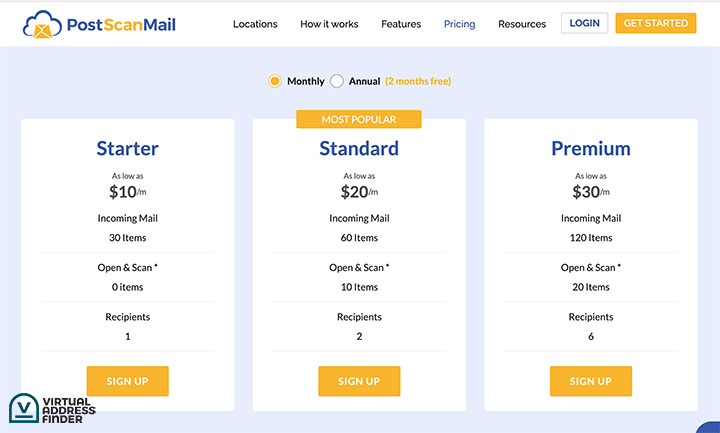 There's not a real apples-to-apples comparison here, so you need to look closely and determine which features are most important to you. Do you need more recipients? More mail scans? Premium addresses?
It's worth noting that both Traveling Mailbox and Postscan Mail give you two months free when you opt for the annual plans.
Mobile App
One of the advantages of having a virtual mailbox is the opportunity to handle your mail from anywhere in the world, whether you're on your computer or your desktop.
Thankfully, both Traveling Mailbox and Postscan Mail offer dedicated apps for both iOS and Android that allow you to log into your account, view your mail and make decisions on what you want to do with each piece of mail.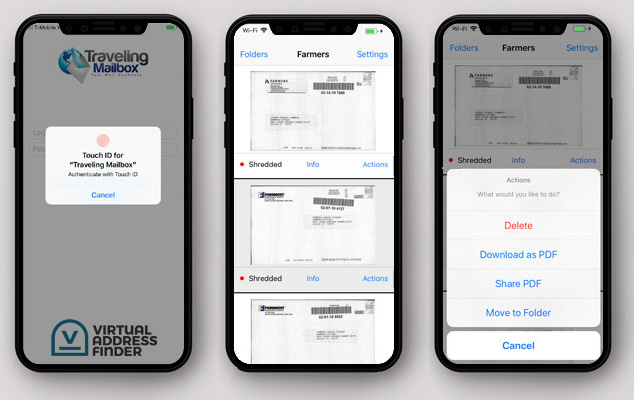 Both apps have security features that require biometrics at login and take advantage of most of the features that are also available on the desktop version of the dashboard.
Registered Agent Services
If you're looking for a virtual address for an LLC, one of the biggest things you probably want to know is whether you can use the address as your registered agent.
The short answer is yes, they can.
And although this is definitely a bonus when using Postscan Mail and Traveling Mailbox, it's hardly unique. Pretty much every single virtual mailbox provider allows customers to use the address for registered agent services.
Final Summary: Traveling Mailbox vs Postscan Mail
Hopefully this comparison has been helpful as you've been researching Postscan Mail vs Traveling Mailbox.
In short, if you value cloud integrations and a basic plan with at least a few mail scans, then Traveling Mailbox is an excellent option that I've been using for almost a decade.
If you're a small business or any person who values the privacy and security of your mail, choosing one of Postscan Mail's primary hubs is a great option. You get compliance (HIPAA and SOC2), local pickup and efficient mail handling.
The choice depends on which you value more, but the end result for either Traveling Mailbox or Postscan Mail is better control over your physical mail.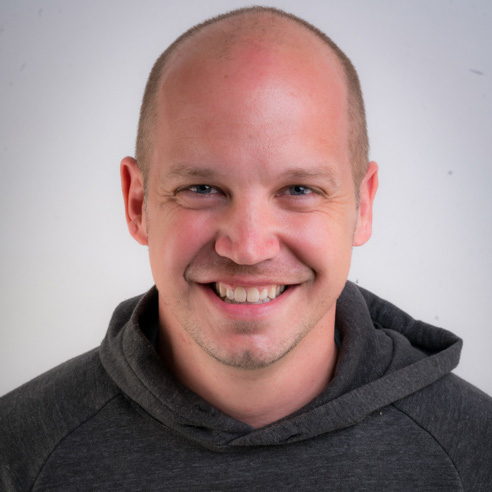 Josh Summers is a writer and entrepreneur who has been using a virtual mailbox for both personal and business use while living in Asia for the past 10 years. In addition to using multiple services, he has actually visited a number of virtual address locations to better understand how the industry works and what's most important to consider.