When searching for a virtual address you'll likely come across hundreds if not thousands of locations. The dirty little secret of the virtual mailbox industry, though, is that most of these are not "primary hubs". Why does this matter and how should this impact the address you choose?
It may not seem like much, but the value of a primary hub cannot be overstated, particularly if you're a business. I'd like to explain what makes a primary hub different and why most virtual mailbox providers only have one or two of them.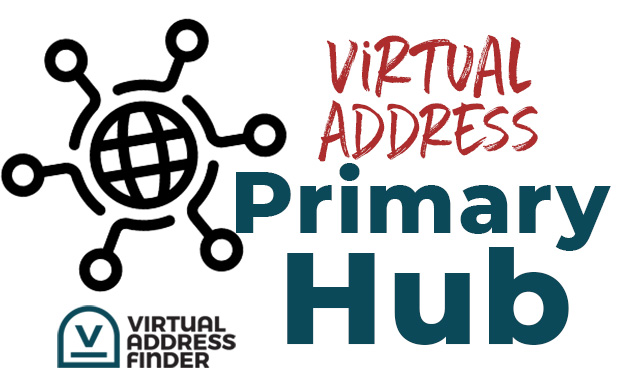 In short, a virtual mailbox primary hub is a center of operations that is owned and operated exclusively by the mailbox provider. They control the security, they hire the staff and they maintain the quality control.
By contrast, most virtual addresses are sub-contracted mail centers run by independent operators like WeWork, UPS, or even a small business owner.
As you can imagine, the cost to own and run a virtual mailbox primary hub is significantly higher than contracting out with independent mail centers, so the vast majority of addresses that you see listed on a provider's website are sub-contracted.
Let's dive into this a bit deeper.
Benefits of a Primary Hub
Whether you're considering a personal virtual address or you want a virtual business address, there are four primary benefits of choosing a primary hub as your primary location: security, quality, efficiency and durability.
Let's take a look at each of these individually.
Additional Security
If you've ever walked into an independent mail center or even a UPS store, it plainly obvious that it's not built with security in mind. In fact, they want people to be coming in and out of the store!
At one point, I went into a mail center location where the packages from a virtual mailbox provider were sitting out on a table and they didn't even require an ID check for me to pick up my package.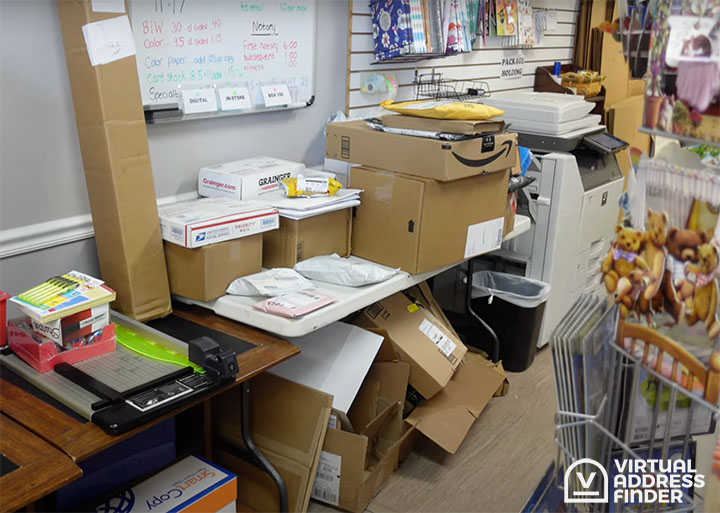 Perhaps this doesn't concern you much. But for those who care about the security and privacy of their mail, this is a problem.
Virtual Address "Primary Hubs", on the other hand, are usually locked to outsiders and guarded by security cameras. Only hired staff can enter these facilities and handle the mail.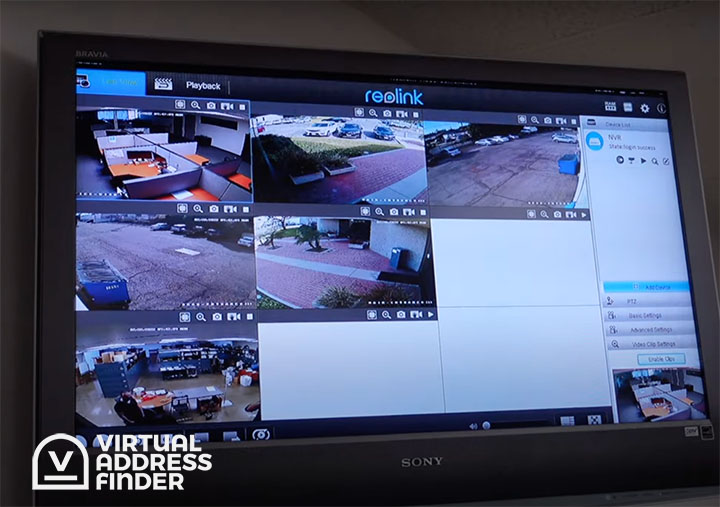 THIS is the kind of security that only a primary hub address can provide.
Quality Control
Using independent mail centers, UPS/FedEx stores or WeWork locations as a virtual address makes quality control more difficult because of:
Additional Handling: You're adding additional handling of the mail by untrained staff. In some cases, this address serves only to forward mail to the company's primary hub, so the added link in the chain is an opportunity for issues.
Volume: 3rd party mail centers often can't handle a high volume of mail that a business might generate.
Misaligned Incentives: For the mail center, YOU are not their customer. The virtual mailbox company is their customer. They are not incentivized to prioritize your mail. They are only incentivized to complete their obligations to the mailbox company within a reasonable time.
These misaligned incentives lead to poor efficiency.
Efficiency
There are two primary ways in which using a primary hub as a virtual address is more efficient than an independent mail center.
Mail Speed: When you send to a primary hub, which is often located near major airports at a business center, your mail is more quickly delivered to the address. Some sub-contracted locations forward your mail to the primary hub, which means an extra couple days before you receive your mail.
Mail Handling: Primary hubs are more easily able to prioritize the handling of your mail so that you can have the mail scanned, forwarded or shredded in a timely fashion.
Consistency & Durability
What happens if a UPS store doesn't renew it's lease in the strip mall or a mom-and-pop mail center goes out of business?
As you can guess, it means anybody who uses that location as their primary address has to suddenly scramble to change addresses. This happened to me once when a UPS store changed management and stopped working with the virtual mailbox company I used.
Not fun.
Using a primary hub address owned and operated by the company decreases the risk that a reliance on other companies introduces.
How to Find a Primary Hub
The biggest problem in finding a virtual address primary hub is that most companies don't like to highlight that they even exist.
Why?
Because it's easier to market "we have hundreds of addresses to choose from!" using sub-contracted locations than it is to say "we directly own and staff 5 of our own locations".
So instead, most companies will quietly push you toward what they call "standard" addresses and charge you extra for "premium" addresses (note: this isn't always the case). Ironically, the premium addresses are usually sub-contracted mail centers that don't have the same security, quality and efficiency as the standard addresses, even thought you're paying more.
So how do you find the primary hub? Well you can choose from our hand-picked primary addresses below, or you can take a cue from some of these tips:
Marked Addresses: In some rare cases, a virtual mailbox provider will specifically tell you which addresses are primary hubs. This is true for PostScan Mail, who specifically list out the 12 primary hub locations that they own and operate.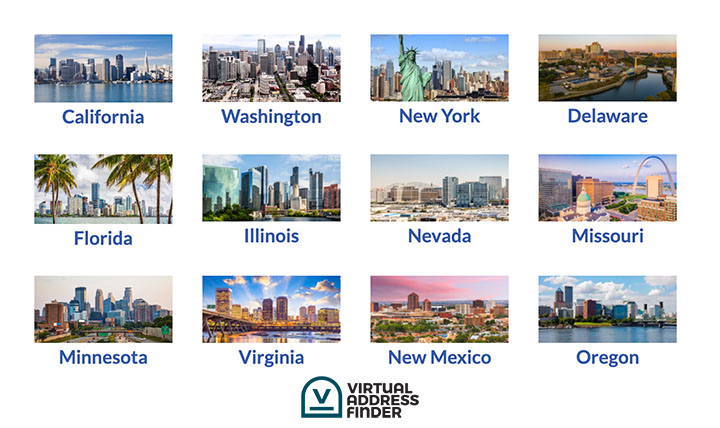 Search Google Street View: You can always check an address on Google Street View to see what kind of location it is. For example, if you look up this address listed as "Standard" on iPostal1, you'll find that it's actually the "Knox Street Postal Center". This might work for a personal virtual address but you should think twice before making this a primary business address!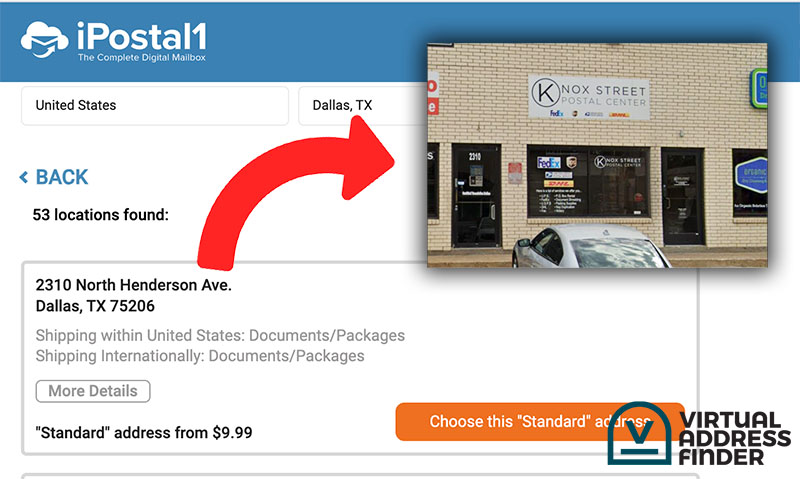 Ask the Company: Sometimes you can match up the company headquarters with one of their available addresses, as in the case of Traveling Mailbox, where both happen to be in Sanford, North Carolina. You might also have to contact them directly and ask "Which addresses do you directly own and operate?"
All of this can be a bit tedious, but keep in mind that an address is not something that's easy to change. You want to make sure that you choose a virtual address for your personal or business use that you can keep and use for years to come.
To make things easier, below is a list of recommended addresses that are verified primary hubs.
Recommended Primary Hubs for Virtual Addresses
Instead of trying to figure out on your own whether an address you want is a primary hub or not, we've created (and keep updated) this curated list of verified primary hubs to choose from.
Because of the difficulty in verifying international addresses, this list is only virtual address locations in the US. Click an address to move directly to the details page.