Setting up a business is hard enough on its own, much less trying to understand the differences between registered agent services, virtual offices, and virtual addresses. With the rapid evolution of the business landscape, it's crucial to know what your business needs, whether you're an entrepreneur with a small enterprise or an established company looking to optimize operations with a virtual office registered agent.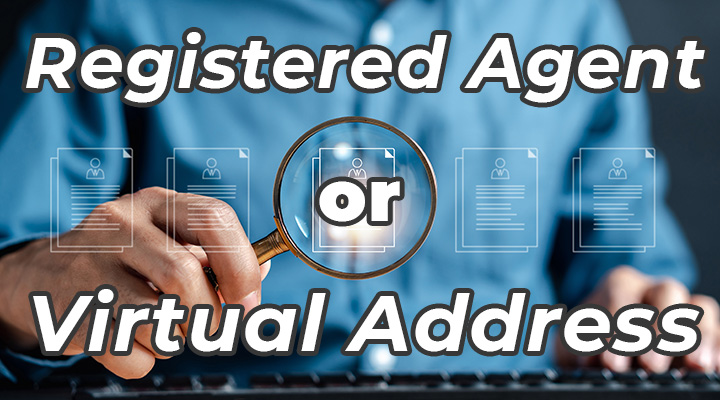 This comprehensive guide will delve into the ins and outs of registered agent services, virtual offices, and virtual addresses, providing clarity on their distinct purposes, advantages, and limitations. Most importantly, we'll answer the question:
Can a virtual address function as your registered agent?
The short answer is yes, it can, but by the end of this post, you'll be equipped with the knowledge to make an informed decision on which service is the perfect fit for your business.
Let's begin with a quick explanation of what a registered agent is for.
Understanding Registered Agent Services
Registered agent services are a necessary component of running a business, particularly for LLCs, partnerships, and corporations.
Registered Agent
A registered agent is an individual or entity designated to receive and review official government documentation on behalf of businesses, such as documents related to the business bank account. These services are required by law, and their cost can range from $120 to $500 per year, depending on the provider and the specific services offered.
While sole proprietorships don't typically require a registered agent, the distinction between personal and business property in an LLC may influence the choice of a registered agent service. Some companies offer free registered agent services, but it's essential to weigh the pros and cons before making a decision.
The Purpose of a Registered Agent
The primary function of a registered agent is to manage legal and tax documents on behalf of businesses. This includes receiving service of process notices, tax notices, and other official government correspondence.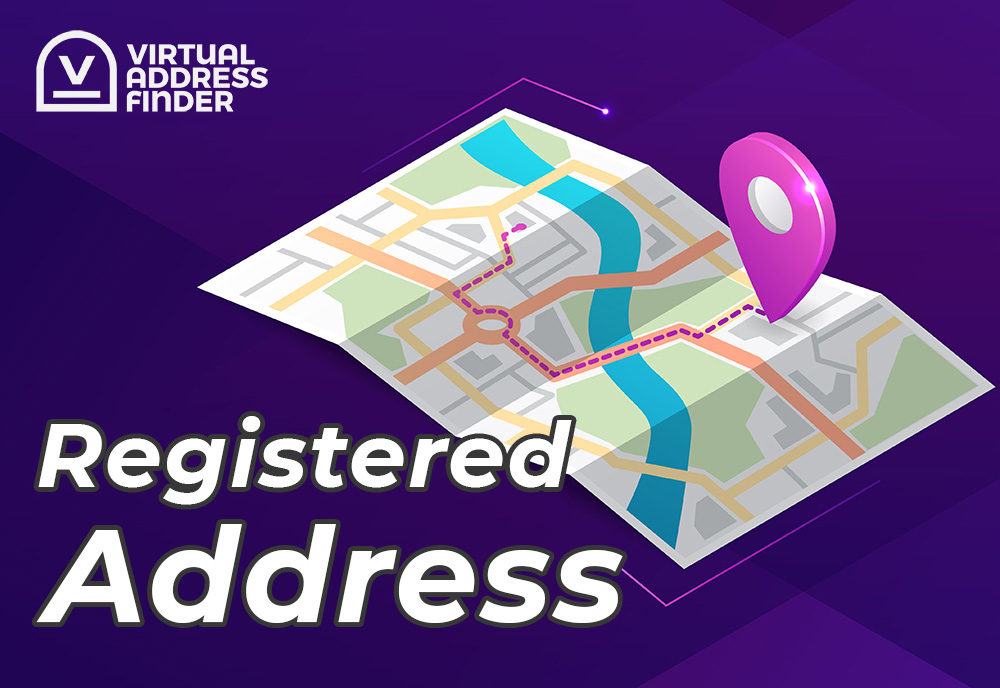 A registered agent must have a physical mailing address within the same state where the business operates, and this address can serve as the company's official business address.
Many companies that offer registered agent services may also offer additional services, such as ongoing legal support, but their primary responsibility is to ensure that businesses receive important documents in a timely manner. This is especially crucial for businesses with a presence in multiple states, as each state has its own legal requirements for registered agents.
Choosing a Registered Agent
When selecting a registered agent, businesses have several options: they can act as their own registered agent, utilize a third-party service, or choose a virtual address provider.
Acting as your own registered agent may seem cost-effective, but it can impede productivity and jeopardize your privacy if legal documents are served at your residence. It is not recommended to use your home address as your registered address.
Using a third-party registered agent service offers numerous advantages, such as:
Keeping personal addresses off public record;
Providing a company's official business address;
Permitting you to travel for business without worrying about being served legal documents at home;
It used to be that businesses had to use a registered agent, but with the emergence of the virtual office and virtual address, there's an alternative worth considering.
Virtual Office & Virtual Address: An Overview
Virtual offices and virtual addresses are an increasingly popular solution for businesses looking to establish a professional presence and a place to receive mail without the expenses associated with a traditional office.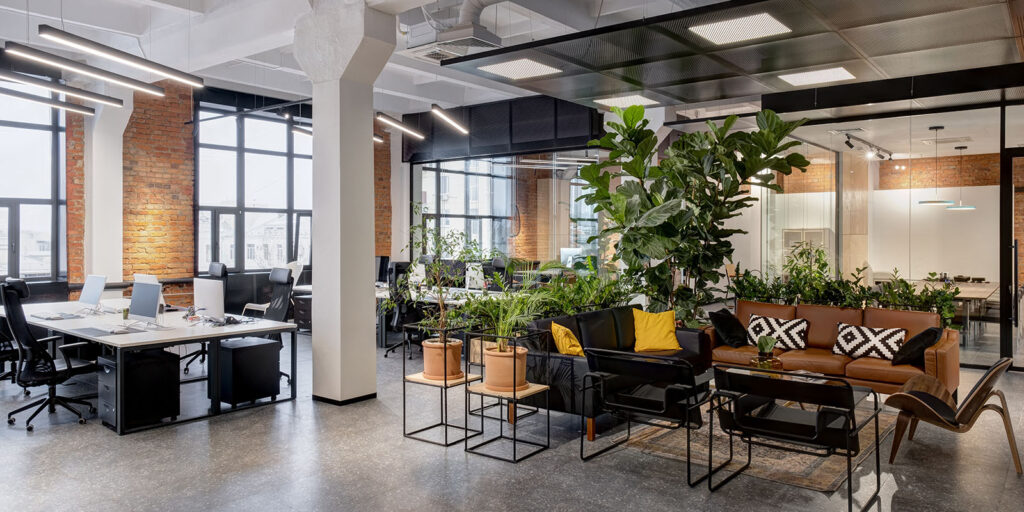 Features of a virtual address or virtual office can include:
A physical location with a street address;
An ability to scan and forward mail;
Live receptionists (virtual office only)
Meeting spaces (some virtual offices)
Although there are differences between a virtual address and virtual office (as you can see above), for the sake of discussing registered agents, moving forward we're going to refer to both of them simply as a "virtual address." You can learn more about how a virtual address works here, but the idea is to provide a way to reduce overhead costs by managing mail virtually.
Most importantly, a virtual address or virtual office can act as a businesses registered address.
Even if you already have an office space for your business, it can sometimes make sense to keep your registered address separated for the sake of optimizing your mail intake and organization.
Benefits of Using a Virtual Address
Virtual offices offer a variety of benefits designed to support businesses in their day-to-day operations. Among these benefits are:
Virtual Mail Handing: A virtual address can receive mail on your behalf, scan it and forward it anywhere in the world, which means you can deal with your physical mail from anywhere in the world.
Professional Image: Instead of a residential address or a door in a strip mall, a virtual address can provide a business with a professional image and additional credibility for those who look it up online.
Phone & Fax Numbers: Some virtual addresses give you access to a dedicated phone number and/or fax number.
All of these services can help businesses enhance their operational efficiency, but even more so…
A virtual address can act as a registered address for a business.
Most virtual address companies include registered agent services as part of your plan, including companies like Postscan Mail, Traveling Mailbox, iPostal1 and Virtual Post Mail.
Let's uncover what's actually happening here.
Utilizing a Virtual Address as a Registered Address
Thankfully, most of the documentation we need to fill out and services we need to use as a business are now offered digitally. This includes having a virtual business address.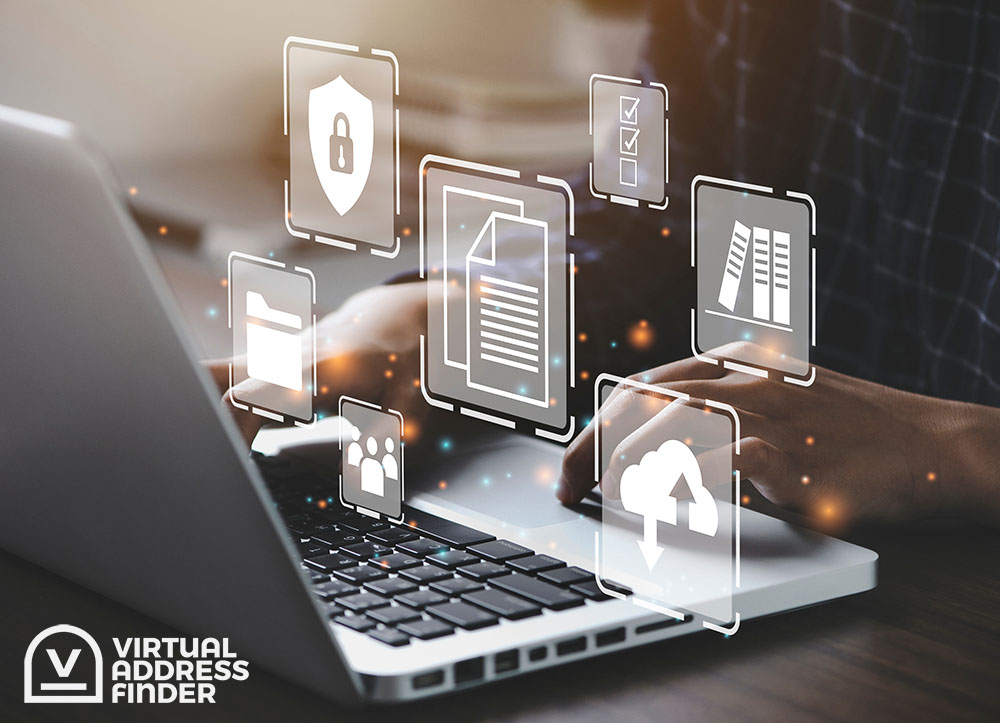 A virtual business address is a physical address that can be employed as an official corporate address without requiring physical presence. This type of address can be used for registering with the state when forming a company and filing taxes. Utilizing a virtual address instead of a home address can safeguard privacy and cultivate a professional image for the business.
To use a virtual address as your business' registered address, you need to:
Obtain a Virtual Business Address: You must choose a virtual address based on the state where your business is or will be based. For businesses, it is recommended that you choose a virtual address primary hub for added security and quality control.
Complete Setup as the Business: Once you've chosen the address you want to use and setup a subscription, you need to ensure that your business entity is listed as an official recipient on the address. This is important if you want to use this virtual address as your registered address.
Notarize USPS Form 1583: In order for this address to legally accept mail on behalf of your business, you'll have to go through a notarization of USPS Form 1583. This notarization process can be done in person but most virtual address companies now offer a virtual option that can be completed in less than 30 minutes from your computer. If not, we recommend a service like Notarize by Proof that can notarize a document for $25.
Register or Update Your Business Address: At this point, if you're establishing a new business entity, you can provide this address as your registered address. For existing businesses, you'll need to work with the Secretary of State in the state where your business is registered to request an update on the registered address.
This process is the same whether you're using a virtual address, a virtual office or even a unique service like TruLease from Virtual Post Mail (a service which includes actual lease documents for your business).
Death of the Registered Agent?
If a virtual address can act as a business' registered address and if often a cheaper option, what is the value of having or paying extra for a registered agent?
Honestly, in many cases it's an unnecessary expense, but there are a limited number of advantages, such as:
Reliability: There's always a possibility that a virtual address location might cease doing business and require you to change addresses. A registered agent provides a bit more reliability for businesses, though not much.
Assistance with Legal Matters: Many registered agents can also provide help and direction with legal matters that may arise from mail that comes. For example, if your business is served documents related to some kind of litigation, an agent can often provide guidance and recommend a good lawyer.
SPOC (Single Point of Contact): A registered agent bears responsibility for legal compliance with the state and as such acts as your single point of contact, sometimes referred to as a "SPOC." A virtual address, on the other hand, is simply handling your mail and doesn't have the same level of accountability.
Specific Locations: Let's say that you would prefer a registered address in a small city in Florida. When you search for a virtual address in Florida, the only options are in larger cities. In this case, you might need to look for a registered agent located in the small city instead.
The rise of virtual address companies has hurt the registered agent business, but unless these agent services can offer something more valuable than simply satisfying legal requirements, virtual addresses will continue to gain market share.
Navigating Legal Requirements and Regulations
Complying with legal requirements and regulations is of paramount importance for businesses using registered agents, virtual offices, and virtual addresses. Failure to adhere to these requirements can result in fines, penalties, and even the dissolution of the business.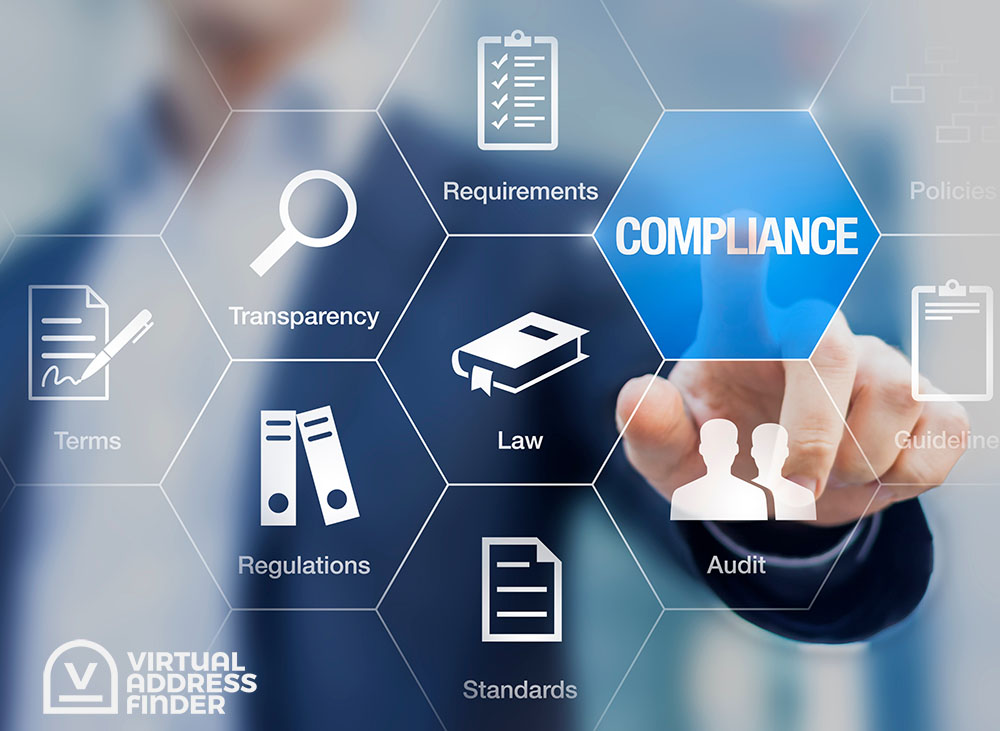 It is essential for businesses to stay informed about the legal requirements and regulations applicable to their specific industry and location, and to ensure that their registered agents, virtual offices, and virtual addresses are in compliance.
While most registered agents and virtual address companies will maintain this compliance on your behalf, the onus is on you, the business owner.
Compliance with State Requirements
Adhering to state requirements is vital for businesses utilizing registered agents and virtual addresses. Each state has its own set of laws and regulations governing these services, and businesses must ensure that they are in compliance to avoid legal issues and maintain their good standing.
To achieve compliance, businesses should:
Familiarize themselves with the applicable laws and regulations of the state;
Incorporate them into their procedures;
Stay up to date with any changes;
Seek legal support if necessary;
Conduct self-audits to ensure all requirements are being met;
For small- to medium-sized businesses, this may seem overwhelming. At the very least, be sure that you're receiving email updates from your state's secretary of state and any other business department.
Maintaining a Physical Address
Maintaining a physical address is necessary to remain compliant with state regulations. This means that once you set up a virtual address as the registered address for that business, you must maintain that physical address for as long as the business is active.
If the address must be changed for any reason, you will need to update your state's secretary of state with a new registered address for the business.
---
Summary
Throughout this post, we've explored the differences and similarities between registered agent services, virtual offices, and virtual addresses, and have discussed their respective roles in the modern business landscape. By understanding the unique services and benefits offered by each option, businesses can make informed decisions about which solution best meets their needs.
But unless you have a specific need for a registered agent, there are numerous benefits to using a virtual address or virtual office as a registered address. Most virtual address companies allow their locations to be used as a registered agent address, but check to make sure before submitting it to your secretary of state.
---
Frequently Asked Questions
Here are the most common questions related to using a virtual address as a registered address.
Does IRS accept virtual address?
Yes, the IRS accepts virtual office addresses for filing tax forms or any other LLC formation and maintenance documents. It also allows you to use this address to receive important correspondence from the IRS and obtain an EIN.
Can I use a virtual address for my LLC in Illinois?
Yes, you can use a virtual address for your LLC in Illinois as it is compliant with Illinois law. Virtual addresses are legal and provide businesses with an affordable way to manage their business address, mail, and phone needs.

They are a great option for businesses that don't have a physical location or need to maintain a presence in multiple locations. They also offer the convenience of having a single address for all of your needs.
Can I open a business bank account with a virtual address?
Unfortunately, you cannot open a business bank account with a virtual address as federal banking regulations require businesses to have a physical address for that purpose. There are options such as TruLease from Virtual Post Mail that can be used for this purposes, although they come at a slightly higher cost.
What is the primary function of a registered agent?
A registered agent plays a key role as the designated entity to receive and manage all legal and tax documents that are sent to a business.