In the world of virtual mailbox companies, it's really hard to know who offers a quality product and who simply has a good marketing team. There are only a couple features that really matter when you're looking for the best virtual address, and the question we're going to answer in this Virtual Post Mail review is simple: do they make the cut?
Let's take a look at how they operate and compare with others in the industry. But equally important, we're going to dive into the unique aspects of Virtual Post Mail (i.e. TruLease) that you'll be hard pressed to find anywhere else.
To help make this Virtual Post Mail review as helpful as possible, use the links below to jump to a specific section:
Get Your Own Virtual Mailbox
Get better mail privacy & security
Who is Virtual Post Mail
Virtual Post Mail (VPM) is a virtual mailbox service provider that offers mail scanning, management, and forwarding services for both individuals and businesses. Small businesses, travelers, and expats can manage postal mail from anywhere in the world, reducing the hassle and inconvenience of traditional mail handling.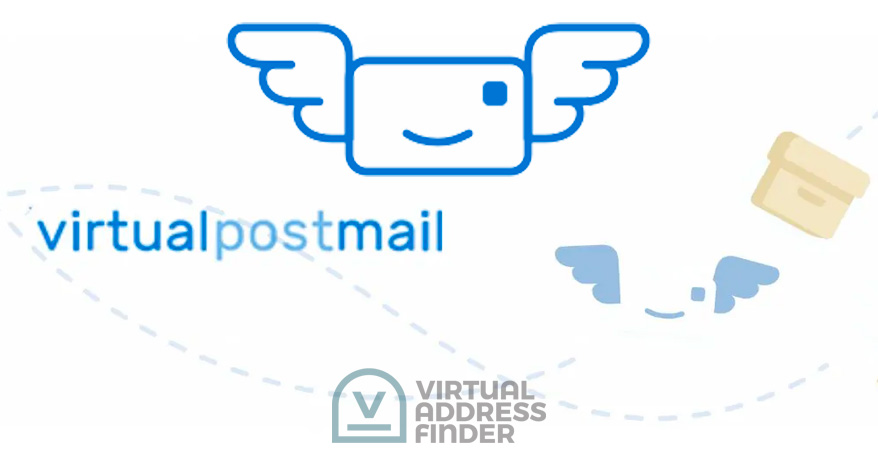 As a recognized Commercial Mail Receiving Agency (CMRA) by the United States Postal Service (USPS), Virtual Post Mail provides legitimate services, allowing you to use a virtual mailbox as your personal address on bank accounts.
How Virtual Mailbox Services Work
Virtual mailbox services, also known as virtual mailboxes, provide users with a real street address and offer various mail handling options, allowing them to manage their postal mail online. The virtual mail service provider receives your mail, scans the envelopes using mail scanning services, and stores the information digitally to maintain a record of your mail.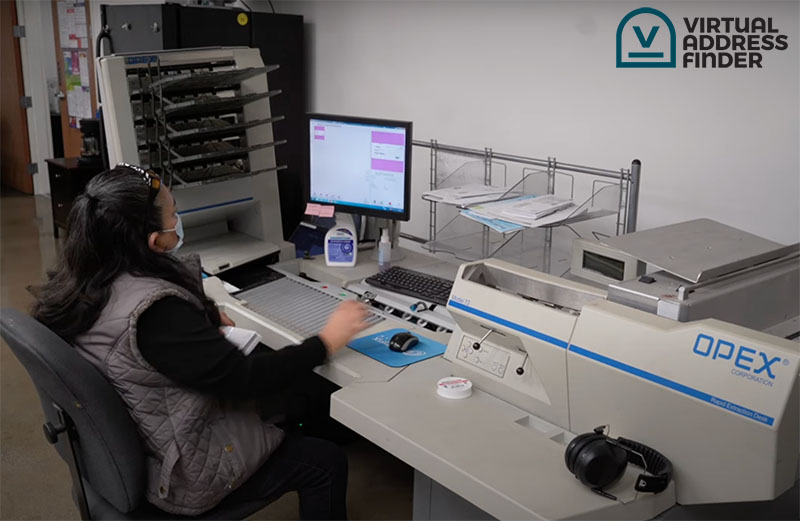 Using a virtual address not only adds a layer of privacy, it also ends up providing extra convenience, security, and cost efficiency. Mail can be downloaded, forwarded anywhere or shredded…all from your computer or mobile device.
How Virtual Post Mail Started
Virtual Post Mail was launched in California back in 2009 by Alex Sanz, who is still the current CEO. His own business needed a virtual mailbox while he lived abroad but he wasn't impressed with the available options.
So he decided to start his own.
Normally, this would mean setting up a business and contracting with independent mailbox services. But Alex took a different route, one that would require him to purchase (not lease) his own space that would become their first virtual address.
Assessing Virtual Post Mail Features
Fast forward to today, and Virtual Post Mail (VPM) still only has four locations in California, Delaware, Florida and Nevada. When compared with other virtual mailbox services that offer hundreds – sometimes thousands – of addresses, it almost looks like VPM is falling behind.
I've been working with virtual mailbox companies for many years, and if there's one thing I want you to take away from reading this review, it's this:
More addresses does not equal better quality.
What looks to be a weakness is, in my opinion, actually Virtual Post Mail's greatest strength.
Primary Addresses (Owned + Operated)
As mentioned above, Virtual Post Mail currently only has four address to choose from: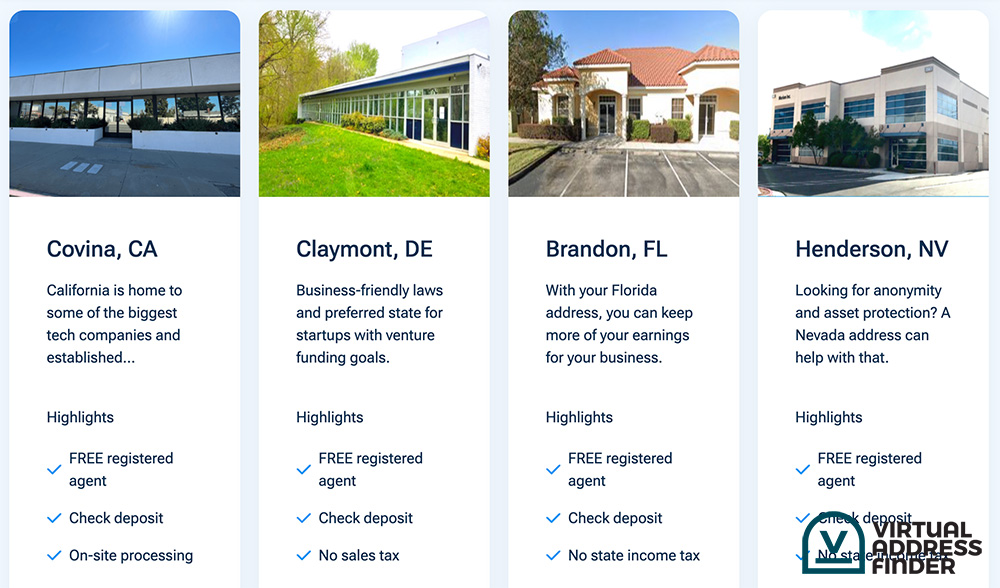 I've been told by their team that a Texas address will soon be added and they hope to continue adding a couple states per year.
Unlike most virtual address companies, Virtual Post Mail has intentionally decided to offer only primary hub addresses. Primary hub addresses are those that are directly owned and operated by the virtual mailbox company and not outsourced to third parties.
For you as an individual business, the benefit you receive from this is…
Greater Security: These locations are locked down and nobody except vetted employees are allowed to handle your mail. This equates to a greater level of security and privacy.
Better Quality Control: It stands to reason that when a company has direct control over a location instead of managing an independent contractor, you can expect more consistent quality and customer support.
Efficiency: Independent mail centers often contract with multiple virtual mailbox companies in addition to dealing with their own customers. Your mail isn't their priority. When Virtual Post Mail receives your mail at one of their four locations, though, it most certainly is.
Of course, owning and operating your own locations is only a benefit if you make good on your core service: virtual mail scanning and management.
Mail Scanning and Management
Using a virtual mailbox gives users the ability to view and manage their mail online, with options for forwarding, shredding, or storing.
Automated systems or services are used to scan the mail, convert it into digital files (such as PDFs), and provide access to the mail online. As you can see in the screenshot below, I am able to see the pieces of mail that arrive from my online dashboard.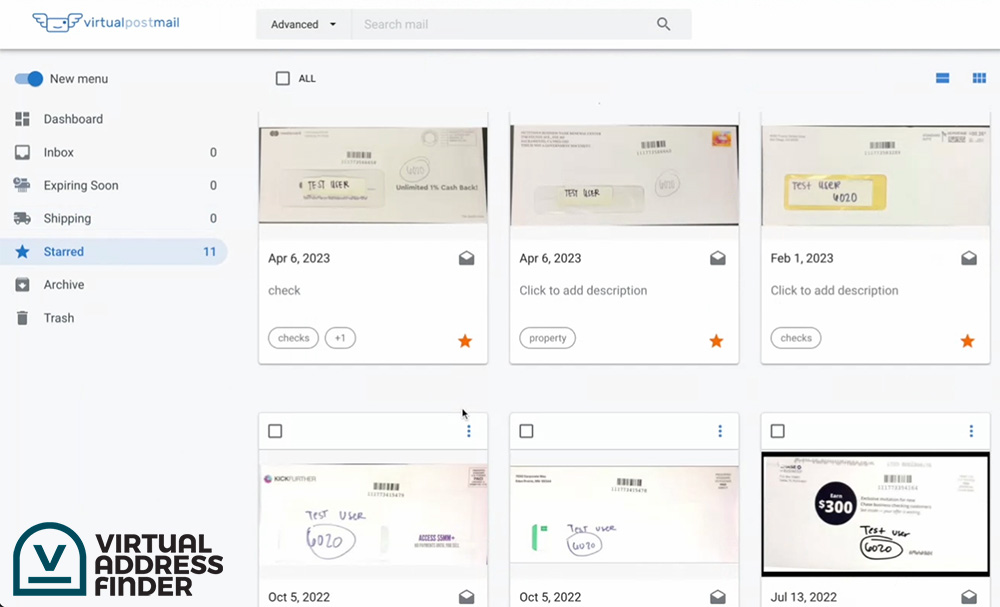 When a piece of mail is received, I can request to have it opened and scanned (this can also be done automatically if you want) and then either download it or forward it.
When you're finished with a piece of mail, Virtual Post Mail will shred on-site (anything except junk mail). It's worth noting that many of their competitors charge for this shredding as an add-on, mostly because their independent mail centers charge them to do it.
Registered Agent Services and LLC Formation
Virtual Post Mail offers registered agent services and LLC formation, although it is limited to the four states in which they have a location (FL, DE, CA, NV). Using a virtual address for registered agent services heops businesses meet their state regulations, ensuring that legal documents are received on time.
For those small businesses or entrepreneurs using their home address as their registered address, this registered agent service is an attractive feature to reclaim a bit of privacy and security for you and your family.
TruLease and TruAssist
Because Virtual Post Mail owns their own addresses, this allows them to offer business solutions that you won't find with other virtual address providers. These two features are major differentiators for VPM and each requires its own quick explanation.
What is TruLease?
TruLease is a product from Virtual Post Mail that provides virtual mailbox services backed by a real lease, with a real utility bill.
For many businesses that don't have a physical office space, TruLease is the perfect solution that allows them to open a bank account, start an Amazon store, accept Shopify payments and other such services that require a proof of address.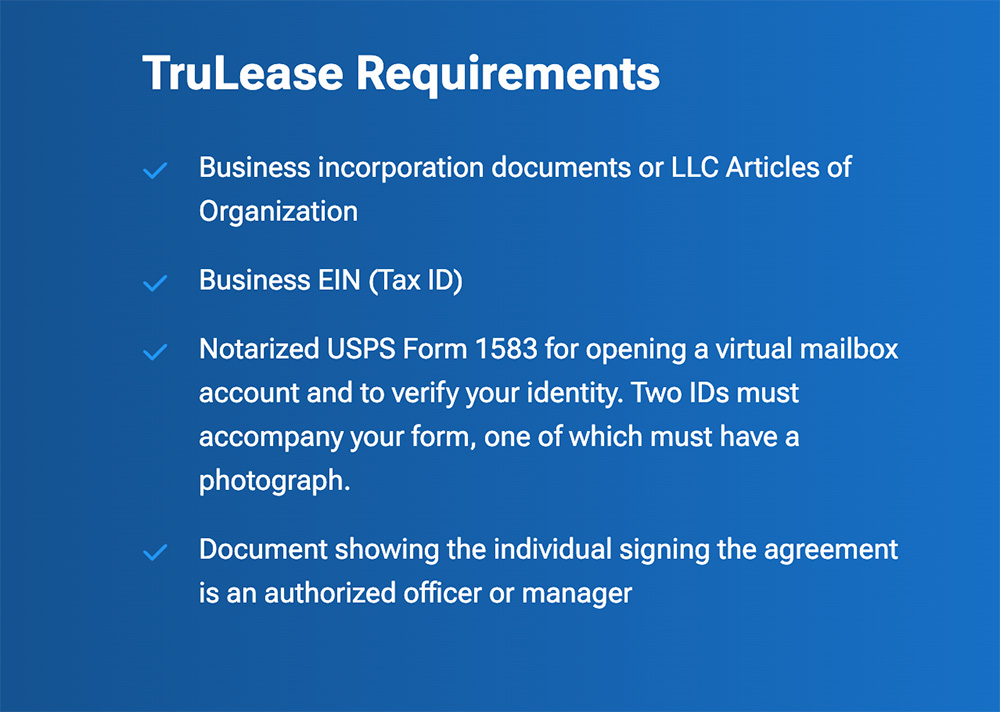 A TruLease address isn't necessary for every business, but for those who need it, it's unbelievably useful.
What is TruAssist?
In an effort to continue to serve the businesses who use their virtual mailbox service, Virtual Post Mail now offers TruAssist, a virtual assistant service to help with administrative tasks, bookkeeping and purchasing.
These assistants are all US-based employees of Virtual Post Mail (not outsourced contractors), so there's not as much concern around quality of work or even language barriers.
Unlike the virtual address or TruLease products, TruAssist is billed on an hourly basis with no minimum hours required.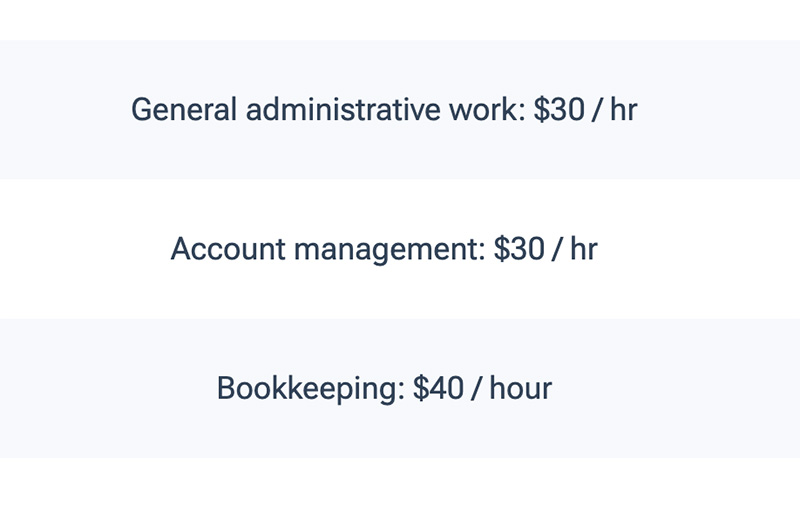 Customer Support
As with any service business, there will inevitably be a time when you need to reach out to customer support. When you're dealing with a company that contracts out to 3rd party mail centers, that can be difficult.
Thankfully, since Virtual Post Mail owns and operates their own addresses, they can address any issues quickly and easily. They offer email chat support (they claim a response time of within 2 business hours) as well as phone support, which is something I haven't found with many of their competitors.
What I Don't Like About VPM
After spending time using Virtual Post Mail, researching the company and even talking with their team, I wouldn't be doing you any favors if I didn't share a couple of things that I would like to see changed about their service.
Advanced Search Instead of Folders
One of the things I like about using a virtual mailbox is the ability to treat my physical mail as if it were email. For me, this means creating folders and organizing digital copies of my mail within those folder.
Unfortunately, Virtual Post Mail doesn't allow users to create folders. Instead, they allow us to write out descriptions or add tags like you see in the mail piece below.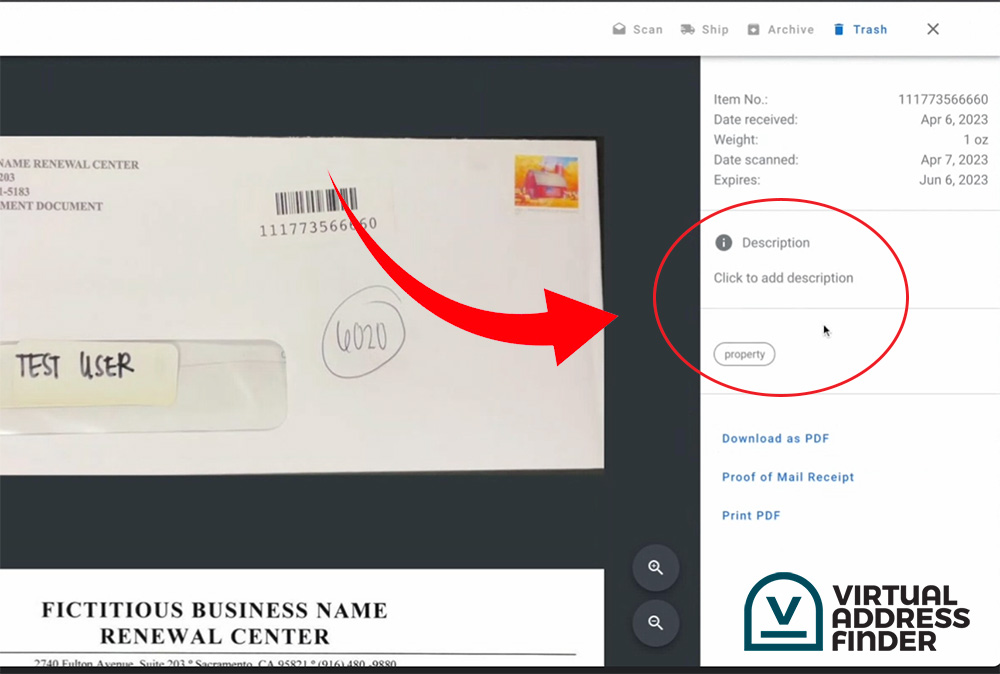 In some ways this is similar to creating folders, but instead of having easy access to tags, Virtual Post Mail takes the approach of using an advanced search function.
So if you're looking for a specific piece of mail, you can now search by tag, description, mail type or even specific dates.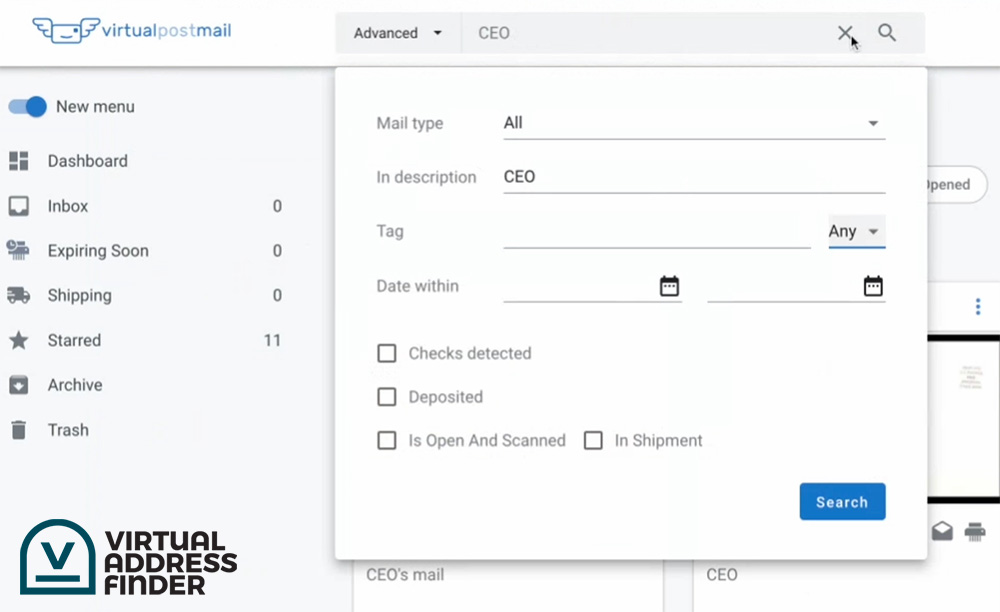 Limited Native Shipping Options
The other disappointment I faced was the fact that Virtual Post Mail only shows USPS (the US Postal Service) rates when you're forwarding mail.
In order to compare rates from logistics companies like UPS, FedEx or others, they require users to make a manual request for a quote. It's not an ideal process and only adds extra time to the whole process.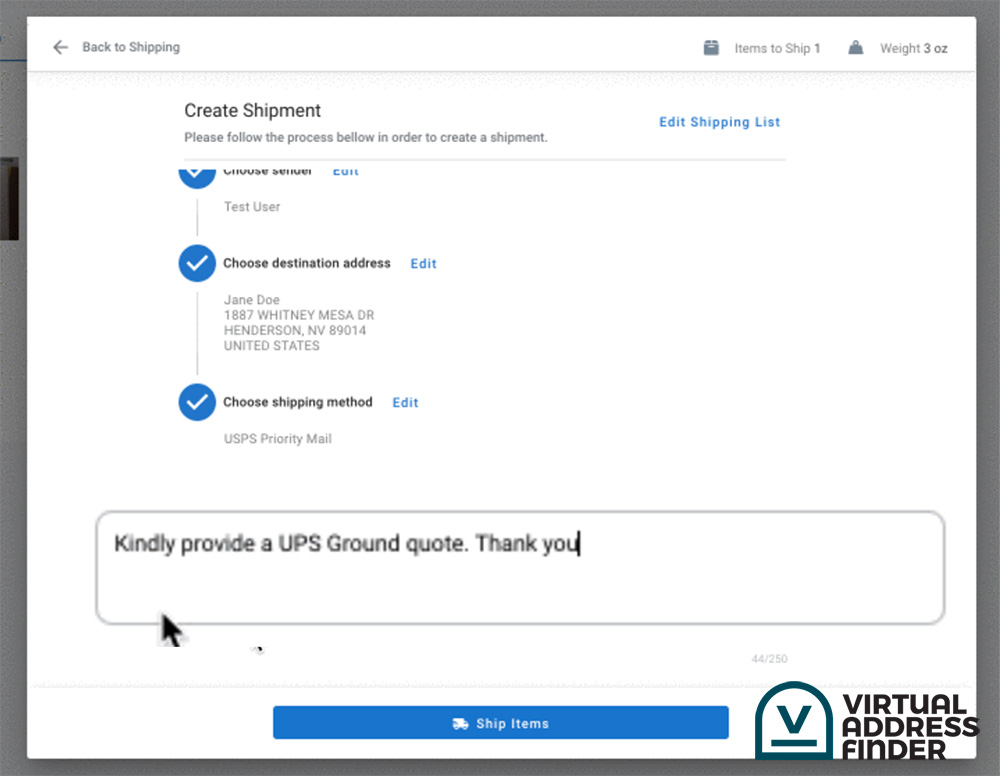 By comparison, PostScan Mail gives you immediate quotes from USPS, UPS and FedEx when you're creating a shipment, which is the way it should be.
NO Mobile Apps
Although it's possible to access your online dashboard via any internet browser on any device, it's a bit odd that Virtual Post Mail doesn't yet offer a dedicated iOS and Android app.
This is something that most of their competitors have and frankly I would expect from an established company.
Hopefully this will be something that VPM improves in the future. When they do, I'll update this Virtual Post Mail review accordingly.
Pricing Plans and Options
There are a number of different factors to consider with the cost of a virtual mailbox service: mostly volume of mail and extra business services.
For Virtual Post Mail, they offer a "Starter" plan for extremely low volumes of mail, the "Plus" plan that covers most individuals, and then "Business" and "Premium" to cover small- and medium-sized businesses.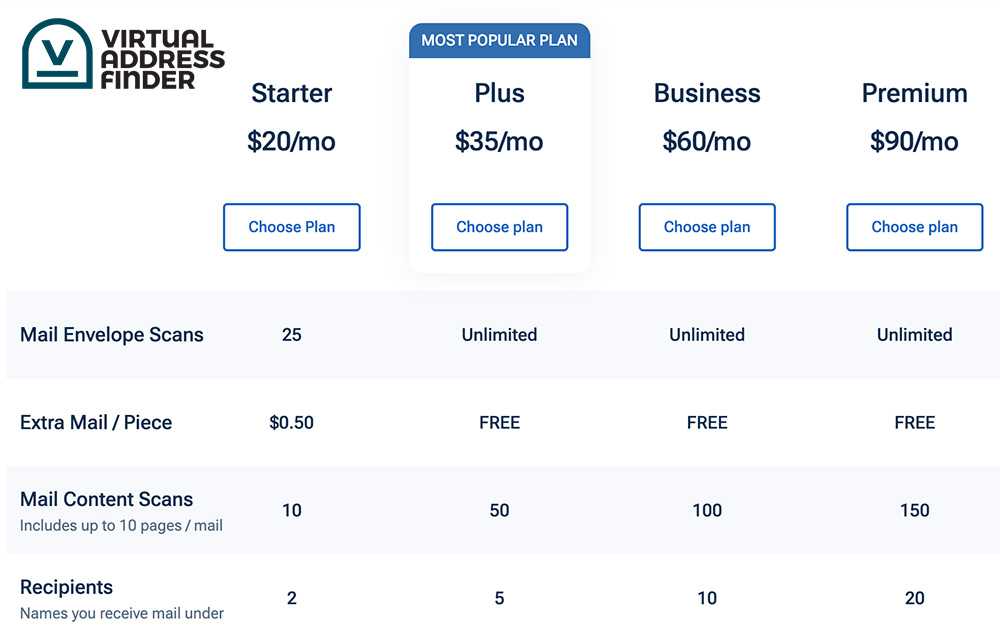 As you can see above, each plan includes a set amount of opens and scans, as well as mail recipients. By comparing these plans, you can select the one that best suits your needs and budget.
Additional Services and Fees
Certain features, such as check depositing and package forwarding, may incur additional services and fees. These additional fees can impact the overall cost of using Virtual Post Mail, so it's important to be aware of them when choosing a plan.
For example, while their Registered Agent service is included in any plan, TruLease and TruAssist require an additional investment.
Virtual Post Mail Security & Integrations
When working with a virtual mailbox service, it's important to know not just how well they secure their physical locations, but also how well they ensure data protection and handle 3rd party integrations.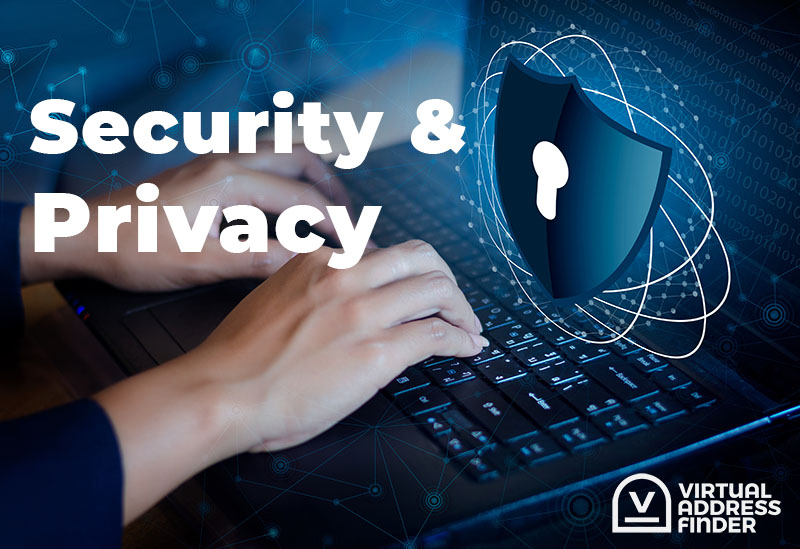 Let's explore the security measures and integration options provided by Virtual Post Mail.
Data Protection and Privacy
We've already covered the fact that Virtual Post Mail owns their own address locations, which means that they can ensure the highest level of physical security for the mail you receive.
Data protection and privacy are also crucial aspects of any virtual mailbox service. Virtual Post Mail implements encryption, advanced security systems, and safe shredding/recycling of mail to ensure data protection and privacy compliance.
By employing high-level SSL encryption and additional security measures, Virtual Post Mail protects your account, identity, and physical mail from unauthorized access and potential breaches.
Integration Options
Integration options are available through Zapier and an API, allowing users to connect Virtual Post Mail with other apps and services. With over 5000 web app providers available through Zapier, you can easily integrate your Virtual Post Mail account with the tools you already use.
API and third-party integrations with platforms such as Google and Dropbox are also available, further enhancing the functionality of Virtual Post Mail.
Comparing Virtual Post Mail to Competitors
As much as I like Virtual Post Mail, I recognize that there's plenty of good competition in the virtual mailbox space. There are a number of other virtual mailbox reviews we've done in the past, and the chart below shows how Virtual Post Mail compares with their peers.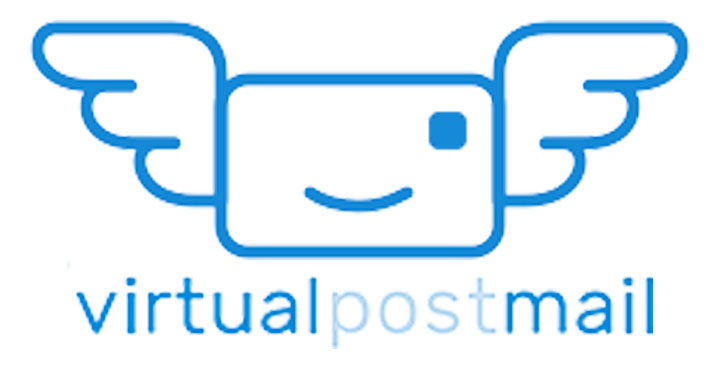 Virtual Post Mail
---
Own ALL locations
NO dedicated mobile apps
Starts at $20/mo
Offers registered agent services
No local pickup
TruLease and TruAssist options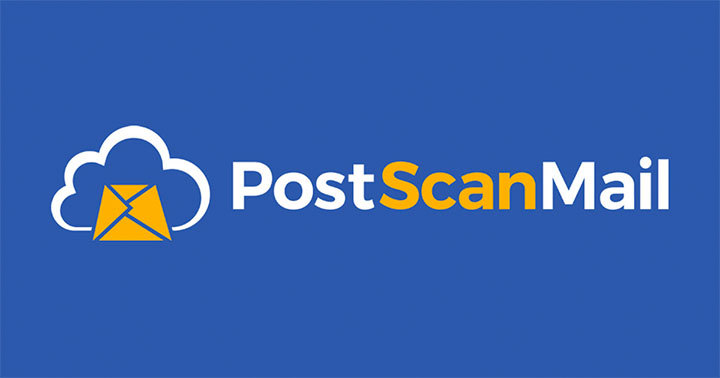 PostScan Mail
---
Own SOME locations
iOS & Android apps available
Starts at $10/mo
Offers registered agent services
Local pickup available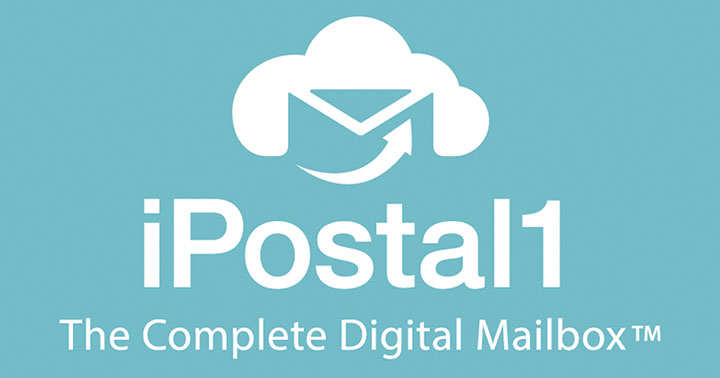 iPostal1
---
Contracts out their locations
iOS & Android apps available
Starts at $10/mo
Offers registered agent services
Local pickup available
By direct comparison, it seems that Virtual Post Mail is slightly more expensive than its competitors, but when you compare the plans against the available mail volume and scans, you'll find that they're actually quite similar.
The biggest differences are the lack of a mobile app and no option for local pickup (they claim this is for security reasons).
In any case, it's worth diving deeper into our Postscan Mail review and iPostal1 review to determine which service will best fit the needs of your family or business. They each have their own pros and cons, but it's up to you to determine which features you value more.
Choosing the Right Virtual Mailbox Provider
Choosing the right virtual mailbox provider depends on multiple factors such as pricing, features, address selection, and even local pickup options. By weighing each of these factors, you can make an informed decision on the best virtual mailbox providers for your needs.
Personally, I believe Virtual Post Mail offers a superb product for small- and medium-sized businesses thanks to the control they have over each of their four address locations.
---
Summary
The primary benefit of Virtual Post Mail is the fact that they own and operate each of their addresses. This ensures a level of quality and security that you can't control with independent mail centers used by their competitors.
While it would be nice if Virtual Post Mail offered folders, better shipping options and mobile apps, the quality of service they provide as a virtual address more than outweighs this. The online dashboard is easy to use, they efficiently handle mail and add-on features like TruLease and TruAssist go beyond what you'll find with competitors. If you're a business looking for a better way to handle your physical mail, Virtual Post Mail is a perfect solution.
Get Your Own Virtual Mailbox
Get better mail privacy & security
---
Frequently Asked Questions
Is VirtualPostMail good?
VirtualPostMail is an efficient, reliable and easy to use virtual mail software that has served customers since 2009. It's a great solution for businesses and remote workers who need a better way to receive, scan, forward and even shred mail from anywhere in the world.
Are virtual mailboxes legit?
Virtual mailboxes are a secure and reliable option for those looking to receive mail while traveling or keeping personal addresses confidential. They offer a variety of services, such as sorting, scanning, shredding, forwarding and online viewing, as well as the added security of being stored in a secure mail processing facility with onsite personnel and surveillance systems.
How does virtual post mail work?
Virtual post mail works by sorting and scanning incoming mail and providing a digital copy, accessible 24/7 from any device. With a virtual mailbox, you can make postal mail paperless and have access to your mail anywhere. No more waiting for the postman to arrive or worrying about missing important documents. You can easily manage your mail from the comfort of your own home or office. Plus, you can save time and money by eliminating unnecessary expenses.
What is the difference between UPS mailbox and virtual mailbox?
The UPS Store provides physical private mailboxes at their store locations, whereas virtual mailboxes are managed and viewed online and can be used as a business address. Physical mailboxes from the UPS Store cannot be forwarded to another address, while virtual mailboxes offer that functionality.
How does mail scanning and management work?
Mail scanning and management is a process of scanning physical mail items, converting them into digital formats, and providing online access for users.