It's easy to look at the pricing page of any virtual address service and see what it's supposed to cost. But when you factor in actual mail volume, premium features and unexpected fees, you get a better picture of what a virtual address really costs.
In this article, we'll explore the most important factors affecting the cost of virtual addresses, compare top providers, and share cost-saving tips to help you make the most of your investment.
To help you understand the cost structure and hidden fees, this is what we're going to cover:
Understanding Virtual Address Costs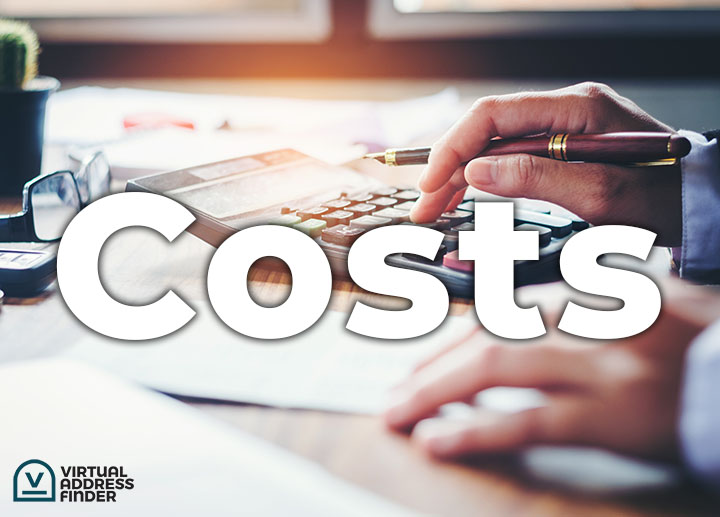 Despite the word "virtual", a virtual address is a real location that incurs real costs. It provides a physical street address where mail is received and human workers who handle the mail to scan, open, forward or shred the mail.
The cost of a virtual address service, such as a virtual office address, is influenced by factors such as the services offered, duration of usage, and location. While some of these factors may not impact individual users, it's incredibly important when we're dealing with a virtual business address.
Understanding how these factors impact the cost of virtual addresses is crucial when determining which provider and plan best suits your needs. In the following sections, we'll dive deeper into each of these factors, starting with the impact of location on pricing.
Location Impact on Pricing
Location. Location. Location.
Location is obviously a major determinant in the cost of your virtual office or virtual address. A virtual mailbox in a New York City high rise is going to be more expensive than a mail center in Montana.
For virtual addresses specifically, there are two parts of location that impact pricing:
Standard vs Premium Location: Most virtual address services list both standard and premium locations. While the definition of what this means differs between companies, most of the time this refers to the difference between an independent mail center in a strip mall versus an office space in a professional building.
Company-Owned vs 3rd Party Locations: Most virtual address locations are contracted through independent mail centers. There are others, however, that are owned and operated by the virtual address company.
As you can imagine, premium locations that are company-owned often cost more than independent mail centers.
Mail and Scanning Allotment
Different virtual address providers offer varying mail and scanning allotments, which can impact the overall cost.
For example, iPostal1 breaks out their pricing plans based on how many mail items you are allotted per month. The more mail you expect to receive and scan, the higher the price plan.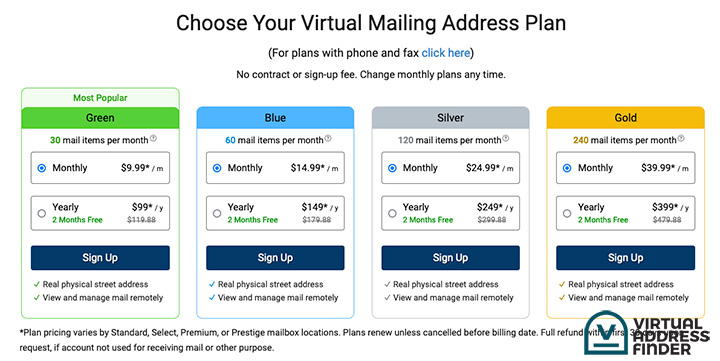 It's important to evaluate your mail volume and scanning needs before selecting a virtual address provider. By choosing a plan that closely aligns with your requirements, you can avoid unnecessary fees and ensure you're only paying for the services you need.
It's important to understand the additional charges that are not explicitly stated upfront. Examples of hidden fees in virtual address services include setup charges, additional service costs, and package handling charges.
Here are a few examples:
Form 1583 Notarization: In the US, every virtual address account needs to file a notarized Form 1583 with the post office. For some virtual address providers, this notarization process is included for free. You can also get this done by services like Notarize by Proof that charge a fee of $25 per document.
Extra Scans: When you request mail to be opened and scanned, there are limits to how many pages can be scanned. Anything above the limited page scans gets assessed a fee.
Handling Fees: Whether you're having mail forwarded somewhere or requesting a check to be deposited remotely, there are usually mail handling fees on top of postage fees.
Postage Fees: As you can expect, you'll have to pay for postage anytime you want mail forwarded to you.
To ensure you're not caught off guard by hidden fees, it's essential to thoroughly read the fine print and ask questions about any fees not included in the advertised price.
Types of Virtual Address Plans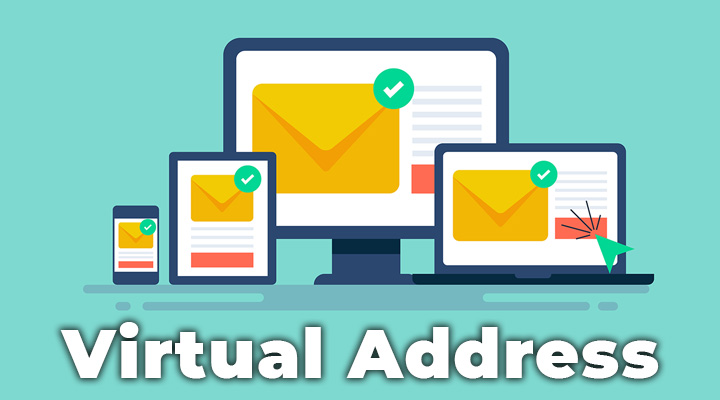 Virtual address plans come in various flavors to cater to different needs, but it really breaks down into three categories:
Basic Plans
Business Plans
Premium Business Plans
While the basic plans work for individuals and solo entrepreneurs, the business and premium business plans cater specifically to the needs of businesses.
I'll break these down one by one.
Basic Plans (Individuals + Solo Entrepreneurs)
Basic plans for virtual address services start as low as $5.99 to $9.99 per month. These plans provide a real U.S. street address, mail forwarding, scanning, and pickup as part of their basic plans.
If you're looking for a simple virtual address solution that offers excellent privacy, a basic plan may be the perfect fit for you. Just make sure to carefully compare the offerings of different providers to ensure you're getting the best value for your money.
Business Plans (Small Business)
When considering a virtual address for your business, there are other plans available that cater to specific needs. For example:
Registered Agent Services: It is entirely possible to use a virtual address for your registered agent. Many companies advertise this as either included in their business plans or as a paid option.
Office Plans: In addition to an address, companies like iPostal1 also offer a business phone and fax number as part of their "Virtual Office" plan. Others might include a virtual receptionist to provide personalized support.
If you require more than just a virtual address for your business, this kind of plan may be the right choice for you.
Premium Business Plans
Premium business plans go above and beyond the typical "business plan" that you'll find advertised on a virtual address website. This takes shape in two unique ways:
Primary Hub Address: A primary hub address is one that is owned and operated exclusively by the virtual address company. These kinds of addresses are usually located in office parks (like this one from Postscan Mail below) and offer greater security and the ability to handle higher volumes of mail. These kinds of addresses usually start at around $20 per month.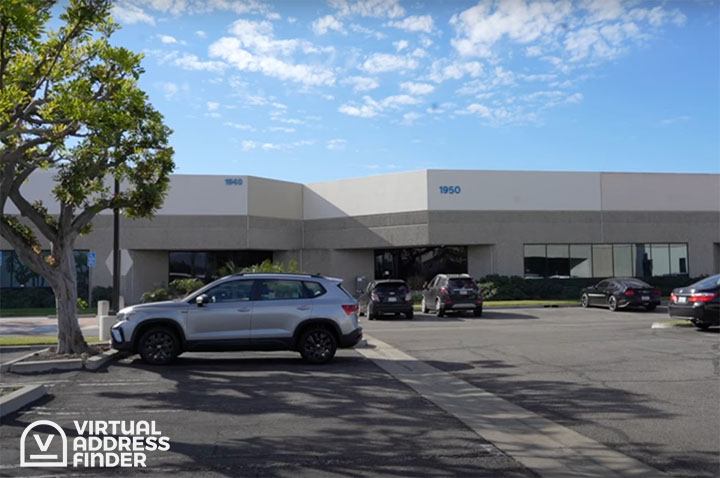 "TruLease" Option: There are unique offerings from companies like Virtual Post Mail that include an actual leased office space. It's a more expensive option (about $100 per month), but it can act as a true proof of address for banks, Amazon stores, Shopify payments and others that might ask for a utility bill for additional proof.
These kinds of premium business plans are extremely useful for the types of businesses that need them (higher volume of mail or requiring proof of address), but would generally be overkill for the average solo entrepreneur or individual.
Example Pricing from Top Providers
Now that you have a better understanding of how different factors affect virtual address costs and the types of plans that are available, let's take a closer look at some of the top virtual mailbox providers in the market as an example. We'll use iPostal1, Anytime Mailbox, PostScan Mail and Traveling Mailbox as our examples.
Keep in mind that while these providers are among the most popular, there are many other virtual address providers out there with varying prices and features. It's essential to research and compare different providers to find the one that best suits your needs and budget.
iPostal1 Pricing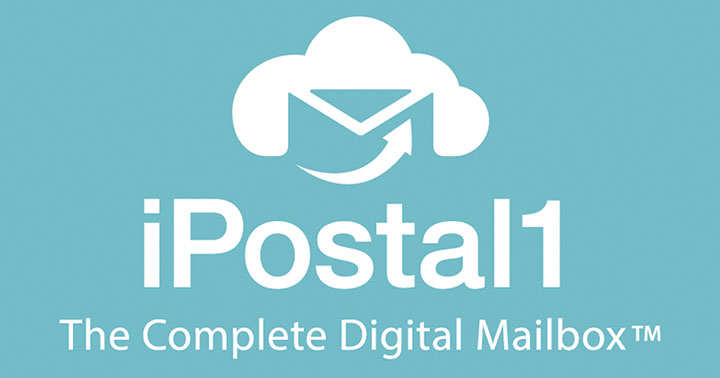 iPostal1 has over 2,300 virtual address locations to choose from with plans that range from $9.99 per month all the way up to $80 per month.
iPostal1 structures pricing on a three tier basis:
Address type: Choose between standard addresses (starting at $9.99) or premium office locations (going from $15-$40).
Plan type: You can choose between a virtual/business address (which are the same) or choose the "Virtual Office" plan for an extra $30.
Mail Volume: Finally, you choose how many mail items you would like to have included per month. It starts at 30 mail items (base pricing from the two choices above) up to 240 items (+$30/mo).
–> Read the Full iPostal1 Review <–
All plans include features such as check deposits, secure mail shredding, and junk mail filtering. They also provide a user-friendly app that allows you to manage your mail and packages on the go.
Anytime Mailbox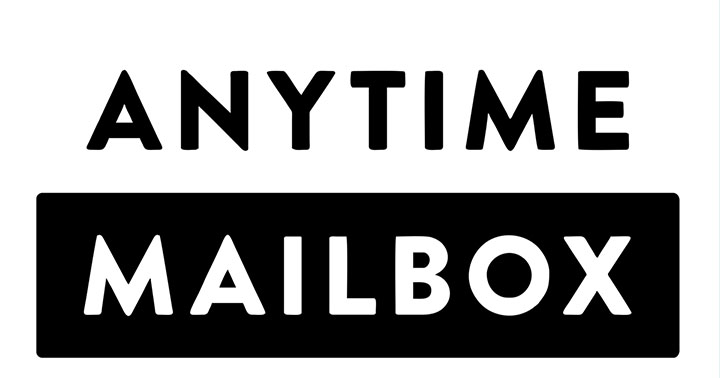 Anytime Mailbox is unique in that they allow the individual address locations (who are all independent mail centers) to set their own pricing. For this reason, you'll notice that there is no "standard" pricing for their locations. Some locations start as low as $5.99/mo while others go as high as $40/mo.
Once you choose your location, the next step is to choose mail volume which begins at 30 mail items per month (base price) up to their Unlimited Plan (+$60/mo).
All of this pricing is listed on a monthly basis, but if you pay by the year, you get a discount of one month.
Postscan Mail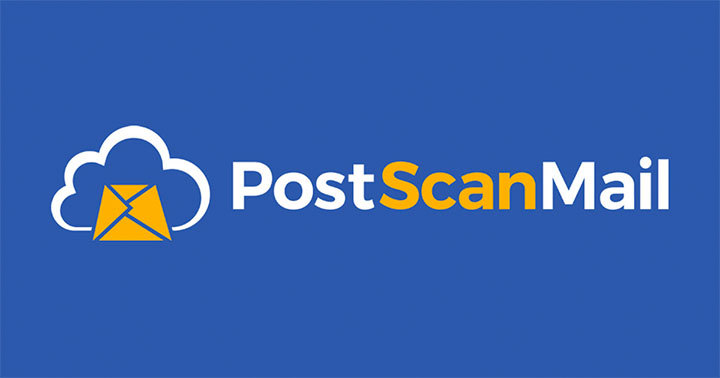 The beauty of Postscan Mail is in the simplicity of their pricing: three plans that offer 30, 60 and 120 pieces of mail.
There are a few premium addresses (office buildings) that start at a higher price point, but since Postscan Mail runs their own primary hubs at the base pricing, this is the recommended option. Why pay for an independently-run office building when you can get the security and quality control of a primary hub at a lower price?
See the Full Postscan Mail Review
Expect to pay $10/mo for their basic plan, $20/mo for standard and $30/mo for Premium.
Traveling Mailbox Pricing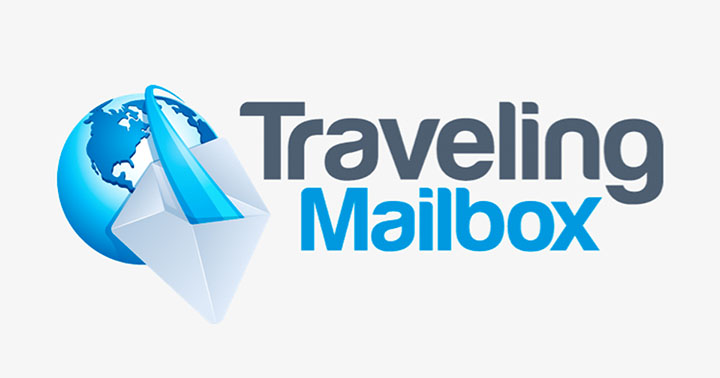 Traveling Mailbox offers virtual address pricing that starts at $15/mo for their company-owned address in North Carolina. The only problem with the "Premium addresses" is that you can't know how much extra they cost until you choose them. This is a little frustrating.
Read the full Traveling Mailbox Review
Premium addresses go from $20-$40 extra. You then choose from 3 different plan types (with different volumes of mail) and billing cycle. If you pay by the year, you get 2 months free.
Virtual Post Mail Pricing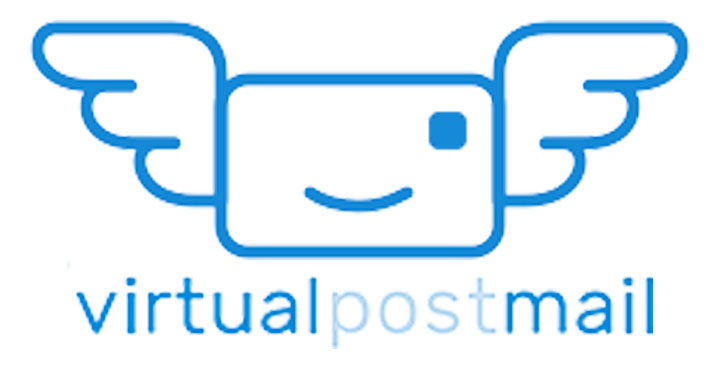 Virtual Post Mail has standard pricing across all of their addresses because they own all the addresses that they offer. Very few virtual address providers do this, which sets Virtual Post Mail apart.
Plans go from $20/mo to $90/mo depending on the number of scans you wish to have available to you.
Virtual Post Mail is also the only provider on this list to offer a virtual office lease option. Although a bit pricey at $100/mo, this gives you a legal office lease at one of their four locations that can be used to register a business, open a bank account and even set up an Amazon store.
Saving Money on Virtual Address Services
One advantage of doing your research on virtual addresses is that you now have the opportunity to save a bit of money! Your virtual address doesn't need to be a huge budget line item, and here are four ways that you can save money:
Choose the Right Plan: Extra page scans add up quickly. If you know how much mail you expect to receive each month, choosing the right plan that won't incur additional fees is worthwhile.
Pay by the Year: Most virtual address companies will offer you at least one month free, if not two, when you pay annually instead of monthly. Your address is not something that you're going to want to change often anyway, so if your budget allows you to pay by the year, this is a great way to save money.
Don't Pay for Premium: Most premium addresses aren't worth anything more than the appearance on Google Street view. If you want the actual benefits of a primary hub address (added security, quality control, mail volume, etc.), then go for a company-owned address from PostScan Mail or Virtual Post Mail that don't cost extra.
Consolidate Shipping: When you're forwarding items, most virtual mailbox services give you the option to consolidate shipping so that multiple items can go into one envelope or box. Unless your mail is urgent, it's best to wait until you have a few items that you can ship all together to save a bit of money.
---
Summary
In conclusion, understanding the factors affecting virtual address costs and comparing the top providers can help you make the most of your investment. By considering location, mail and scanning allotments, and hidden fees, as well as taking advantage of various cost-saving measures, you can find the best virtual address provider to suit your needs and budget.
Armed with the knowledge and tips shared in this article, you're now well-equipped to make an informed decision about your virtual address service. Happy hunting!
---
Frequently Asked Questions
What is the average cost of a virtual office?
A basic virtual office plan usually starts at about $40 per month and goes up to $100 per month for a virtual lease.
Does IRS accept virtual address?
Yes, the IRS accepts virtual office addresses for official correspondence, obtaining an EIN, and filing tax forms.
Is it worth having a virtual address?
Having a virtual address can be a beneficial and cost-effective solution for startups and small businesses who wish to establish a professional presence. It allows access to mail and package handling services while projecting a more established image.

This can be a great way to save money on overhead costs, such as renting an office space, while still having a professional presence, and it can provide a more convenient way to manage mail and packages.
What is the cheapest virtual address in the US?
While Anytime Mailbox offers the cheapest virtual address in the US (starting at $5.99) it's critical to understand the extra fees involved. The average virtual address location will run about $10-$15 per month at a base level.
What factors affect the cost of virtual address services?
Location, mail and scanning allocation, and hidden fees can all influence the cost of virtual address services. These factors can vary greatly depending on the provider and the services they offer. For example, some providers may offer a flat rate for their services, while others may charge a fee for each item.