You're in the market for a virtual mailbox service and it seems that you've narrowed it down to iPostal1 vs PostScan Mail. Both of them are great companies, but there are fundamental differences between them that impact which one you should choose for your particular use case. Here's what you need to know.
Best for:
Freelancers, remote workers
individuals
Small businesses,
security-focused individuals
Locations
2,750*
400**
International addresses
✅
✅
High security controls
❌
✅
Mobile app
✅
✅
Real-time shipping
✅
✅
In-Person Pickup
✅
✅
Registered Agent
✅
✅
*It's important to note that iPostal1 uses all 3rd party mail centers for their locations, which makes this an unfair comparison. More on this below.
**20 of these locations are primary hubs owned and operated by Postscan Mail. More below.
Links may be affiliate links, which means that at no extra cost to you, we may be compensated if you choose to use our links to sign up for either service.
Below we're going to compare both companies, but we've also done deeper research that you can read in our iPostal1 review and the Postscan Mail review.
The Key Difference: iPostal1 & PostScan Mail
If you read nothing more of this comparison between Postscan Mail and iPostal1, I want you to understand this: the key difference between these two virtual mailbox companies boils down to how they approach the address locations that they offer.
Here's how that looks:
iPostal1 – "The More the Merrier!" The iPostal1 approach is to amass the largest collection of virtual address locations as possible to give customers plenty of choices. iPostal1 does not own or operate a single one of these addresses, opting instead of subcontract the location to 3rd party mail centers (such as the Knox Street Postal Center example below)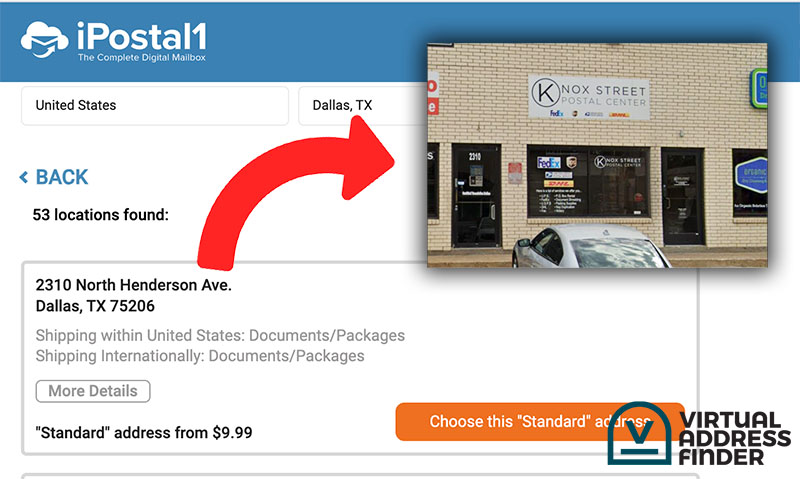 Postscan Mail – "Fewer locations, more control" Postscan Mail takes an almost opposite approach by owning and operating many – but not all – of their locations (this is called a Primary Hub location). By doing this, they can guarantee stronger security, faster service and better quality control. An example of this kind of location is their headquarters in California, pictured below.
View all Postscan Mail Addresses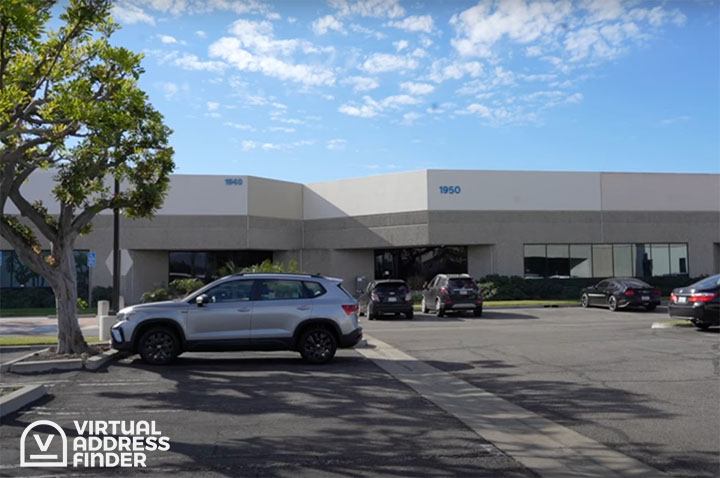 I'm not going to tell you that one approach is better than the other – it all depends on what you're looking for in a virtual address.
If choice of virtual address location is important to you, iPostal1 has a plethora to choose from. If mail security and quality control are your top priority, Postscan Mail is exactly what you want.
Feature Comparison: Mostly the Same?
At first glance, it's extremely hard to distinguish between the user experience of most of the virtual mailbox companies we review. The online dashboards are pretty standard as is the ability to scan and forward any mail you receive.
For example, here is a look at the dashboard for iPostal1…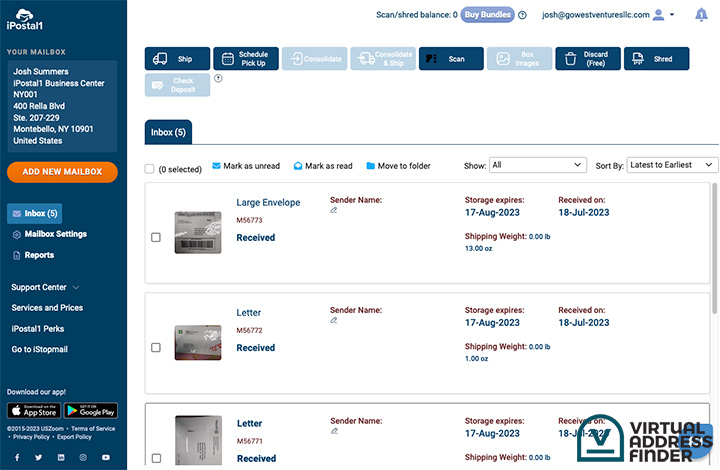 …and here is a screenshot of my Postscan Mail dashboard.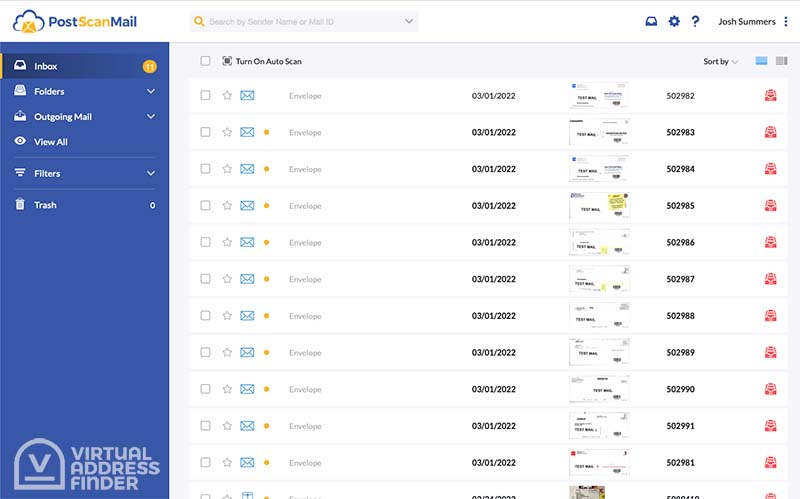 If you can't tell, other than a few cosmetic differences, it's basically the same layout. It feels very much like an email inbox for your physical mail.
So user experience aside, what are the other important virtual mailbox features to consider and how do iPostal1 and Postscan Mail compare?
Setup & Form 1583
Both companies have an extremely simple onboarding experience that usually takes less than 20 minutes. You choose the location of your virtual address, provide the details of the recipient(s) for that mailbox and then complete the USPS Form 1583.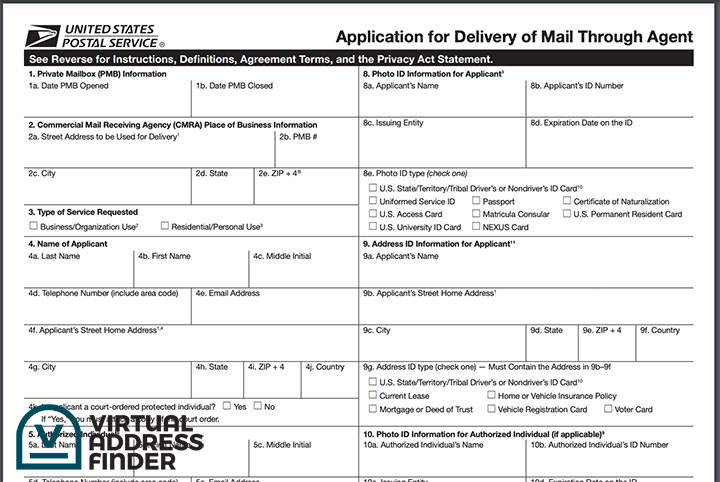 The tricky thing about the USPS Form 1583 is that it must be notarized. In years past, this would mean going to a bank or government office to find a notary, but nowadays this can thankfully all be done virtually. Both iPostal1 and Postscan Mail make notarization a seamless part of the onboarding process.
Real-Time Shipping Options
Whenever you receive mail at your virtual address, there are four things you can do with it: scan it, hold it, shred/delete it or forward it.
When it comes to forwarding mail, one advantage that both iPostal1 and Postscan Mail have over other virtual mailbox competitors is that they both do a great job displaying real-time shipping quotes from multiple carriers.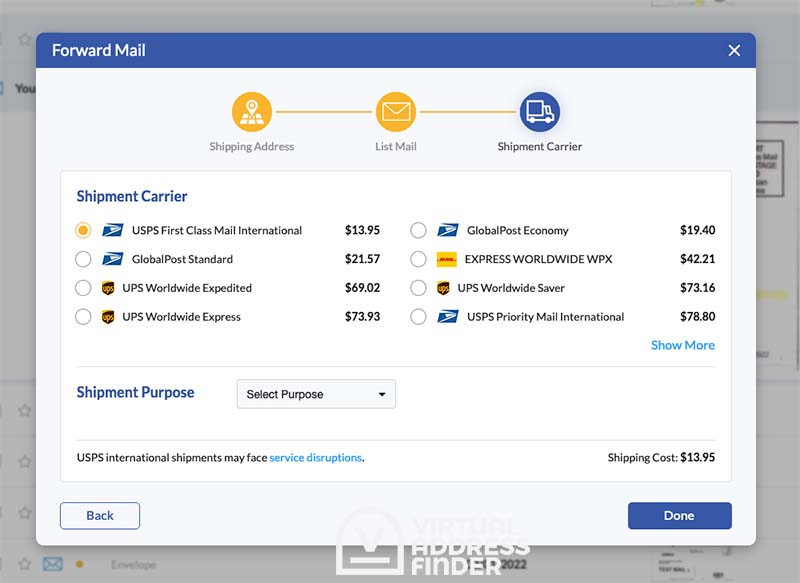 You select items to be forwarded and then you have the option to choose between USPS, FedEx, and UPS. Being able to see real time quotes from each carrier means that you can see the lowest cost option that will save you money.
Mail Pickup Options
Of course, not everybody wants to spend the money to forward their mail. One of the reasons people like iPostal1 is that it's much easier to find an address that is closer to your physical location.
But in the case of both iPostal1 and Postscan Mail, you have the option to go in-person to pick up your postal mail. This isn't the case for every virtual address company.
iPostal1 likes to make a big deal out of the fact that you can "schedule a pickup", but this is for the most part pretty meaningless since you can always pick up your mail during open hours.
*Note: Some locations for either company will charge a pickup fee. Make sure you understand what that fee is before choosing an address location.
Plans & Pricing
Plans for iPostal1 start at $9.99 while Postscan Mail begins at $10. So yea, pretty much the same. Both starter plans don't include any mail scans, which means that if you want them to open the mail and scan it (instead of just forwarding), you'll have to pony up for some extra fees.
In my experience, the ability to open and scan mail is what makes a virtual mailbox so valuable. If you're going to simply forward everything, why not just get a PO Box?
For this reason, you need to evaluate each plan based on the number of scans that you think you'll need each month. The "Standard" plan for Postscan Mail ($20) includes 10 scans and no matter which plan you choose for iPostal1, they charge approximately $2 per open and scan.
Here's a look at the iPostal1 pricing options: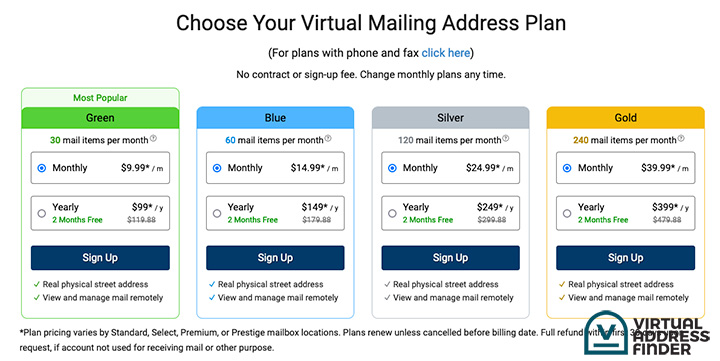 And then compare that with the Postscan Mail pricing plans: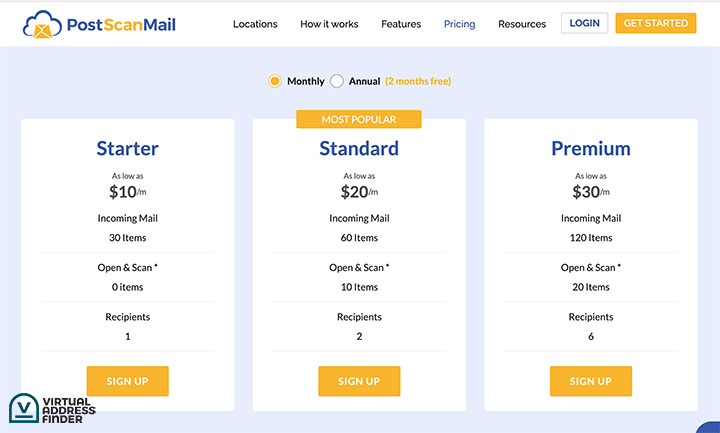 What you'll find is that there isn't a real apples-to-apples comparison here – and I'm pretty sure that's on purpose. You just need to figure out how much mail you expect to receive, how often you'll want to have them open and scan, and then choose the plan based on that. You can always upgrade later.
Ignore These Pointless Comparisons
I'm trying my best to lay out only those comparisons that are most important when you're looking at iPostal1 vs Postscan Mail. Trust me, there's plenty of marketing games that every company plays to try to convince you that something is a big deal when it really isn't.
For example…
"Business Plans": iPostal1 touts their virtual office plan that includes a business phone number and fax number. First of all – who the heck still needs a fax number? And second, if you're willing to pay an extra $30/mo for a business phone number that simply forwards to your real number, I have some snake oil I'd like to sell you.
Mobile App: Yes, both iPostal1 and Postscan Mail have their own app. At this point, everybody does.
Registered Agent Services: This is touted as a feature, but the reality is that any CMRA can act as a registered agent. It's possible to use any virtual address as a registered agent, so there's nothing special about this.
Final Summary: iPostal1 vs Postscan Mail
Again, if you're an individual, a remote worker or an individual who values a large selection of virtual addresses to choose from, iPostal1 is a great option. It's cheap, it creates excellent personal privacy and it makes handling your mail so much nicer.
If you're a small business or any person who values the privacy and security of your mail, choosing one of Postscan Mail's primary hubs is the better option. It offers necessary compliance (HIPAA and SOC2) and efficient mail handling that you need for peace of mind.
The choice depends on which you value more, but the end result for either iPostal1 or Postscan Mail is better privacy and better control over your physical mail.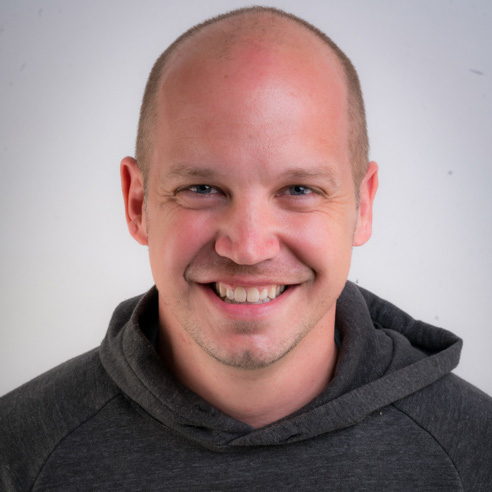 Josh Summers is a writer and entrepreneur who has been using a virtual mailbox for both personal and business use while living in Asia for the past 10 years. In addition to using multiple services, he has actually visited a number of virtual address locations to better understand how the industry works and what's most important to consider.